2-Week Clean-Eating Plan: Day 6 | Recipes
Day 6 Recipes: Clean-Eating Plan
Breakfast: Tofu Scramble With Kale and Sweet Potatoes
Note: Eat one serving of this tofu scramble with a 1 cup of frozen mango thawed and sprinkled with cinnamon. To thaw the mango, defrost for 90 seconds in a microwave. You will use the remaining frozen mango in Week Two.
Freeze the remaining portion of the tofu scramble for a quick and healthy breakfast after you have completed this two-week plan. Freezing the tofu will give it a more "meaty" texture that you might enjoy more.
Tofu Scramble With Kale and Sweet Potatoes
From Jenny Sugar, POPSUGAR Fitness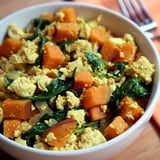 Ingredients
1 small sweet potato, cut into 1/2-inch cubes
1 tablespoon canola oil
1/2 small yellow onion, chopped
1 14-ounce package extrafirm tofu, drained and crumbled
1/4 teaspoon garlic powder
1 teaspoon ground cumin
1/2 teaspoon salt
1/4 teaspoon turmeric
2 cups baby kale
Salt and pepper to taste
Directions
Place the sweet potato cubes in a large skillet, and cover with water. Bring to a boil, then reduce the heat to medium and simmer three minutes. Pour out all the water.
Add the canola oil and onions. Sauté on medium-high heat for seven minutes. Add the crumbled tofu, garlic powder, cumin, salt, and turmeric. Cook for five or so minutes on medium heat, stirring frequently.
Add the kale, top the skillet with a lid, lower the heat to simmer, and allow to steam for a few minutes or until the kale is tender.
Makes two large servings. Below is the nutritional info for one serving.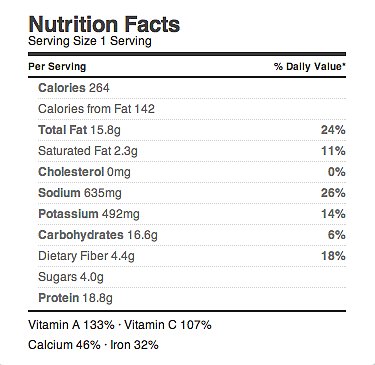 Source: Calorie Count
Information
Category

Potatoes, Breakfast/Brunch

Cuisine

North American

Yield

2 servings

Total Time

39 minutes, 59 seconds
Nutrition
Calories per serving

264
Lunch: Soba Noodles Soup
Note: Heat and eat the leftover serving of soup from last night's dinner.
Dinner: Salmon-Quinoa Cakes With a Side of Kale
Note: This recipe uses quinoa made on day three. Save 1/4 of this bunch of kale to use for tomorrow's snack.
Prep: After dinner, remember to prepare your overnight oats for tomorrow's breakfast so it's ready when you wake up.
Salmon-Quinoa Cakes Over Kale
Ingredients
1 5-ounce can wild-caught salmon, drained and flaked
3/4 cup cooked quinoa
1 egg, lightly beaten
1/8 teaspoon coarse sea salt
1/8 teaspoon chile powder
2 teaspoons olive oil, divided
1 1/2 cups chopped curly kale
Directions
Mix the salmon with the quinoa in a small bowl.
Add the egg and spices to the bowl, and stir until fully mixed.
Press the mixture into 2 patties, and sauté in 1 1/2 teaspoons oil over medium-high heat until cooked through and golden on both sides, about 8 minutes, flipping once.
Sauté the kale in the remaining 1/2 teaspoon olive oil until just wilted, about 4 minutes, and serve the salmon patties over the kale.
Calories: 520
Protein: 40 grams
Carbohydrate: 37 grams
Dietary Fiber: 6 grams
Total Sugars: 1.592 grams
Total Fat: 23.7 grams
Saturated Fat: 4.857 grams
Information
Category

Main Dishes

Cuisine

North American

Yield

Makes 1 serving
Snack: Avocado-Salmon Salad on Cucumber Slices
Note: Spread the salmon salad left over from yesterday's lunch on cucumber slices from 1/2 of the cucumber.
Calories: 145
Protein: 9.443 grams
Dietary Fiber: 4.2 grams
Total Sugars: 2.374 grams
Total Fat: 9.223 grams
Saturated Fat: 1.567 grams
Treat: Bruléed Banana
Ingredients
1 large ripe banana, sliced in half lengthwise
2 teaspoons coconut oil
2 pinches of powdered ginger
Directions
Drizzle the 1 teaspoon oil over each of the cut sides of the banana.
Sprinkle a pinch of ginger on top of each.
Place under a high broiler until the banana slices are golden, about 3 minutes.
Calories: 160.1
Protein: 1.482 grams
Carbohydrate: 31.1 grams
Dietary Fiber: 3.536 grams
Total Sugars: 16.6 grams
Total Fat: 4.978 grams
Saturated Fat: 4.07 grams
Information
Category

Desserts

Cuisine

North American

Yield

Makes 1 serving
Image Source: POPSUGAR Photography/Sarah Lipoff