2-Week Clean-Eating Plan: Day 8 | Recipes
Day 8 Recipes: Clean-Eating Plan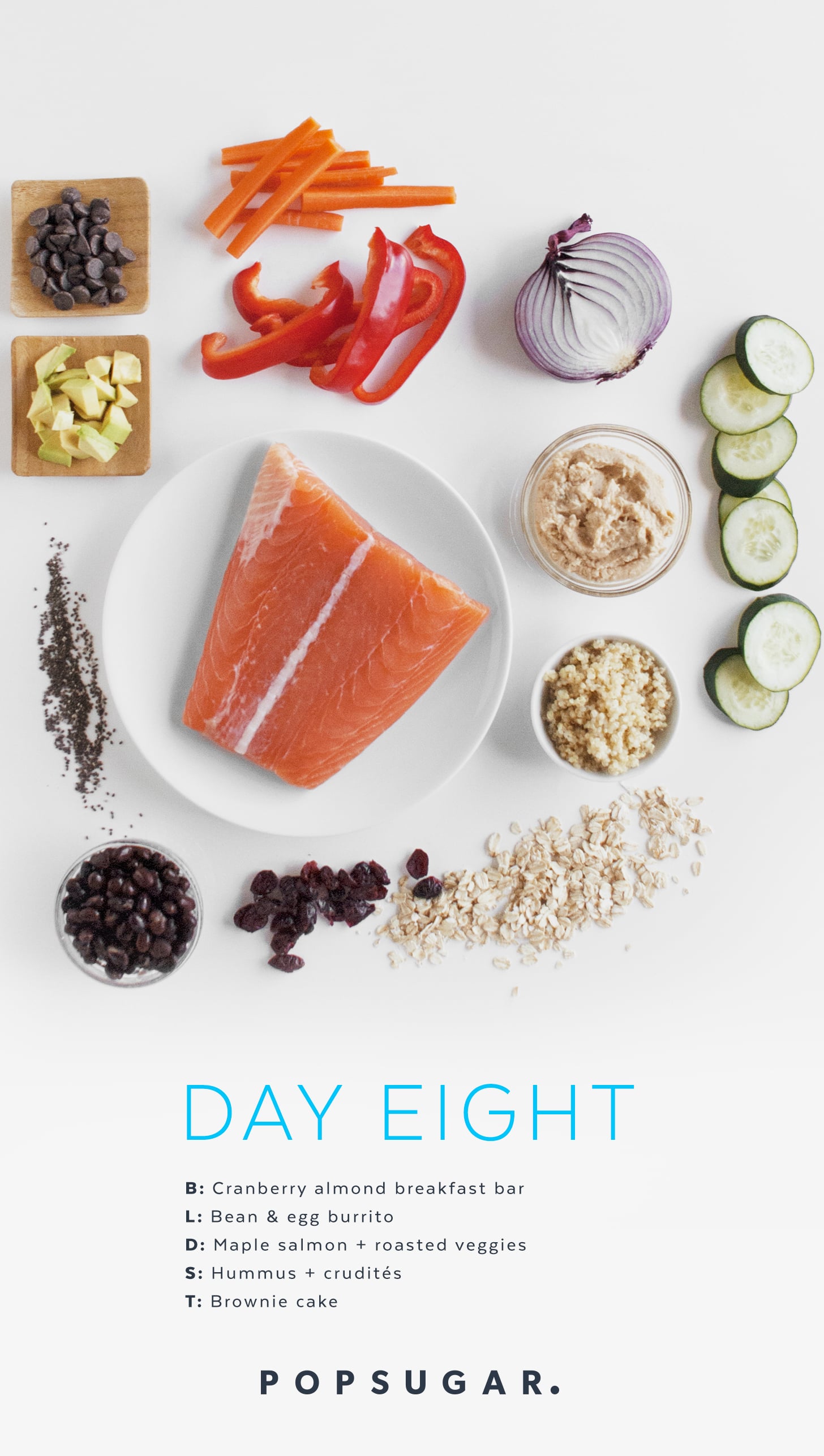 Breakfast: Cranberry Almond Breakfast Bar
Note: Eat one bar for breakfast; save one bar for breakfast on Day 12. Freeze the remaining bars.
Cranberry Almond Breakfast Bars
Ingredients
1 cup almond butter
1/4 cup honey
1 teaspoon vanilla extract
1/4 teaspoon cinnamon
3 cups old-fashioned rolled oats
1 cup sliced almonds
1/2 cup dried cranberries
3 tablespoons chia seeds
Directions
Preheat oven to 350ºF. Spray a 9-inch square pan with canola cooking spray.
Combine almond butter and honey in a heavy-bottomed sauce pan over medium-high flame. Whisk until melted — 3-5 minutes. If your almond butter is really thick, add a little water or canola oil to this mixture to thin it out.
Stir in vanilla and cinnamon.
Add in oats, almonds, cranberries, and chia seeds.
Bake for 15 minutes. Let cool completely and cut into nine equal squares.
Nutritonal Data
Calories: 397.4
Protein: 12.4 g
Carbohydrate: 37.5 g
Dietary Fiber: 9.054 g
Total Sugars: 13.7 g
Total Fat: 24 g
Saturated Fat: 1.995 g
Information
Category

Breakfast/Brunch

Cuisine

North American

Yield

9 bars
Lunch: Bean and Egg Burrito
Bean and Egg Burrito in a Sprouted Tortilla
Ingredients
1 teaspoon olive oil
1/4 cup sliced red pepper
1 egg, whisked
1/3 cup canned black beans, rinsed and drained
1/8 teaspoon kosher salt
1/8 teaspoon cumin
1/8 teaspoon chili powder
1/4 of an avocado, sliced or cubed
1 sprouted grain tortilla
Directions
Heat olive oil in a medium skillet over medium high heat.
Sauté red pepper until it begins to soften.
Turn heat to medium and add egg, black beans, salt and spices.
Let eggs set for about 30 seconds, then move with a spatula to lightly scramble, about 1 minute 30 seconds.
Remove from heat and add burrito filling to the tortilla, warmed for 10 seconds either on the skillet or in the microwave.
Top filling with avocado
Tuck in the sides of the burrito and roll to close.
Calories: 460.1
Protein: 21.5 g
Carbohydrate: 50 g
Dietary Fiber: 17.8 g
Total Sugars: 2.407 g
Total Fat: 20.6 g
Saturated Fat: 3.767 g
Information
Category

Main Dishes

Cuisine

North American

Yield

Makes 1 serving
Dinner: Quinoa, Maple Mustard Salmon, With Roasted Veggies
Note: You'll be making extra servings of all items in this dish. For dinner, eat 1.5 cups vegetables, 3/4 cup cooked quinoa, and 4 ounces salmon; then refrigerate the rest to be used throughout the week.
Quinoa, Maple Mustard Salmon With Roasted Veggies
Ingredients
2 tablespoons olive oil, divided
4 medium carrots, chopped into 3/4-inch pieces
1 red pepper, cut into 3/4-inch pieces
1 medium yellow onion, quartered
3/4 of 1 bulb fennel, sliced into 1/2-inch thick slices (chop and reserve the other 1/4 for later in the week)
1/2 teaspoon kosher salt
1/4 teaspoon black pepper
8 ounces salmon, skin on or off
2 teaspoons maple syrup
2 teaspoons dijon mustard
1 1/3 cups uncooked quinoa
Directions
Preheat oven to 400 degrees. Add veggies to a large baking sheet or pan.
In a small bowl, mix olive oil salt, pepper, and any additional dried herbs of choice.
Drizzle olive oil and seasoning mixture evenly over vegetables, then toss to make sure all vegetables are coated well. Space vegetables evenly on the baking sheet.
Roast vegetables for 20-25 minutes, or until soft and golden in color, tossing once halfway through cooking time.
While vegetables are cooking, prepare quinoa according to package directions.
While quinoa is cooking, mix the maple syrup and mustard together in a small bowl. Brush the mixture evenly over the top of the salmon filet. Bake for 6 minutes in the 400 degree oven. Then broil on high for an additional 2 minutes, or until fish is flaky and cooked through.
Nutrition per serving (4 ounces salmon, 1.5 cups vegetables, 3/4 cup quinoa)

Calories: 510.3
Protein: 32.6 g
Carbohydrate: 55.2 g
Dietary Fiber: 8.662 g
Total Sugars: 9.331 g
Total Fat: 17.9 g
Saturated Fat: 2.511 g
Information
Category

Main Dishes

Cuisine

North American

Yield

Makes 2 servings salmon, 4 servings quinoa, 3 servings vegetables
Snack: Hummus and Crudité
Note: Enjoy 1/4 cup hummus with one carrot, cut into sticks, and 1/2 cucumber, cut into slices.
Prep: Cut 1 additional carrot and the rest of the cucumber; store in an airtight container in the fridge.
Calories: 143.3
Protein: 4.076 g
Carbohydrate: 20.1 g
Dietary Fiber: 4.812 g
Total Sugars: 4.44 g
Total Fat: 5.461 g
Saturated Fat: .72 g
Treat: Chocolate Brownie Cake
Note: Eat one serving today, and save one serving for your treat on Day 10. Freeze the remaining servings, wrapped in plastic wrap, in individual servings so you grab one, and just one, for a sweet treat as needed after finishing the two-week plan.
Flourless Chocolate Brownie Cake
Ingredients
1 1/4 cups semisweet or dark chocolate chips
1 (19-ounce) can garbanzo beans, rinsed and drained
4 eggs
1/2 cup white sugar
1 teaspoon vanilla extract
1/4 teaspoon cinnamon
1/2 teaspoon baking powder
Directions
Preheat the oven to 350 degrees F.
Add chocolate chips to a microwave-safe bowl. Microwave for 2 minutes, stirring every 20 seconds after the first minute.
Grease and flour a 9-inch square baking pan. Place the chocolate chips into a microwave-safe bowl. Cook in the microwave for about 2 minutes, stirring every 20 seconds after the first minute, until chocolate is melted and smooth. If you have a powerful microwave, reduce the power to 50 percent.
Combine the beans, eggs, and vanilla in the bowl of a food processor. Process until smooth.
Add the sugar, baking powder, and cinnamon and pulse to blend. Pour in the melted chocolate and blend until smooth, scraping down the corners to make sure chocolate is completely mixed.
Transfer the batter to the prepared pan. Bake for 40 minutes in the preheated oven, or until a knife inserted into the center of the brownies comes out clean. Cool in the pan on a wire rack for 10 to 15 minutes before inverting onto a serving plate.
Cut into 12 pieces and wrap up individual pieces in plastic wrap to freeze leftovers.
Nutrition Information: Serving size: 1 slice
Calories: 160
Fat: 6g
Protein: 5g
Cholesterol: 70mg
Sodium: 180mg
Fiber: 3g
Carbohydrate: 24g
Information
Category

Desserts, Brownies

Cuisine

North American

Yield

12
Image Source: POPSUGAR Photography / Sarah Lipoff