2-Week Clean-Eating Plan Details
Welcome to the 2-Week Clean-Eating Plan — You're Going to Love It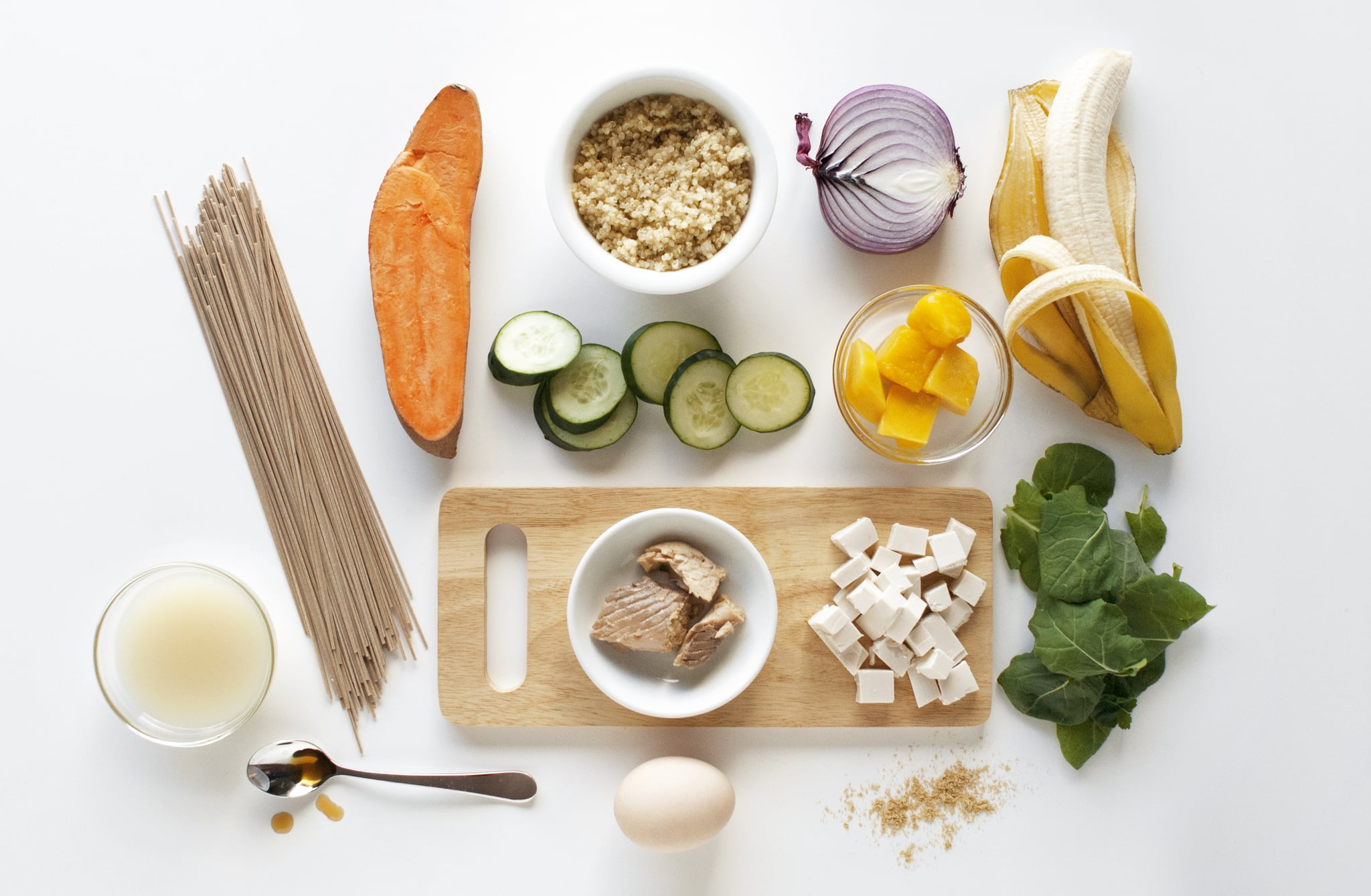 Spring is the perfect time to overhaul your diet, and our Two-Week Clean-Eating Plan, created by the registered dietitians Stephanie Clarke and Willow Jarosh of C&J Nutrition, is a great place to start. The homemade meals, snacks, and treats — yes, you can have a lil' something-something daily to help keep you on track — focus on fruits, veggies, whole grains, and lean proteins. We have printable shopping lists for each week as well as an easy-to-follow daily rundown of what to get, prep, make, and save, and when. The plan is alcohol free, but you can have your morning cup of caffeine. But since the plan is dairy free, you will be drinking your daily cup of coffee or tea without the additional half-and-half.
All the meals, snacks, and treats included and add up to about 1,600 calories per day. The carb, protein, and fat ration is close to 50:20:30. The carbs are high fiber and minimally processed. The protein is lean, and the fats are primarily plant-based. And all the food is tasty.
How the Plan Works
The 14-day plan is divided into two weeks, with a separate shopping list for each. The first day of each week is your prep day when you wash, chop, and store many ingredients you will be cooking with throughout the week. On your prep day and during the week, you will prepare multiple servings of some recipes, as well extra portions of certain dishes, to eat as leftovers later in the week. Talk about convenience. Heck! You might have even noticed that some dishes taste better the second day.
While you can start the program on any day of the week, you need to follow it in sequence since this plan uses leftovers throughout each week. To help you prep and plan, we have created a rundown of the daily meals and a to-do list for each week. Think of this as your cheat sheet: print it out and put it on your fridge so you can easily follow along.
Prep Ahead For Ease
Prep days are important, and honestly, we think the commitment of planning ahead will help you stick to the program. On days one and eight, there is plenty of slicing and dicing to be done and a good amount of cooking. Plan to set aside two to three hours for prep and cook time. It's also a great idea to think about a day in the middle of the week that might work for doing a small amount of prep for the end of the week.
Tips For Success

Clean Out Your Fridge: Since you will be buying a bunch of fresh ingredients and then making fabulous meals with all this yummy food, you'll need ample storage for both the ingredients and the leftovers. Take some time to create space in your fridge to make this process easier. Trust us. We learned from experience.
Shop Early: Plan your grocery shopping day one day ahead of your prep day, if possible, since shopping and cooking all in one day can be a little daunting. And since you are only shopping once each week, you will be freezing some fish and chicken. Just make sure to start thawing those items the day before, but don't worry — we remind you about it in the daily rundown.
Bulk Bins: Shop the bulk bins to save money by ensuring you have just the amount you need and no more. Look for nuts, seeds, spices, tea, dry goods, and even chocolate in the bulk bins of your local grocery store.
Clear Containers: Store prepped produce and other ingredients in clear containers. The more you can see what's in the fridge, the more likely you are to eat it and not forget about it!
Freeze Meals: In this plan, you will be making extra portions of food — not only to use during this two-week plan, but also to freeze some for later. We suggest freezing extras right away in individual portions — be sure to label them. This works especially well with soups, sauces, and baked goods. This way you can conveniently eat clean after you've completed the plan. Another option, on the days when you make portions not used on the plan, invite some friends over! Eating clean doesn't mean you can't socialize.
We're sure you have a few questions, so do check out our Frequently Asked Questions, and hopefully you will find your answers there.
Helpful Links
Frequently Asked Questions and Helpful Tips
Week One
Week Two
Image Source: POPSUGAR Photography / Sarah Lipoff