A Calorie Comparison of Your Favorite Beers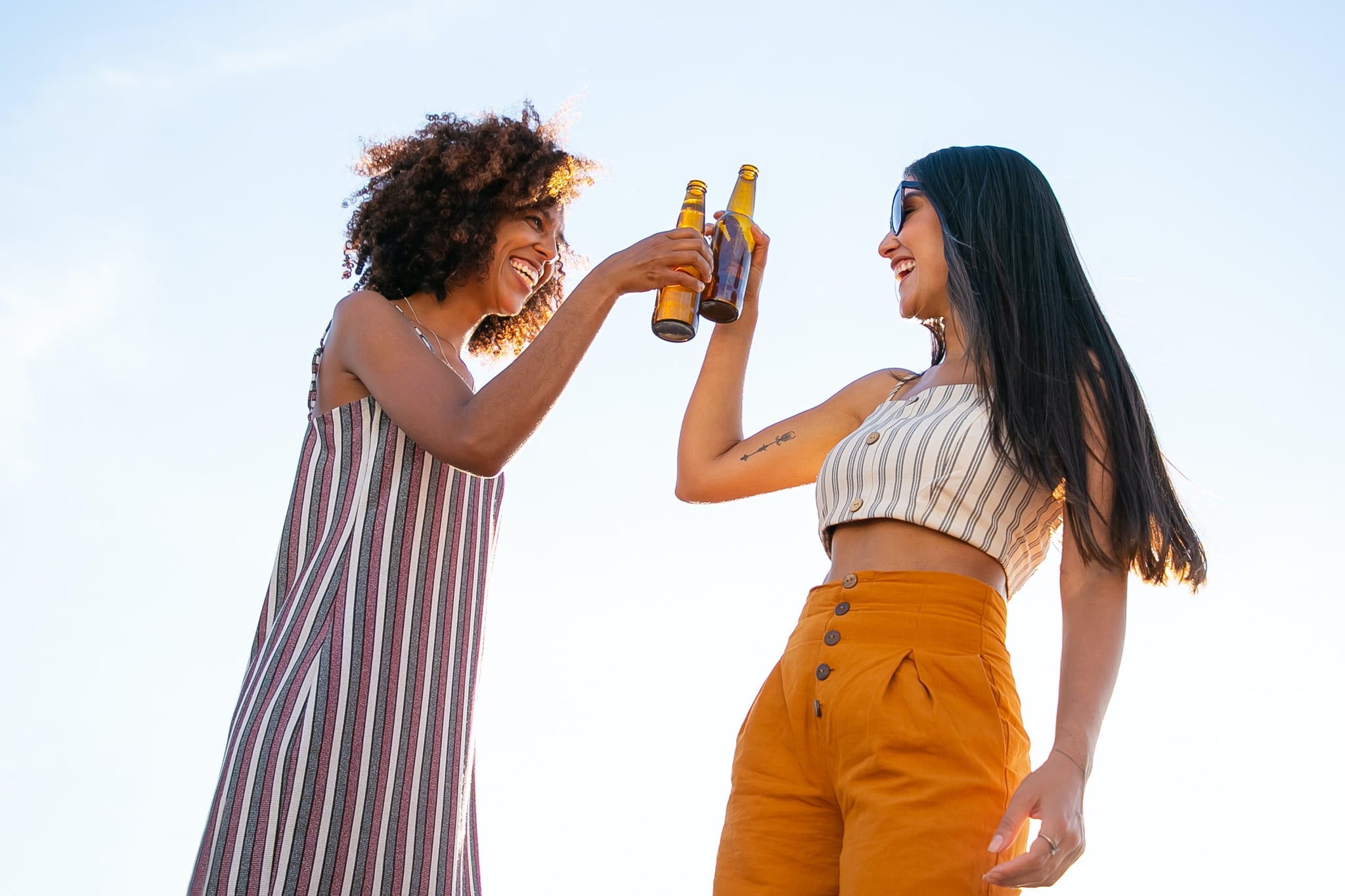 If you're watching your waistline and enjoy an ice-cold beer, then you might want to do research on how your favorites compare in calories and carbohydrates. If you're trying to lose weight then you've already heard that creating a calorie deficit is one of the keys to losing weight. So if you're counting calories, make sure that a beer isn't what deters you from your weightloss goals by throwing off the amount of calories you need for a deficit.
The US Alcohol and Tobacco Tax and Trade Bureau defines a "low carbohydrate" beer as one with seven grams of carbs or less but there is no specific number for an item labeled "lower carbohydrate" or a similar phrase outside of "low." The only requirement for beers outside of the "low carbohydrate" label is that the carb content is lower than the its original counterpart. So, when searching for a new go-to beer be sure to look beyond the marketing.
Unless you have a can in your hand, finding all the nutrition facts for beer can be a like finding a needle in a haystack. So, we've compiled a list of 48 popular beers. Detailing which ones are the highest in calories, which are the lowest along with the carbohydrate and alcohol count in a 12 ounce serving for each, ahead.
Reminder: Even though there may be health benefits associated with drinking alcohol, they only come with drinking in moderation.
How Many Calories Are in Budweiser Beer (12 Ounces)
Calories: 145
Carbs (G): 10.6
Alcohol Percent: 5
How Many Calories Are in Bud Light Beer (12 Ounces)
Calories: 110
Carbs (G): 6.6
Alcohol Percent: 4.2
How Many Calories Are in Coors Beer (12 Ounces)
Calories: 147
Carbs (G): 11.7
Alcohol Percent: 5
How Many Calories Are in Coors Light Beer (12 Ounces)
Calories: 102
Carbs (G): 5
Alcohol Percent: 4.2
How Many Calories Are in Corona Extra Beer (12 Ounces)
Calories: 148
Carbs (G): 13.9
Alcohol Percent: 4.6
How Many Calories Are in Corona Light Beer (12 Ounces)
Calories: 99
Carbs (G): 4.8
Alcohol Percent: 4
How Many Calories Are in Guinness Extra Stout Beer (12 Ounces)
Calories: 176
Carbs (G): 14
Alcohol Percent: 6
How Many Calories Are in Heineken Beer (12 Ounces)
Calories: 142
Carbs (G): 11
Alcohol Percent: 5
How Many Calories Are in Michelob Ultra Beer (12 Ounces)
Calories: 95
Carbs (G): 2.6
Alcohol Percent: 4.2
How Many Calories Are in Miller Lite Beer (12 Ounces)
Calories: 96
Carbs (G): 3.2
Alcohol Percent: 4.2
How Many Calories Are in Natural Light Beer (12 Ounces)
Calories: 95
Carbs (G): 3.2
Alcohol Percent: 4.2
How Many Calories Are in Red Stripe Beer (12 Ounces)
Calories: 149
Carbs (G): 13
Alcohol Percent: 4.7
How Many Calories Are in Stella Artois Beer (12 Ounces)
Calories: 141
Carbs (G): 10.9
Alcohol Percent: 5
Top 10 Highest-Calorie Beers
Sierra Nevada Bigfoot: 318 Calories
Guinness Extra Stout: 176 Calories
Sam Adams Boston Lager: 175 Calories
Sierra Nevada Pale Ale: 175 Calories
Anheuser-Busch Ice Pale Lager: 171 Calories
Pete's Wicked Ale: 171 Calories
Harpoon IPA: 170 Calories
Shock Top: 167 Calories
Magic Hat #9: 165 Calories
Long Trail: 163 Calories
Top 10 Lowest-Calorie Beers
Budweiser Select 55: 55 Calories
Beck's Premier Light: 63 Calories
Miller MGD 64: 64 Calories
O'Doul's: 65 Calories
Amstel Light: 95 Calories
Anheuser-Busch Light Pale Lager: 95 Calories
Michelob Ultra: 95 Calories
Natural Light: 95 Calories
Miller Lite: 96 Calories
Budweiser Select, Corona Light, and Heineken Light: 99 Calories
Beer Calorie Chart
| Beer Brand | Calories | Carbs (g) | Alcohol Percent |
| --- | --- | --- | --- |
| Amstel Light | 95 | 5 | 3.5 |
| Anchor Steam | 158 | 14.2 | 4.9 |
| Anheuser-Busch Ice Pale Lager | 171 | 12.5 | 5.9 |
| Anheuser-Busch Light Pale Lager | 95 | 3.2 | 4.1 |
| Beck's Pilsner | 138 | 9 | 5 |
| Beck's Premier Light | 63 | 3.8 | 2.3 |
| Budweiser | 145 | 10.6 | 5 |
| Bud Light | 110 | 6.6 | 4.2 |
| Budweiser Select | 99 | 3.1 | 4.3 |
| Budweiser Select 55 | 55 | 1.8 | 2.4 |
| Colt 45 | 157 | 10.8 | 5.6 |
| Coors | 147 | 11.7 | 5 |
| Coors Light | 102 | 5 | 4.2 |
| Corona Extra | 148 | 13.9 | 4.6 |
| Corona Light | 99 | 4.8 | 4 |
| Foster's Premium Ale | 160 | 12.5 | 5.5 |
| Guinness Extra Stout | 176 | 14 | 6 |
| Guinness Draught | 126 | 10 | 4 |
| Harpoon IPA | 170 | 15 | 5.9 |
| Heineken | 142 | 11 | 5 |
| Heineken Light | 99 | 7 | 3.3 |
| Killian's Irish Red | 162 | 14.8 | 5 |
| Labatt Blue | 132 | 9.1 | 4.7 |
| Labatt Blue Light | 112 | 7.9 | 4 |
| Long Trail | 163 | 18.5 | 4.6 |
| Magic Hat #9 | 165 | 14.6 | 5.1 |
| Michelob Dark Lager | 152 | 11.8 | 5.1 |
| Michelob Ultra | 95 | 2.6 | 4.2 |
| Miller Genuine Draft | 140 | 12.2 | 4.6 |
| Miller Lite | 96 | 3.2 | 4.2 |
| Miller MGD 64 | 64 | 2.4 | 2.8 |
| Milwaukee's Best Ice | 144 | 7.3 | 5.9 |
| Molson Ice | 160 | 11.6 | 5.6 |
| Molson Light | 113 | 9.9 | 3.9 |
| Natural Light | 95 | 3.2 | 4.2 |
| Newcastle Brown Ale | 138 | 12.8 | 4.7 |
| O'Doul's | 65 | 13.3 | .4 |
| Pabst Blue Ribbon | 145 | 12 | 4.7 |
| Pabst Blue Ribbon Light | 113 | 8.3 | 3.9 |
| Pete's Wicked Ale | 171 | 17.5 | 5.3 |
| Red Stripe | 149 | 13 | 4.7 |
| Rolling Rock Extra Pale Lager | 132 | 10 | 4.5 |
| Sam Adams Boston Lager | 175 | 18 | 5 |
| Sam Adams Light | 120 | 8 | 4.3 |
| Shock Top | 167 | 14.6 | 5.2 |
| Sierra Nevada Bigfoot | 318 | 30.7 | 9.6 |
| Sierra Nevada Pale Ale | 175 | 14.3 | 5.6 |
| Stella Artois | 141 | 10.9 | 5 |
- Additional Reporting by Angelica Wilson