CrossFit Transformation
Tiffany Did CrossFit For 1 Year, and Here's How It Totally Changed Her Body
Tiffany Noble has gained a little celebrity status around her CrossFit gym after posting this one-year transformation photo.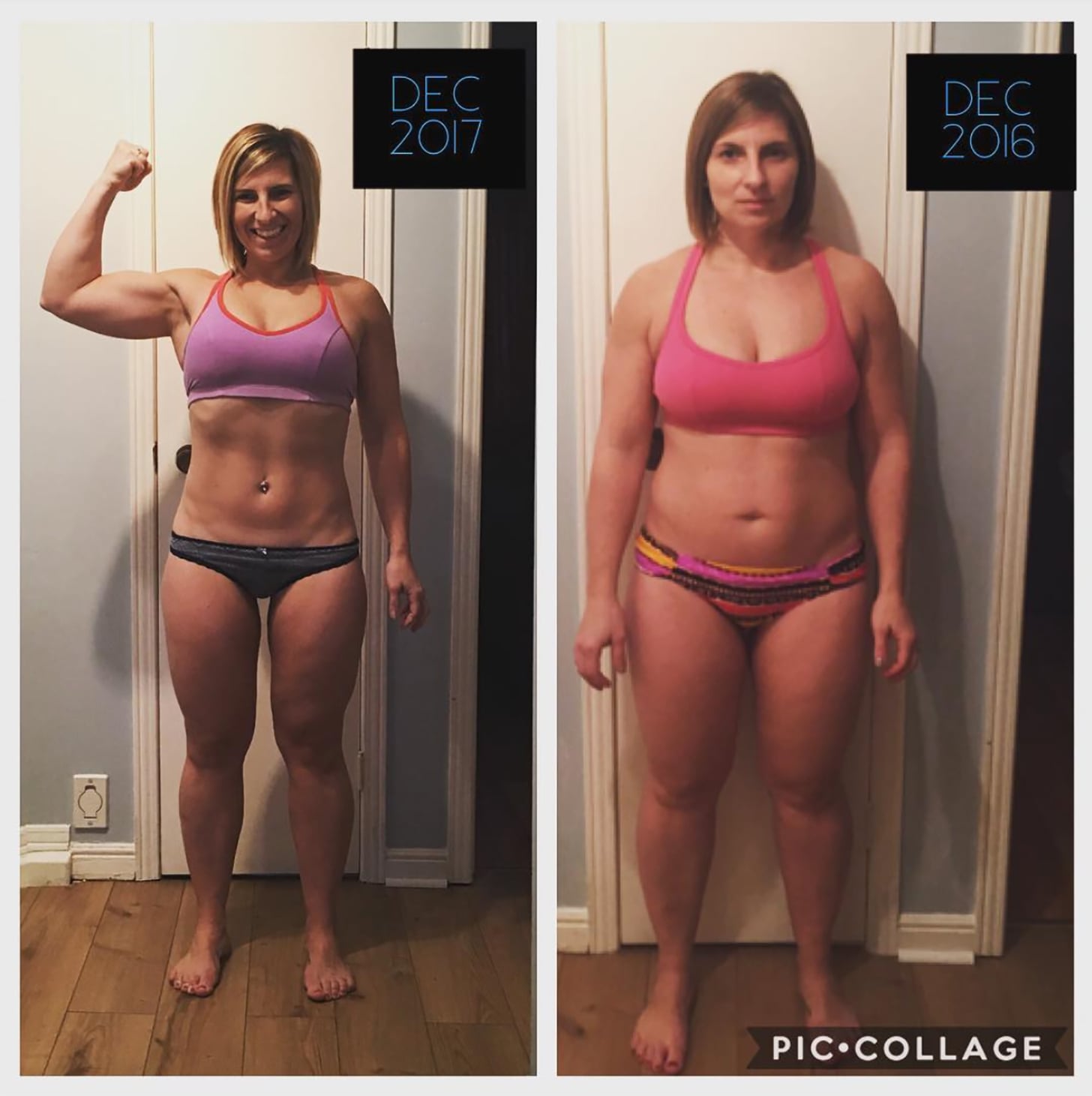 She told POPSUGAR, "After I had posted my transformation photo, I told my husband that I felt the need to thank someone, aka CrossFit." Here's the heartfelt letter Tiffany wrote that CrossFit's official Instagram page posted with her transformation photos:
Dear CrossFit,
At first I didn't like you. At first you scared me. Then I got to know you, very slowly. And it turns out you were nothing (like) what I had expected.
I met you just over a year ago and I must say, today I don't know what I would do without you. You have given me confidence, happiness and both inner and outer strength. You never judged me and have always been there for me when I needed you the most.
You have seen me at my worst and lifted me to be the best. You made me sweat, stink, cry, bleed and curse. But you've made me grow, laugh, love and lift heavy. Thank you for being you and allowing me to be (me).
As a 35-year-old mother of two (and) wife ... working full time and managing life, I feel blessed to be able to show my children that there is something/someone out there for everyone that will give them what #CrossFit has given to me.
So I thank you, from the bottom of my deepest squat clean, for giving me more motivation to be a better, stronger and happier version of myself.
Sincerely yours,
Tiffany xo
Many years back, before writing this letter, Tiffany gave CrossFit a try for the first time. She was always active with running, cycling, and light weight training and thought she was ready for the challenge. She admits, "My motivation quickly diminished once I stepped into Crossfit. I saw other athletes crushing these intense workouts, flying up a rope, and lifting these big scary barbells with such ease. After a few visits, I was so overwhelmed by all the different movements, so back to the gym I went."
A few years after that, keeping up with her 6 a.m. 45-minute treadmill runs, she found herself in a workout rut, and she was feeling unmotivated. She tried switching up her routine and her diet, but she says, "Physically, I wasn't seeing any of the changes I wanted, and mentally, I was completely bored."
Tiffany looked around at her fellow gym-goers and thought to herself, "Nobody knows my goals here, nobody knows that I'm struggling to be here today." She knew she needed "more than just a workout" and agreed to try CrossFit again. Since then, she hasn't looked back.
Tiffany committed to CrossFit six days a week. "I try to give my body a rest at least once a week, where I'll work on mobility and stretching," she says.
One huge challenge for Tiffany was seeing the numbers on the scale go up — it made her want to quit. Her initial goal when signing up for CrossFit was to lose weight, so this was pretty discouraging. "I understood the whole 'muscle weighs more than fat' saying, but I wasn't feeling very motivated to see myself weigh more."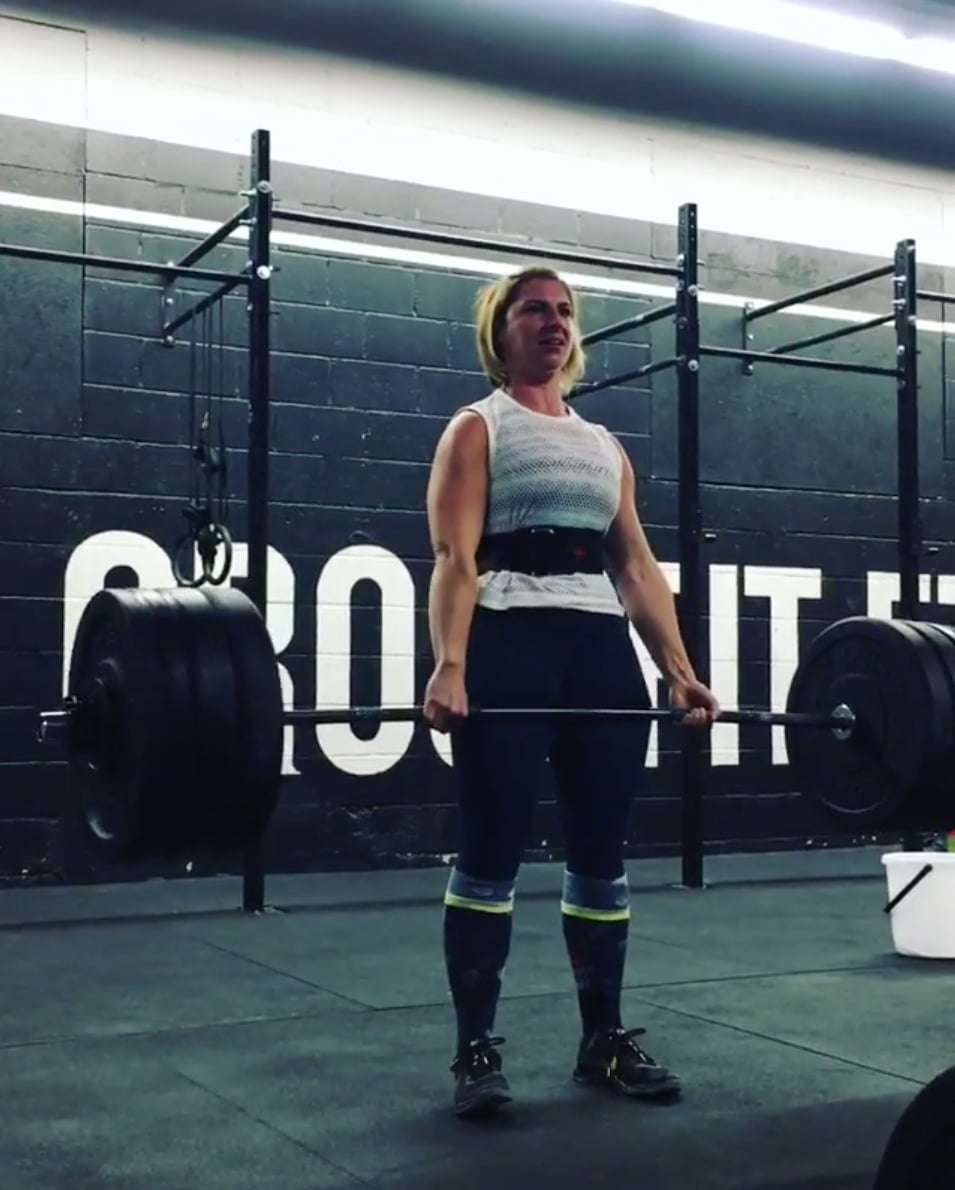 Tiffany deadlifting 290 pounds!
After sitting down with her CrossFit coach and sharing her goal, the first thing they said was to lose the scale. The only numbers she should be concerned with should be related to her own performance, such as completing three strict pull-ups or 10 double unders. Tiffany shares, "Once I lost the scale, I started to really focus my energy and reset my goals on my training and dialing into my nutrition. Fueling my body with more, rather than less, was also an adjustment."
I used to HATE the size of my legs, but now, I'm so thankful for them because I need them to help me hit those squats!!
Tiffany says "I've probably lost five to eight pounds since joining CrossFit, but my overall body composition has changed A LOT. I've lost inches all over and feel stronger than I've ever felt in my life. Because of CrossFit, I've learned to really embrace the size and shape of my body. I used to HATE the size of my legs but now, I'm so thankful for them because I need them to help me hit those squats!!
Her favorite thing about CrossFit? The community. "The people you train with and your coaches become like a second family. They applaud you on your strengths and encourage, guide, and lift you on your weakness."
Tiffany adds, "Regardless of age, athletic history, or individual goal, you begin to build amazing relationships with one another by sharing stories, struggles, and sweating through that 12-minute AMRAP you just completed. You push, motivate, and learn from one another. The positive interaction and enthusiasm is undoubtedly contagious."
Tiffany wants you to know that "anyone can do CrossFit." She explains, "It's a mix of everything from gymnastics to weight training to high-intensity workouts. Although it may seem intimidating and scary at first, everything you need to achieve your fitness goals is right through the door."
She especially encourages moms to try CrossFit. "Your health and happiness should be a priority." She knows your family responsibilities are huge, but it's important to do something that makes you feel "physically and mentally stronger, and a better and happier wife and mother."
You may have to get creative and get up an hour earlier, skip your lunch break, or bring your kids to the box with you — find a way to make it work. Tiffany says, "There is really nothing better then having your kids see you lift a barbell over your head and hearing them say 'Mommy is strong.' We moms already know that, but now we have the muscle to prove it."
Image Source: Tiffany Noble