Day 10: Clean-Eating Recipes
Recipes For Day 10 of Our Clean-Eating Plan
Start your day with some flourless pancakes featuring quinoa and hemp seeds.
Notes
You will make extra brown rice for Day 11 lunch, Day 13 dinner, and Day 14 breakfast.
You will cut extra cauliflower for use on Days 11 and 14.
You will make extra chicken to use on Days 12 and 13.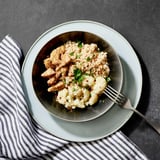 Ingredients
1 1/4 cups uncooked long-grain brown rice
1 cup steamed cauliflower
2 tablespoons plus 1 teaspoon tamari or soy sauce, divided
2 teaspoons sesame oil
1 tablespoon + 1 teaspoon olive oil, divided
12 ounces boneless, skinless chicken breast — cut into 1/2-inch-thick strips or cubes
1 teaspoon rice vinegar
1/3 cup chicken broth
1 1/2 tablespoons fresh orange juice
1 teaspoon orange zest
2 teaspoons chickpea flour
2 cloves garlic, minced
2 teaspoons minced fresh ginger
2 tablespoons sliced scallions
1 teaspoon sesame seeds
Directions
In a medium saucepan, cook 1 1/4 cups brown rice according to package directions. Set aside 1 cup cooked brown rice for today's dinner and store the rest to be used on Days 11, 13, and 14.
In a medium bowl, whisk together 1 1/2 tablespoons tamari and 2 teaspoons sesame oil. Add chicken and toss to coat. Let marinate for 20 minutes, then discard excess marinade.
Heat 1 tablespoon olive oil in a medium skillet. Sauté chicken until browned and cooked through, about 6 minutes. Remove chicken from pan and set aside.
In a small bowl whisk together chicken broth, remaining 2 teaspoons tamari, rice vinegar, chickpea flour, orange juice, and orange zest.
Add remaining 1 teaspoon olive oil to the pan and sauté garlic and ginger until fragrant, about 1 minute. Add the chicken broth mixture to the pan and stir with a fork until it's slightly thickened. Add chicken back to the pan and toss to coat.
Serve 1/3 of the chicken and sauce over steamed cauliflower and 1 cup brown rice. Refrigerate the remaining 2/3 of the chicken to use on Days 12 and 13. Top with sesame seeds and scallions.
NUTRIENT TOTALS
Calories: 493.2
Protein: 34 grams
Carbohydrates: 56.7 grams
Dietary Fiber: 7.504 grams
Total Sugars: 4.764 grams
Total Fat: 14.6 grams
Saturated Fat: 2.385 grams
Sodium: 364.9 milligrams
Information
Category

Main Dishes

Cuisine

North American
Look Ahead
Check out the recipes for Day 11.
Image Source: POPSUGAR Photography / Cera Hensley