Goji Berries Health Benefits
Goji Berries: What Are They, and Are They Worth the Price?
Goji berries might seem like a brand-new trend (or a Gwyneth Paltrow pantry staple), but they've been used in traditional Chinese medicine since about 200 BC. And it's no wonder that they've been used for so long — these little fruits are crazy powerful!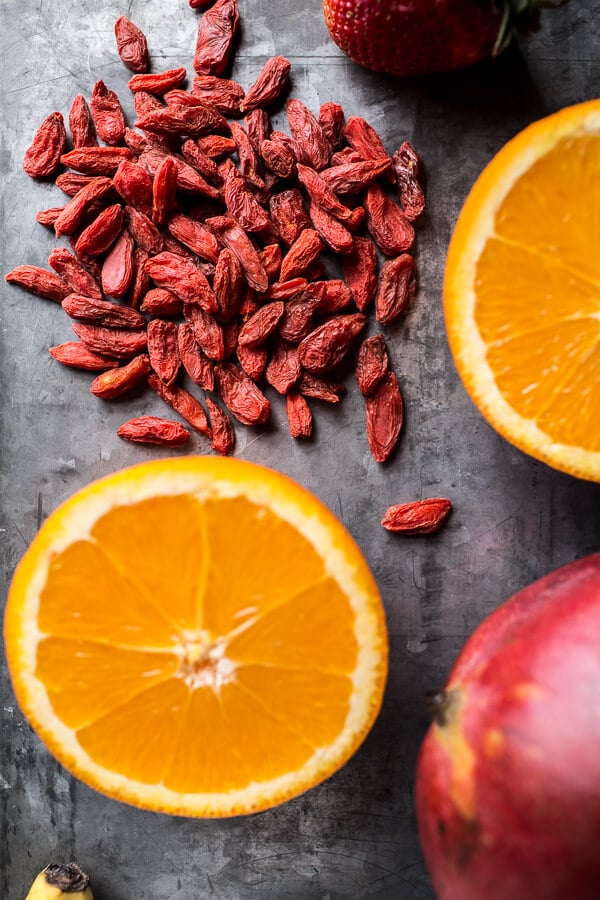 These little red berries are delicious in both fresh and dried form, and you can find them at most health food markets (even in stores like Trader Joe's!). They can also be added to smoothies, chia puddings, açaí bowls and layered oats, salads, and cereal. And now that they're more widely available, here are some reasons you should add them into your healthy diet (with some serious justification for their price!).
They're loaded in antioxidants. Studies have proven the berry's ability to increase cancer-fighting antioxidant levels, and its ability to help fight breast cancer.
They could protect against the sun. Have you thought about edible sunscreen? This might be the way to do it! Gojis have been known to be protective against harmful UV rays, so throw a package of goji berries in your beach bag.
They're anti-aging. One of the earliest uses of goji berries was for their age-defying properties. More recent studies have bolstered this claim, including this 2014 study.
They're detoxifying. Goji berries have been known to "nourish and tonify [the] liver and kidney," and thus have been used in tonics in ancient Chinese medicine (and even now).
They're a mood booster. Goji berries increase feelings of general well-being, and can "improve neurologic [and] psychologic performance." They're also rich in iron (more iron than spinach!) and B vitamins, which can help increase your energy, so they make a great ingredient to throw in your morning smoothie.
They help with digestive function. Goji berries improve gastrointestinal function.
They improve eyesight. Another original use for these berries was their ability to help improve vision.
They could offer immune support. Because goji berries are loaded in vitamin C, it's a good idea to snack on these to prevent a cold or flu. A recent study in The Journal of Nutrition also showed their ability to help the efficacy of a flu vaccine.
They could help with cardiovascular health. Among many other discoveries (including that goji berries have anti-fatigue, anti-diabetic, and anti-inflammatory properties), one study stated that "Goji berries have shown multiple pharmacological activities, including cardioprotective effects." Sounds like a great addition to your post-workout trail mix.
WebMD also mentions that although there have also been studies around the goji berry's ability to help with sleep, calmness, athletic performance, and diabetes, more research still needs to be done. The site also notes that goji berries are safe to eat in moderation, but to check with your doctor if you're on diabetes or blood-thinning medication.