Paleo Pancake Recipe
Keep It Clean at Breakfast With These Paleo Pancakes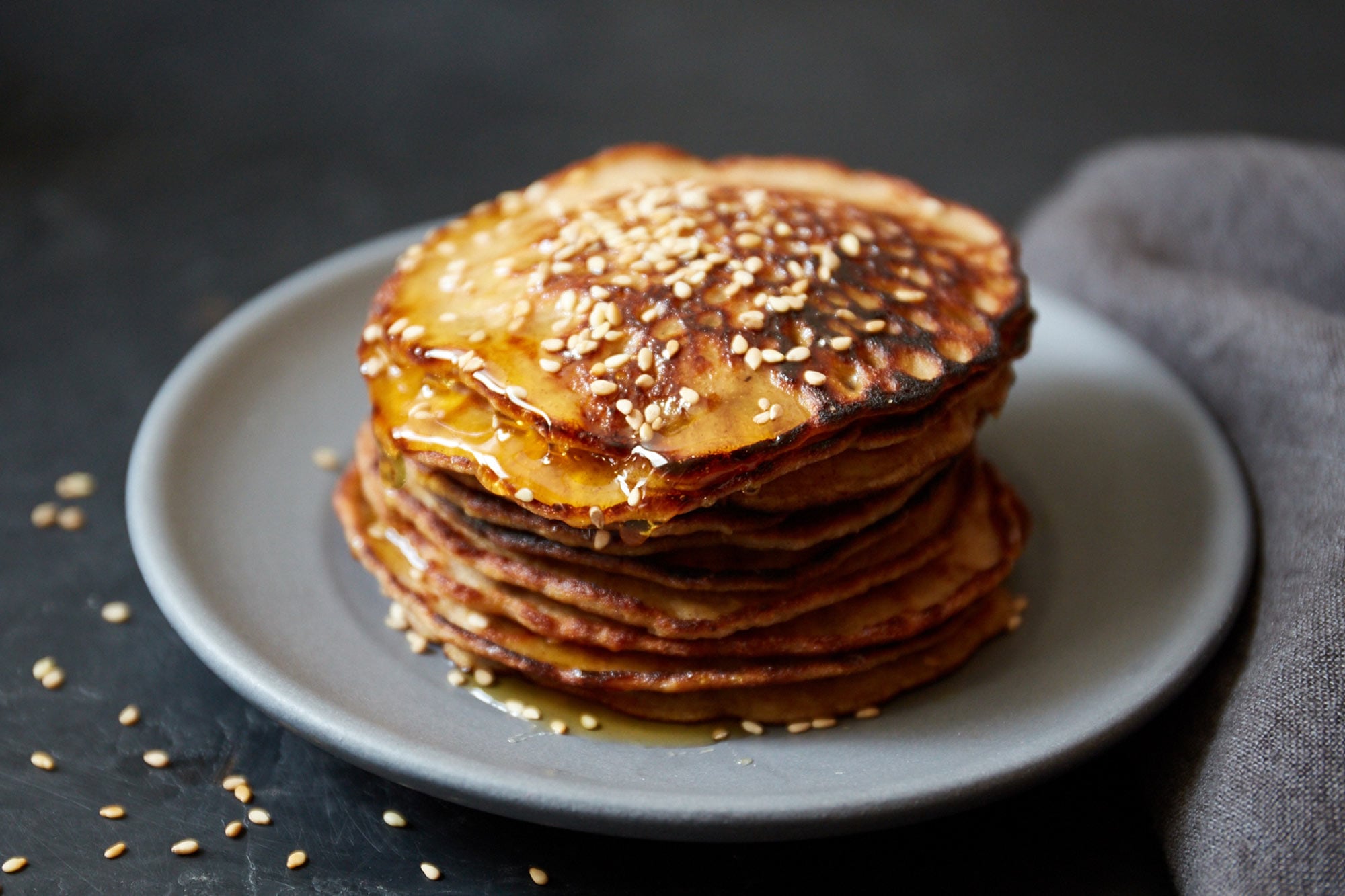 I love pancakes! But heavy carbs in the morning often make me want to head back to bed. These grain-free pancakes satsify the craving without all of the gluten. The simple recipe features rich and savory tahini, a staple in Mediterranean and Middle Eastern cuisines. Made from toasted ground hulled sesame seeds, tahini is essentially the sesame seed equivalent of peanut butter and is incredibly high in calcium. Thin and crepe-like, these pancakes are filling and flavorful. Top with whatever fresh fruit you have on hand to complete the meal.
Related: From Vegan to Wheat-Free, We've Got Your Healthy Pancake Needs Covered
Notes
Look for tahini on the shelves of your local health food store, often stocked next to the nut butters. Or if you're feeling inspired, make your own using this tahini recipe.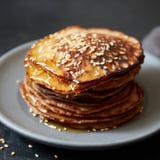 Ingredients
1 tablespoon sesame seeds
1 large ripe banana
2 tablespoons tahini
2 eggs
1 teaspoon vanilla
1 teaspoon cinnamon
2 tablespoons olive oil
1 tablespoon honey (optional)
1/4 cup mixed fresh berries (optional)
Directions
In a frying pan over medium-low heat, toast the sesame seeds, stirring occasionally, until fragrant and golden brown, 3-5 minutes. Transfer to a plate to cool.
In a mixing bowl, mash the banana with a fork. Add the tahini, eggs, vanilla, and cinnamon, and mix until well combined.
In the same frying pan over medium heat, warm the two tablespoons of olive oil until hot but not smoking. For each pancake, pour 1/4 cup of the batter into the pan and cook until bubbles start to form on top of the batter, two to three minutes. Flip and cook until golden brown on the other side, 2-3 minutes. Repeat with the remaining batter, working in batches and adding more oil as necessary.
Transfer the pancakes to individual plates. Garnish with the sesame seeds and serve with honey or mixed fresh berries.
Nutrition per serving: Calories: 390, Protein: 11 grams, Total Fat: 29 grams, Saturated Fat: 4.5 grams, Cholesterol: 223 mg, Sugar: 9 grams, Added Sugar: 0 grams, Sodium: 100 mg, Carbs: 23 grams, Fiber: 4 grams
Information
Category

Breakfast/Brunch, Pancakes/Waffles

Cuisine

North American

Yield

2

Total Time

24 minutes, 59 seconds
Nutrition
Calories per serving

390