Rise Nation Workout Review
We Tried the Boutique Studio Class Your Boyfriend Won't Hate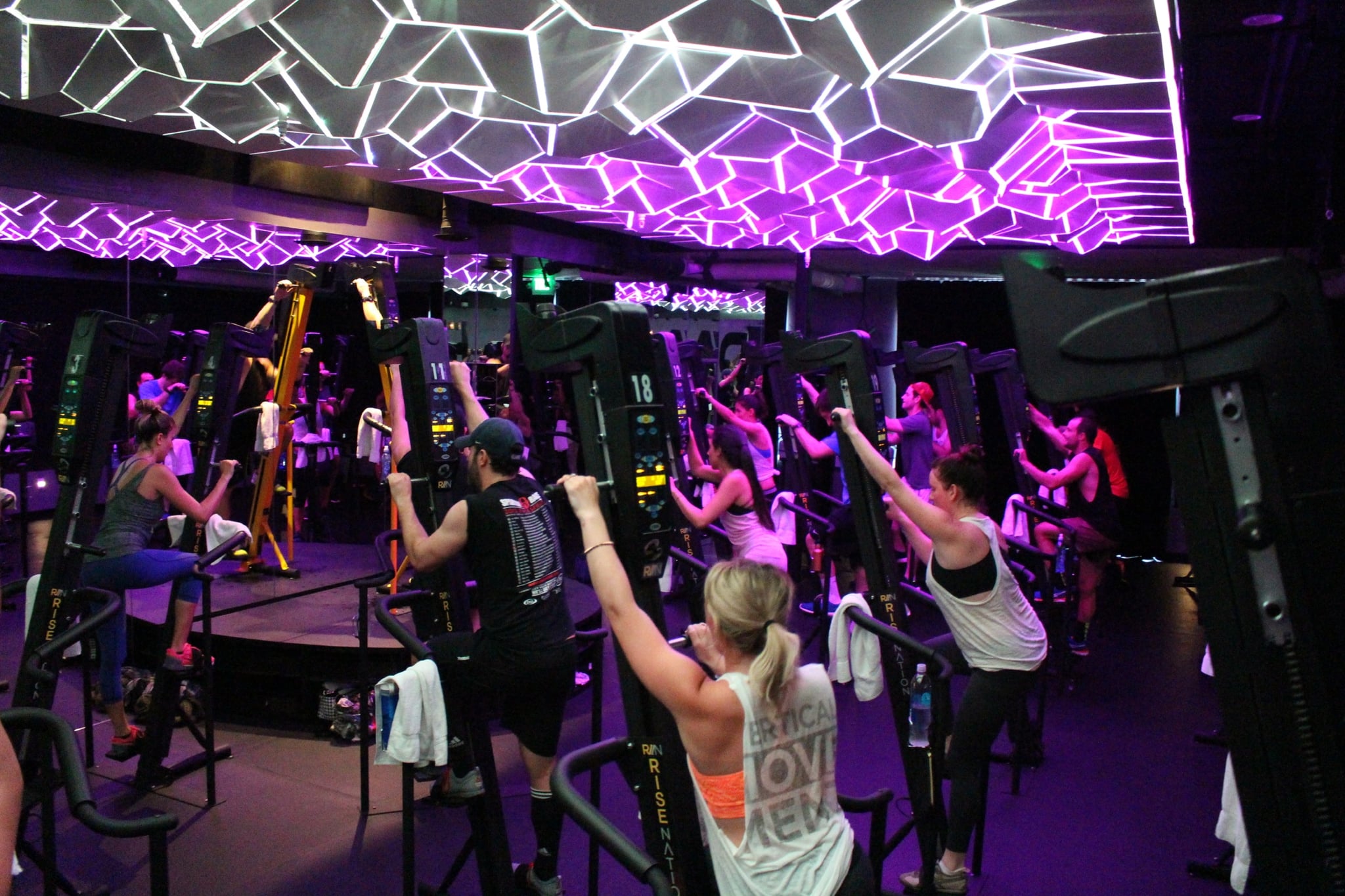 Image Source: Rise Nation
In a dark room in LA, with intense, heart-pounding music pulsing at ear-drum-crushing decibel levels, intricately designed black lights sparkling along the ceiling, and a trainer on stage, Rise Nation was like a mountain-climbing fitness rave. After hearing my fit-obsessed Angeleno friends sing the praises of this workout (designed by the trainer who helped Bradley Cooper bulk up for American Sniper), I knew I had to check out the class during my weekend trip to Southern California.
Put simply, Rise Nation is a climbing studio — which is quite different from a climbing gym — and a celebrity favorite, owned and run by celeb trainer Jason Walsh. You use the climbing machines that you'd find at a big box gym while an instructor guides you. The class is electric: high-energy, loud, sweaty, and intense. The feeling is similar to chugging a couple cans of Red Bull (not that I'd know anything about that . . . ), and it all happens in 30 minutes.
This isn't the first time a boutique studio has taken a bunch of the same gym machines and set them up arena-style in a studio (looking at you, cycling studios). The class follows the popular rhythmically timed exercise format — you climb to the beat, just as you'd "ride to the rhythm" in SoulCycle or "flow to the beat" at Ritual Hot Yoga. Very much like SoulCycle, you're on a "climb to the top of the mountain," with an adjustable resistance knob, heavier climbs, and brief sprint intervals, with a quick cooldown at the end.
While the rhythmic climbing could seem a tad effeminate to the wary male, it's anything but. Yet simultaneously, as much as this class appeals to men, it is equally comfortable for a woman. It's one of the first classes I've encountered in which the male-to-female distribution was even (perhaps with a few more men in class). The only other time I've experienced this was in a boxing class. What I'm trying to say is if your boyfriend hates barre and won't go to yoga with you, you could definitely take him to Rise Nation, and he wouldn't be mad . . . in fact, he might be even more into it than you (after all, you're going to work out with Bradley Cooper's trainer!).
That said, if you yourself are not big on barre or cycling (or traditional studio classes in general) and are looking for something a little more intense, this is a class to try. CrossFitters who have been averse to studios may also find this class meets or exceeds fitness expectations as a quick yet effective 30-minute total-body workout.
Although intense and challenging, the class was straightforward, beginner-friendly, and easy to pick up — all in all, we'd highly recommend this to anyone visiting or working out in Los Angeles . . . and we've got our fingers crossed that a studio will pop up in San Francisco soon.