Squat Jump Variation
The Jumping Squat Variation That Will Leave Your Legs on Fire
Do not expect to walk normally down the stairs. Not after this exercise. The first time I followed Autumn Calabrese doing this during one of the workouts on the 21 Day Fix Extreme program, my legs and butt were instantly burning, but I was not prepared for how my legs would feel the day after. They were so sore, I had to forgo my planned run that day and for the next couple days after. Now that's intense!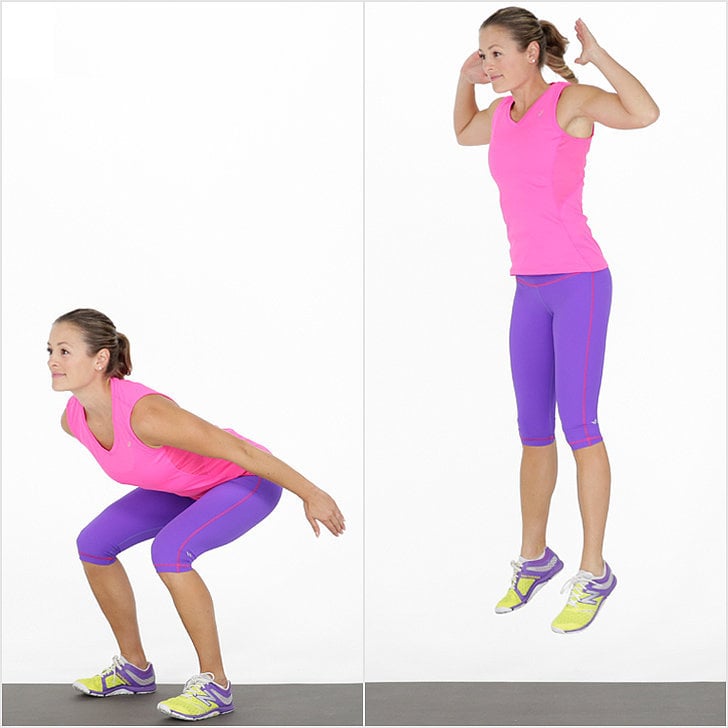 See for yourself and throw this squat hop plyo move into your next workout. Want to make it even more intense? Hold a dumbbell in each hand.
Before you start this move, visualize a large square on the floor, and you're standing in the bottom right corner, feet hip-distance apart.
Keeping weight in the heels, bend the knees and squat down. Take a huge jump forward to the top right corner of that imaginary square, landing quietly back into a squat.
Keep going around the square, jumping to the left, jumping back behind you, and jumping to the right. Now you're back where you started.
Continue hopping around the square in this direction for 30 seconds, then reverse your jumps around the square in the opposite direction for another 30 seconds.
Image Source: POPSUGAR Photography