Trader Joe's Black Bean Pasta
Move Over, Pasta! This Trader Joe's Black Bean Rotini Makes a Delicious Replacement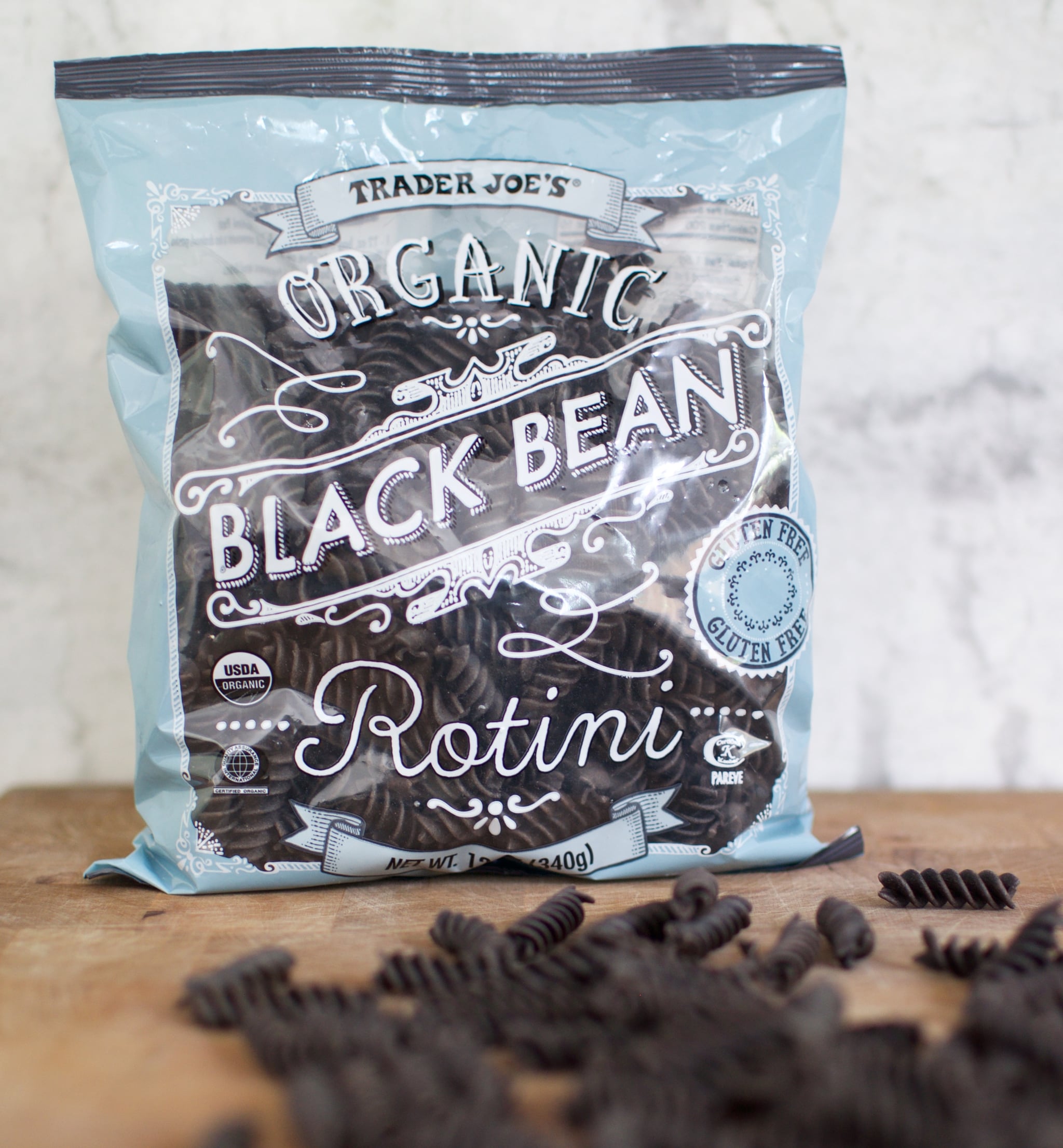 I'm always on the search for pasta alternatives like zoodles, whole wheat pasta, and spaghetti squash, and you guys . . . I might have discovered another one: black bean rotini. On my weekly trip to Trader Joe's, I came across an endcap full of organic black bean rotini pasta; after seeing there was only one ingredient — black bean flour — I had to give it a try.
These noodles are packed with double the amount of protein and 650 percent more fiber than your average semolina flour pasta for the same serving size.
| Nutrition | Trader Joe's Organic Black Bean Rotini (serving size: 56 grams) | Traditional Rotini Pasta (serving size: 56 grams) |
| --- | --- | --- |
| Calories | 200 | 200 |
| Fat | 1.5 grams | 1 gram |
| Protein | 14 grams | 7 grams |
| Carbohydrates | 35 grams | 42 grams |
| Dietary Fiber | 15 grams | 2 grams |
| Sugar | 2 grams | 1 gram |
Tips on How to Prep These Noodles
According to the cooking instructions on the package, al dente noodles should be boiled for 8-10 minutes. I pulled mine at six minutes in hope that the noodles would finish in the sauce but they were already a little past al dente in texture. Next time (and there will be a next time), I'll try at the five-minute mark and let them finish in my sauce. I served mine with just roasted chicken, marinara sauce, and a sprinkle of parmesan cheese. These noodles would also make a great cold Summer pasta salad with fresh corn, tomatoes, and a sprinkle of feta cheese. Just be sure as you cook them to check the firmness more frequently than traditional noodles.
Does It Taste Exactly Like Pasta?
No, there is a faint black-bean flavor, and the texture is a little chewier than traditional pasta. Unlike zoodles and spaghetti squash, they actually soak up the flavor of the sauce. Don't have a Trader Joe's in your neighborhood? You can order Trader Joe's Organic Black Bean Rotini ($19 for 3-pack) on Amazon.
Prices and products may vary by Trader Joe's location.
— Additional reporting by Haley Lyndes