US Women's World Cup Schedule 2019
Here's Exactly When — and How — You Can Catch the USWNT's World Cup Games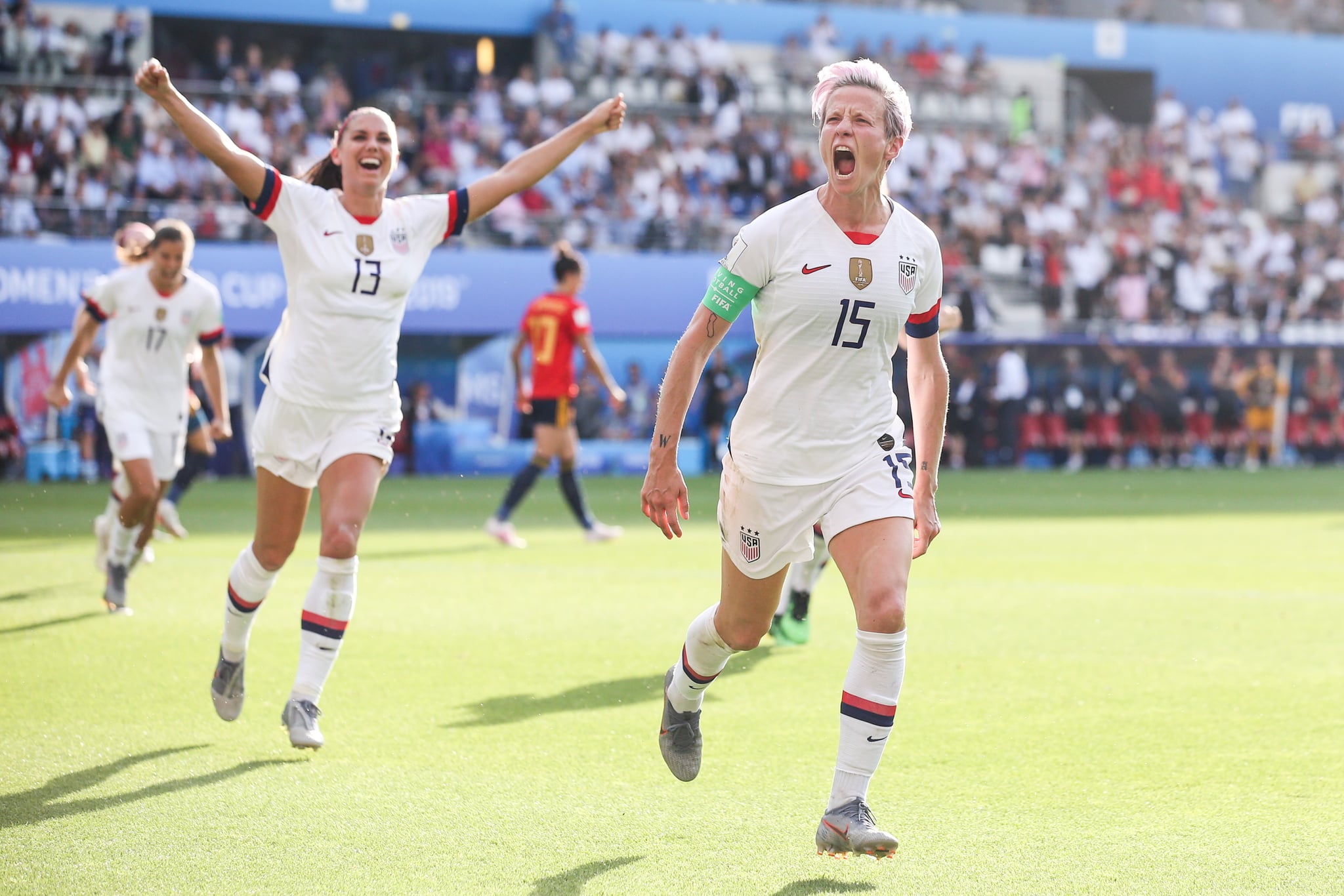 As the FIFA Women's World Cup gets under way, the US Women's National Soccer Team is, without a doubt, the team to watch. They're the defending champions (relive their exhilarating 2015 victory here) and the top-ranked squad in the world, making them the favorites to take home the title again. They've moved on to the semi-finals as the top-ranked team in the tournament and are set to face England on Tuesday, July 2, at 3 p.m. Eastern/12 p.m. Pacific.
The bracket is getting thinner as more and more teams get knocked out. Japan, who beat the US in the 2011 World Cup Final but lost to them big-time in 2015, was beaten by England, the team the US will face in the semis. The No. 2 ranked team, Germany, hasn't won since 2007 and are hungry for the prize. They're still in it, getting ready to play Sweden in the quarter-finals. And France, the hosts who beat the US 3-1 in a January friendly, just fell to the Americans in a hugely-anticipated quarter-final. Here are more fascinating storylines to watch, straight from ESPN soccer analyst and USWNT legend Julie Foudy, plus the top 25 players to watch.
Here's the US's record so far in the tournament, plus kickoff times for their upcoming games, because you're not gonna want to miss a minute.
US Women's National Soccer Team World Cup Schedule
Tuesday, June 11, 3 p.m. Eastern/12 p.m. Pacific: US vs. Thailand. The US won in record-breaking fashion, 13-0.
Sunday, June 16, 12 p.m. Eastern/9 a.m. Pacific: US vs. Chile. The US won 3-0.
Thursday, June 20, 3 p.m. Eastern/12 p.m. Pacific: US vs. Sweden. The US won 2-0, taking first place in their group.
Monday, June 24, 12 p.m. Eastern/9 a.m. Pacific: US vs. Spain. The US won 2-1 thanks to two penalty kicks from captain Megan Rapinoe.
Friday, June 28, 3 p.m. Eastern/12 p.m. Pacific: US vs. France. The US won this highly-anticipated matchup 2-1, once again thanks to two goals from Megan Rapinoe.
Tuesday, June 2, 3 p.m. Eastern/12 p.m. Pacific: US vs. England. This is the semi-final game; whoever wins heads to the Final!
All the games will be broadcast on FOX and streamed on its website and mobile app if you have a cable subscription. Other streaming options all include subscription fees, of which SlingTV ($15 for the first month, then $25 per month) is the cheapest, but you can also choose from FuboTV, Hulu with Live TV, PlayStation Vue, DirecTV Now, and YouTube TV.
Just want to know about the big game? The final will be played Sunday, July 7 at 11 a.m. Eastern/8 a.m. Pacific. Stay tuned.
Image Source: Getty / Zhizhao Wu / Contributor