Carli Lloyd's Record at the 2019 World Cup
Well, Carli Lloyd Just Smashed Yet Another Record in the USWNT's Solid Win Over Chile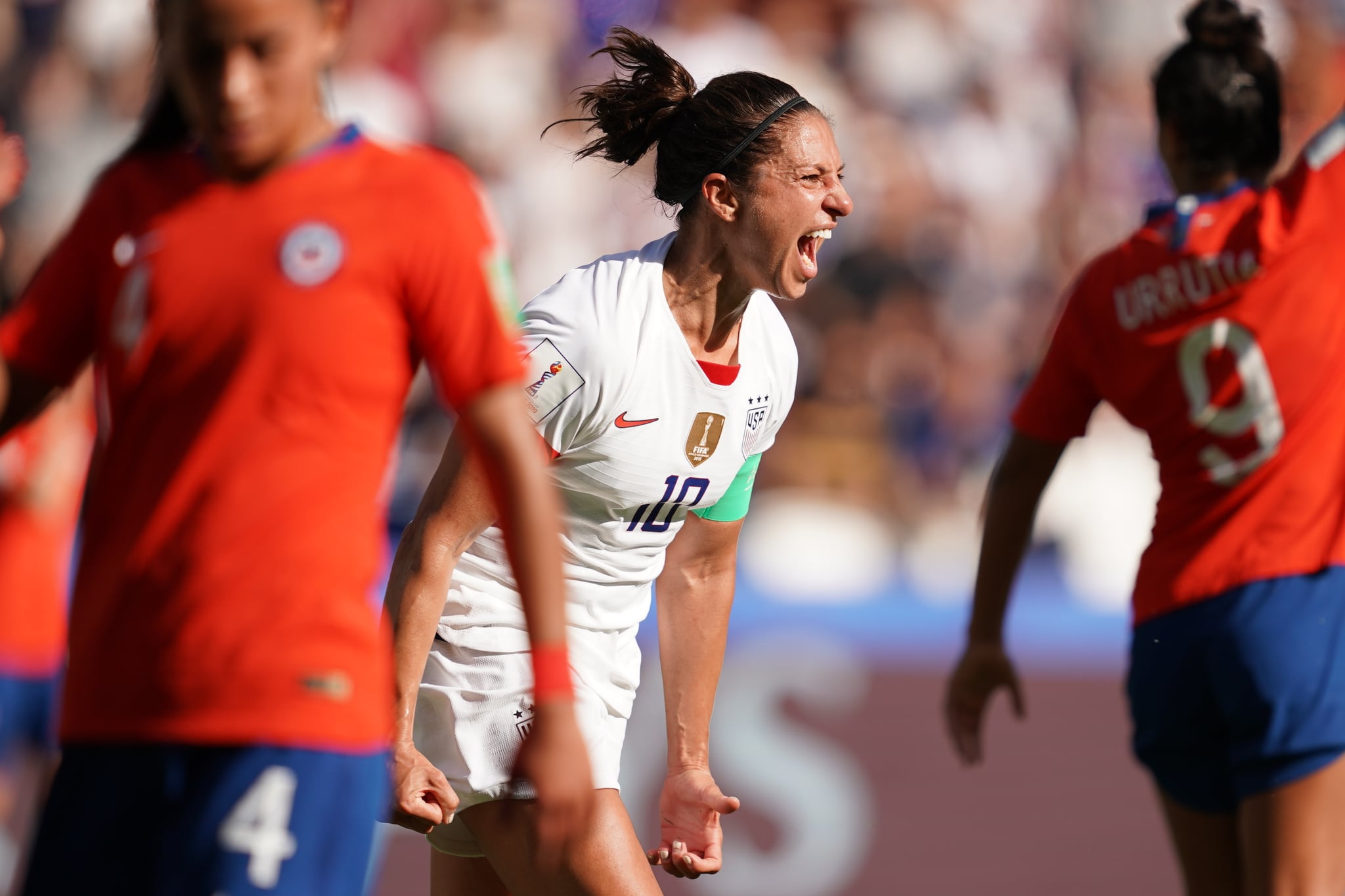 US forward Carli Lloyd broke an impressive record in the US's 3-0 victory against Chile in the Women's World Cup, one that underscores both her consistency and her on-point effectiveness as a veteran on the US Women's National Soccer Team. With her two goals in the US's second game of the group stage, she became the only player to score in six consecutive Women's World Cup matches. And it was against a Chilean goalie, Christiane Endler, who's considered one of the best in the world, holding a surging US team to three goals thanks to several spectacular saves.
The record-breaking goal came just 10 minutes in, when Lloyd smacked a shot from the top of the box that streaked past Endler for the first score of the day. A line-drive header by Julie Ertz, off a corner kick by World Cup rookie Tierna Davidson, made it 2-0 in the 25th minute. Then Lloyd scored again, a bouncing header that put her one goal shy of a hat trick and settled the US into a three-goal lead at halftime. The score would hold for the rest of the game, though Lloyd missed another opportunity when she went wide on a penalty shot late in the second half.
Of course, Lloyd's is just the latest record broken by the US team, adding onto their history-making 13-0 defeat of Thailand in the first round, which included Alex Morgan's record-tying five goals. Lloyd herself is the holder of several other records, having scored both the fastest goal and the fastest hat trick ever in a Women's World Cup final, both in the USWNT's tournament-winning victory over Japan in the 2015 World Cup.
Morgan sat out this game, along with midfielder Megan Rapinoe, forward Rose Lavelle, and midfielder Sam Mewis, all of whom had goals in the win over Thailand. That allowed the USWNT to prove the depth of their bench, securing a victory that officially pushed them through to the knockout stage of the tournament. The pressure is mounting, and the games are getting more exciting with every round. Check the USWNT's full schedule here, because you're not going to want to miss a second.
Image Source: Getty / Daniela Porcelli / Contributor