What Is Wanderlust 108?
Why You're Going to Want to Check Out Wanderlust 108 ASAP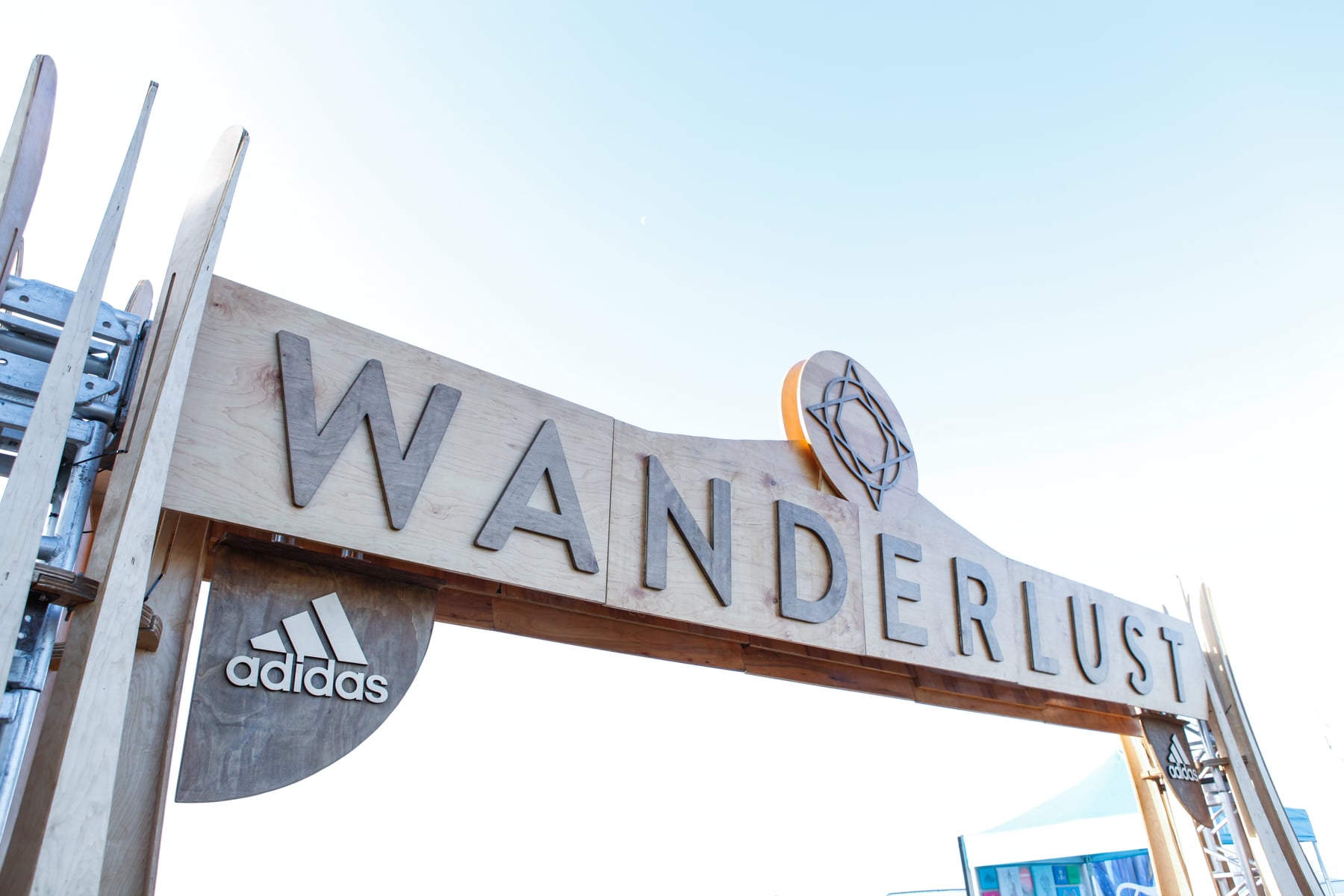 When I first got the invite from Adidas to head to Wanderlust 108 in LA, I knew I was in for an experience that'd be unlike anything I've ever tried. The "Mindful Triathlon" descriptor was pretty indicative of that! I've never done a triathlon before, let alone a mindful one. But the event seemed to be right up my alley, combining some of my favorite activities: running, yoga, and meditation. I went in with an excited, open, and inquisitive mind, with no idea what to expect.
What ensued was something I never could've imagined — envision thousands of people on the cleared-out south-side of the pier, rolling their yoga mats out together under the sun, practicing their inversions, laughing and smiling, barefoot, covered in sand and body paint designs. They're dancing and doing yoga simultaneously. They're really happy. That's Wanderlust.
In essence, it was like the Coachella of yoga. Just like the iconic Coachella skyline, there was even a ferris wheel, thanks to the location on the Santa Monica Pier. Festival style was indeed a thing, but it was all about activewear, and how you were wearing it. Each person's unique personality showed through with printed tights, flash tattoos, body paint, and crazy-cool hair styles.
Related: What It's Like to Go to Wanderlust Squaw Valley
Here's the deal: Wanderlust 108 is a wellness-focused festival that travels around from city to city, allowing participants to "travel inward" and "find their true north" through a day of running, yoga, and meditation. Clean eats and food trucks are on offer (for sampling and purchase) in the event zone, as well as different types of yoga apparel vendors — think: a mix of kombucha, acaí bowls, and flowing, handmade palazzo-style yoga pants. Then there's Adidas with a women's pop-up, offering sneakers and more traditional activewear. This event isn't just for one type of person or athlete: the eclectic mix of vendors, styles, and personalities of the attendees made that evident.
The event starts with a 5K, but it's not your typical weekend race. This particular event's 5K took place on the sand, for which many participants removed their shoes and went for a barefoot, sea-soaked sprint. Others walked, and some jogged. There are no pace corrals, no finishing times — you're just out for a quick jaunt in the sun to get the blood flowing before diving into some spiritually enriching yoga.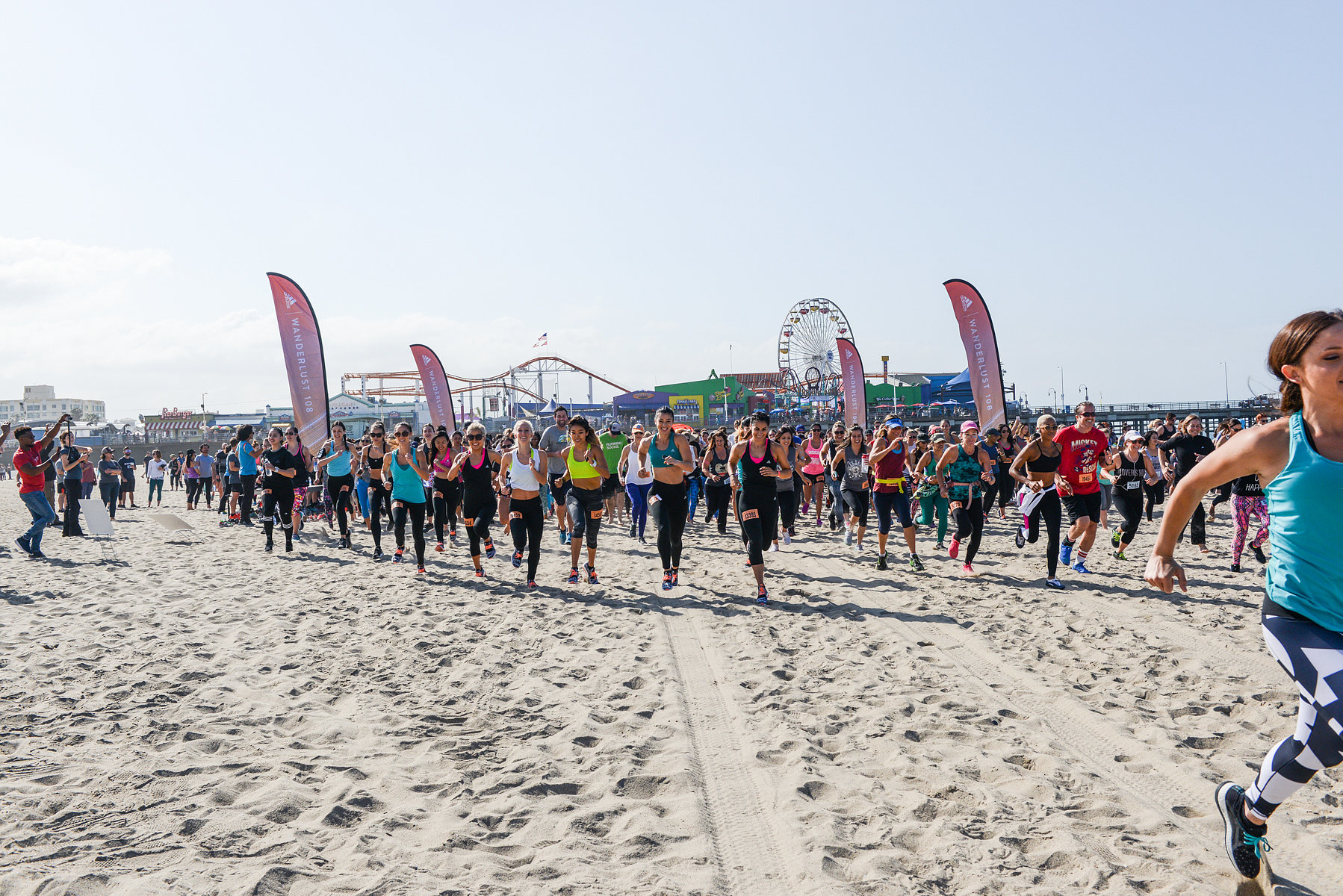 As for said yoga, you're then treated to 75 minutes of a very unique practice. The thousands of yogis — from beginner to advanced — congregate in front of a stage, which is hosted by an emcee-slash-DJ. Said host leads "dance yoga," before another instructor comes out to finish the group practice, while a DJ spins the music to which your practice is set. It's like a combination of the most packed power yoga class you've ever taken and a music festival. Despite the massive number of people, you have enough space to practice without feeling cramped, and I was never at any point claustrophobic or anxious (and I can definitely feel that way at concerts, in public transportation, etc).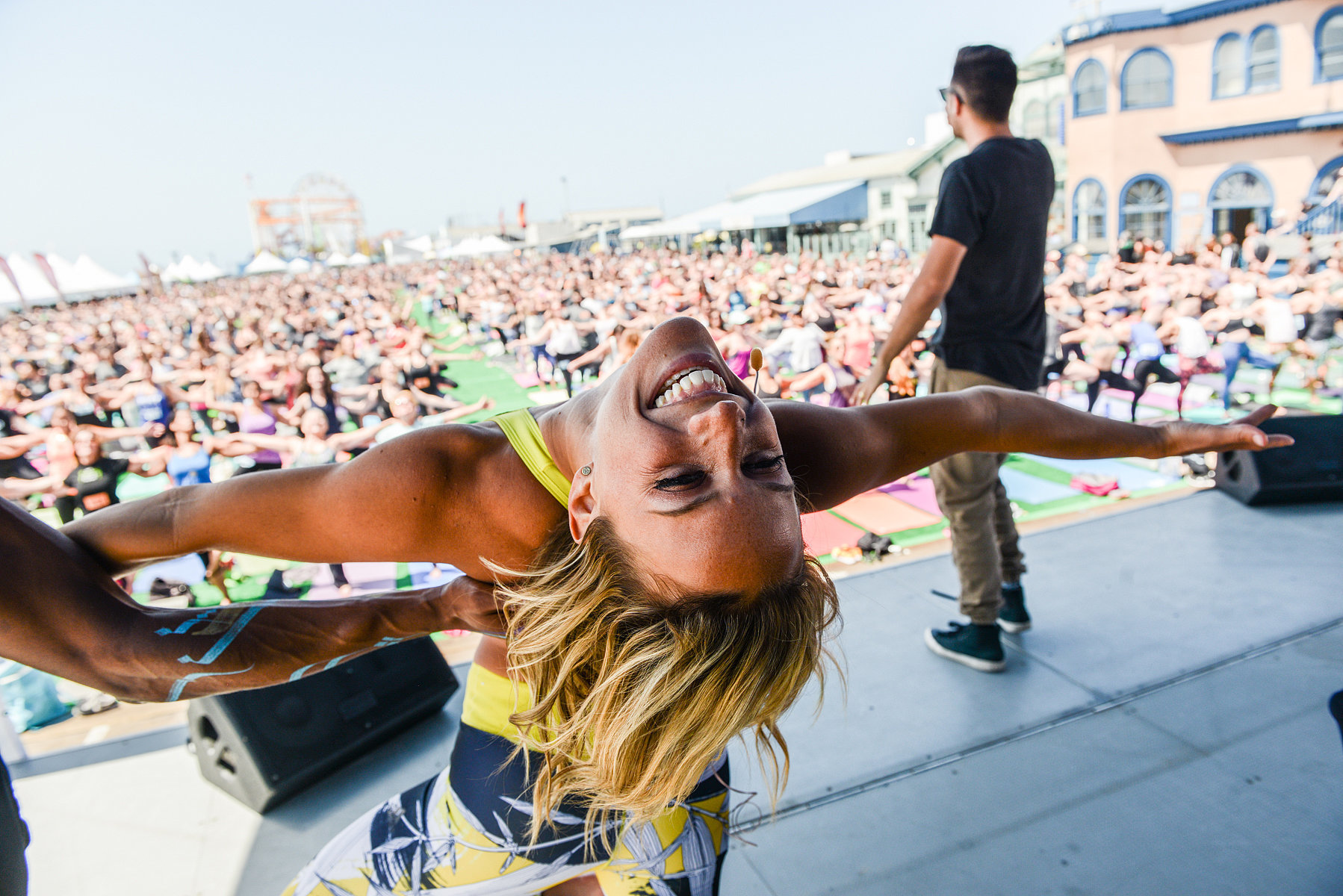 You'll end your "triathlon" with 30 minutes of guided meditation, which for some (perhaps this editor) might have turned into a naptime in the sun. The mood calms, the music silences, and the crowd was still. There wasn't a single phone out for Snapchat or Instagram — that in itself was pretty incredible. Attendees also have the option of signing up for a "bonus activity" like Acroyoga, aerial yoga, or slackline classes.
The sense of community and positivity that comes out of a festival atmosphere is inspiring on its own; when combined with the magic of the "afterglow" of exercise, the synergy was unbelievable. Knowing the powerful effects of running, yoga, and meditation together — including how it can treat depression — this event really spoke to me, and the kind of effect it can have on people. You could see immediately sense on the ground of the event that there was an instant effect on how everyone was feeling. Positive vibes all around.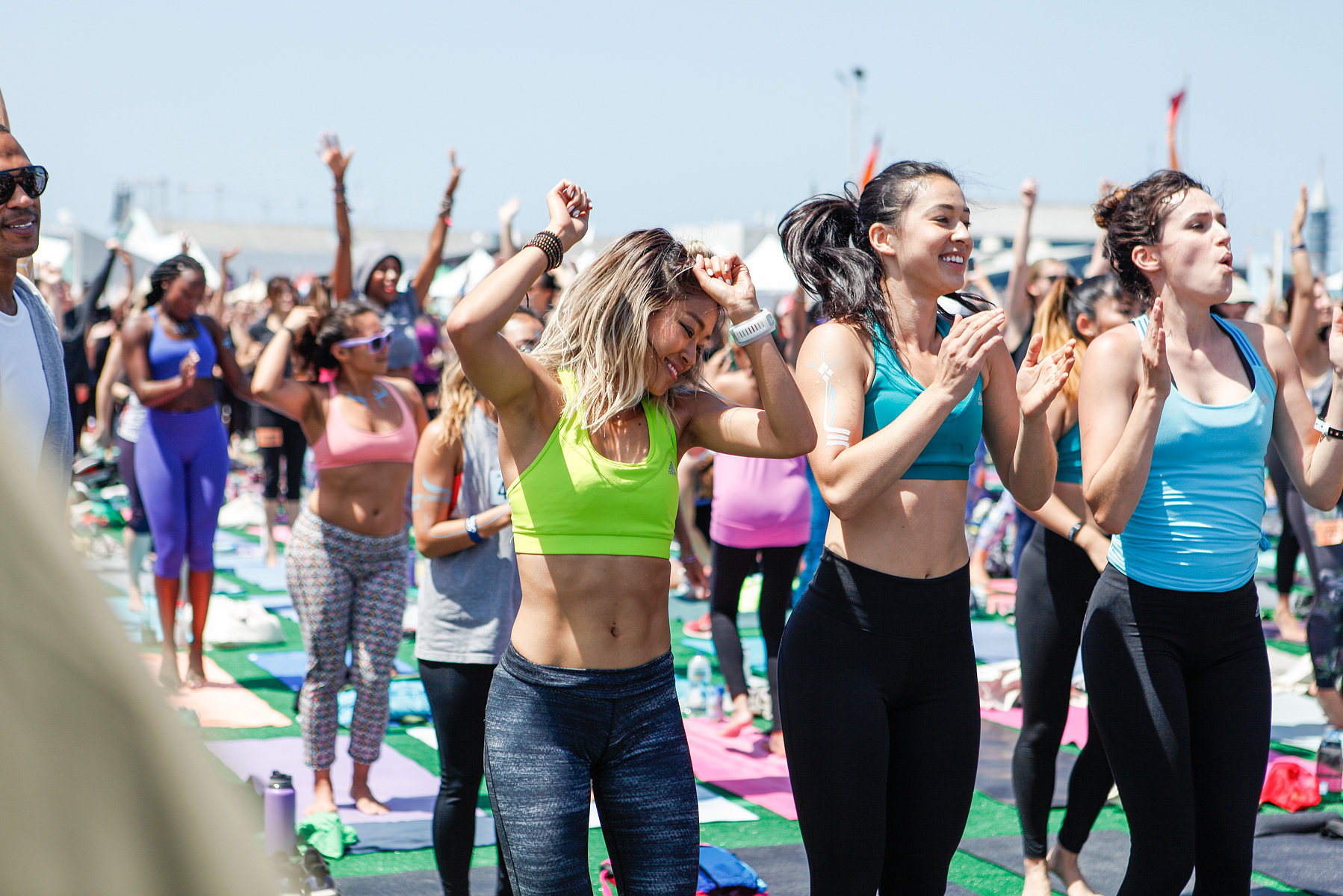 Although it was a whirlwind trip (and involved a bit of air travel), I still returned from this event feeling refreshed, renewed, and at peace . . . albeit very, very sunburned (whoops). I'd definitely encourage anyone, regardless of experience, to check out these events. And to pack SPF 100. You can see the full list of tour dates on the Wanderlust site, and find an event near you to start finding your "true north."