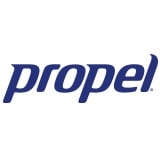 Ready for a different type of workout? We partnered with 
Propel Electrolyte Water
 to help you decide what new fitness trend you should try.
You've been a walker all of your life. You know exactly how long it will take you to complete that two-mile loop, and you know exactly which streets in your neighborhood have the steepest inclines. Walking is your thing. But maybe you're ready to try something different or, at the very least, do something else during your off days. Either way, we've put together a quiz to help you figure out what new workout you should try this Fall.
Pick your dream workout shoes.
What is your favorite thing to do on vacation?
The best cardio song right now is:
"The Night Is Still Young" — Nicki Minaj
"The Wolf" — Mumford & Sons
"Ship to Wreck" — Florence + The Machine
"Cheerleader (Remix)" — OMI
Which animal is most like you?
Pick the reason you work out.
What is your favorite dessert?