Whole-Wheat Protein Pancakes Recipe
Meal Prep These Protein Pancakes, and Try These 5 Genius (and Healthy!) Ways to Enjoy Them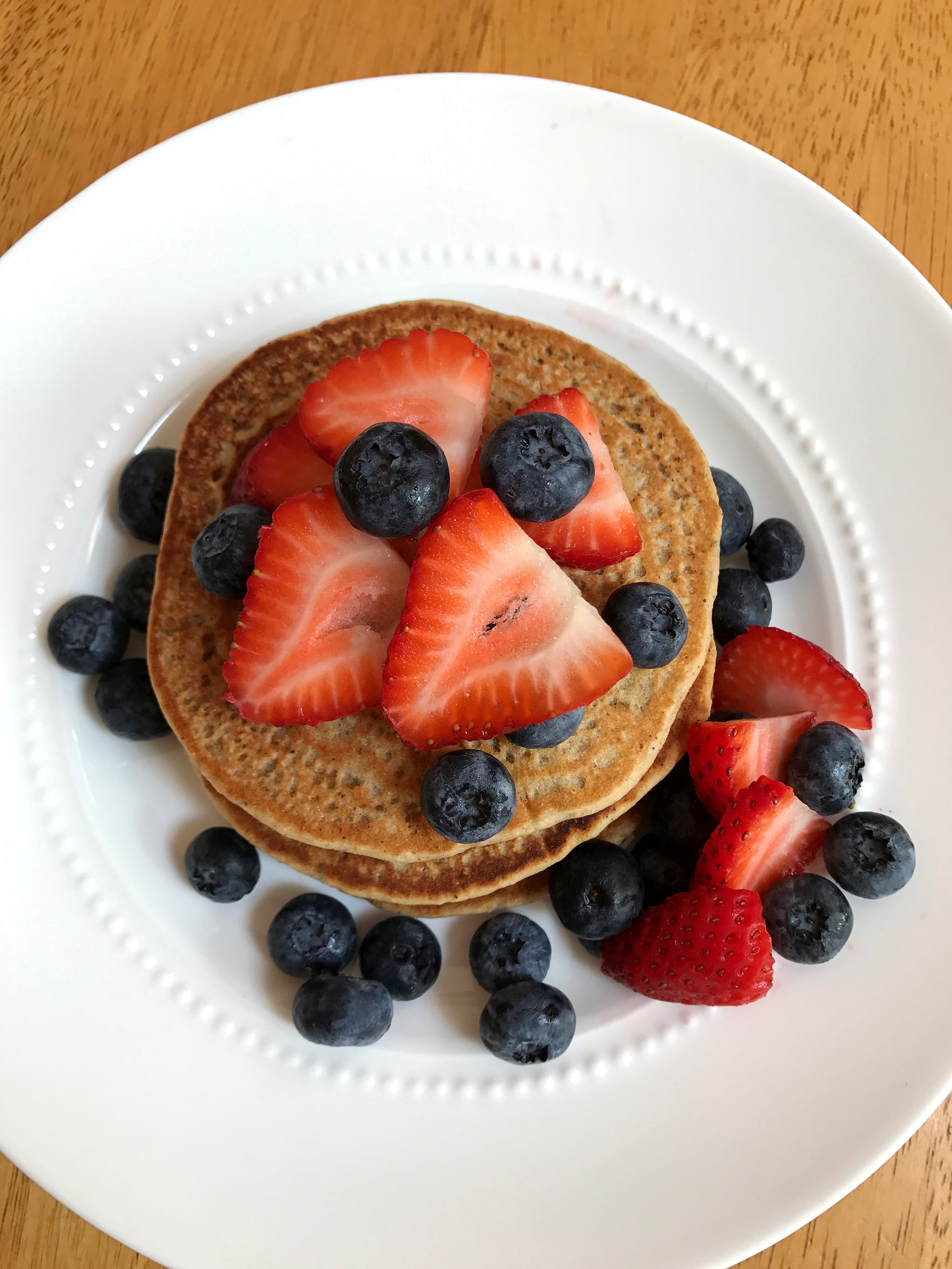 If you love pancakes for breakfast but A) they're too time-consuming to make, and B) you wish they offered more protein, then you're going to love this recipe. It's made with a combination of whole-wheat flour and protein powder, so they offer protein (4.8 grams!) to fill you up. They're also sweetened with ripe banana, so they honestly don't need any maple syrup (my last name is Sugar, so I wouldn't lie to you about this!).
This is a double recipe, so it makes 24 pancakes. That means you can make them on a Sunday and enjoy a few hot off the griddle topped with fresh berries, a sprinkling of nuts, and a dollop of yogurt, then cool and freeze the leftovers for later. Thaw them overnight or microwave a few; it's so fast and easy! Here are five healthy ways you can enjoy them:
Basic pancakes: They taste like flat banana muffins, so they're delicious on their own.
Sandwiches: Freeze them in similar-size pairs so you can use them as a sliced bread substitute — they're so good spread with nut butter and a little jam. Or try grilled cheese — it may sound weird, but it's ah-mazing.
Tacocakes: The hubs gets the credit for this one that he made for our kids. Scramble some eggs, add some diced avocado, and use the pancake like a soft taco shell.
Breakfast parfait: This can be prepped the night before for a grab-and-go breakfast. Layer yogurt, sliced banana, nut butter, and cubed pancakes in a mason jar.
Dessert: When you're craving something sweet like cake, top a protein pancake with some yogurt or freshly whipped coconut cream and a few chocolate chips, frozen berries, and nuts.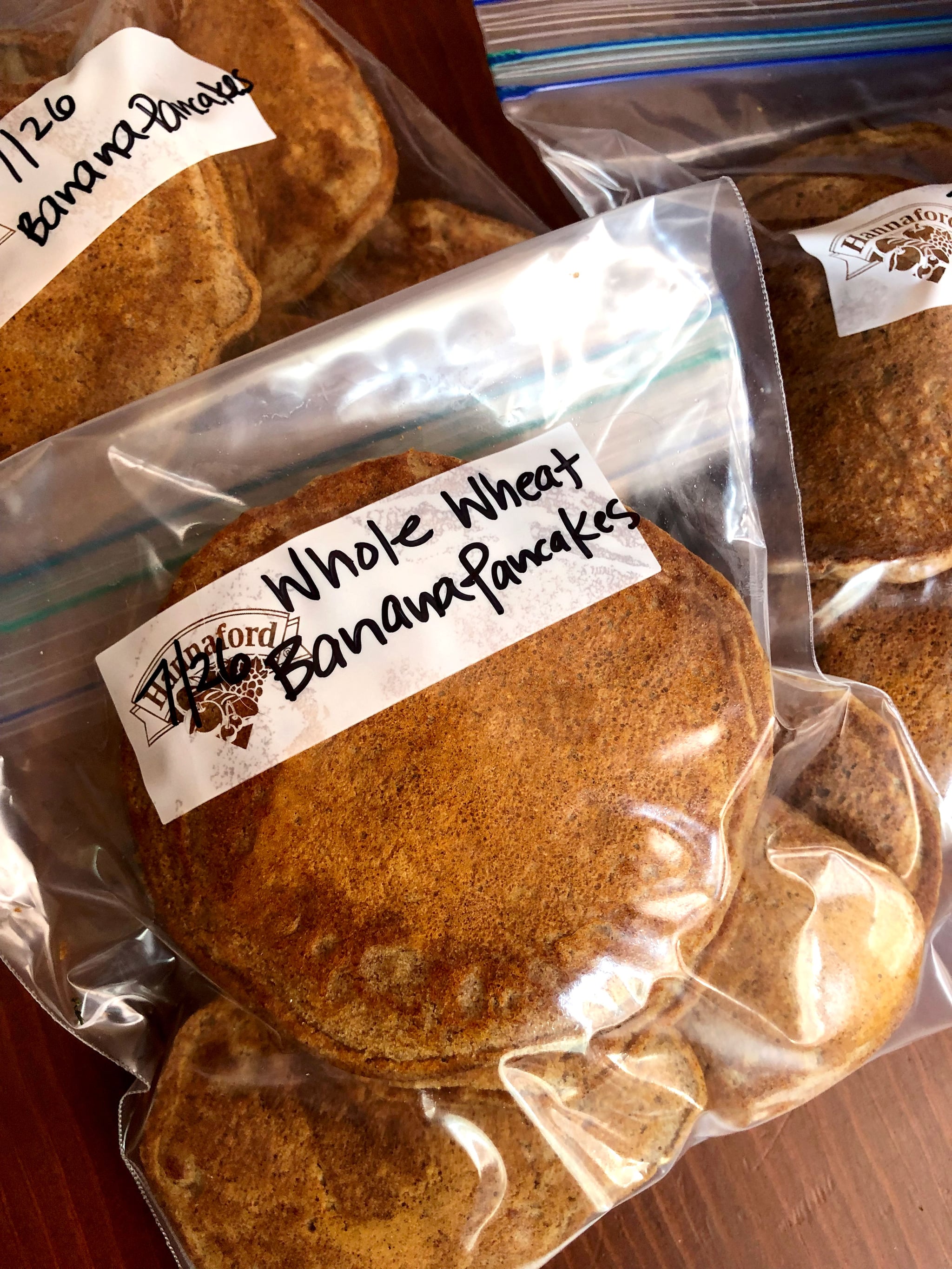 Whole-Wheat Protein Pancakes
Jenny Sugar, POPSUGAR Fitness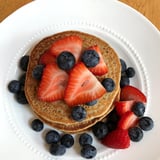 Ingredients
4 cups whole-wheat flour
1 cup plant-based protein powder (I used 2 servings of Vega Sport Vanilla)
2 tablespoons coconut sugar
4 teaspoons baking soda
1 teaspoon sea salt
1 teaspoon cinnamon
1/2 teaspoon nutmeg
1/4 teaspoon cloves
2 small ripe bananas
4 cups unsweetened nondairy milk (I used Silk Organic Unsweetened Soy)
Directions
In a large bowl, mix together the dry ingredients: flour, protein powder, coconut sugar, baking soda, sea salt, and spices.
In a separate small bowl, mash the banana with a fork and mix in the nondairy milk.
Add the banana-milk mixture to the dry ingredients and stir until just mixed — overmixing will yield a tough texture.
Heat a pan or griddle over medium heat. Lightly oil the pan with a little spray oil or Earth Balance. Pour about one-third cup of the batter onto the pan, and cook for a few minutes until little bubbles form on top. Flip, and cook for another minute.
Enjoy immediately, or if you're meal prepping, allow the pancakes to cool on a plate, then place them in a freezer bag or glass container and freeze for later.
Here's the nutritional info for one pancake:
Information
Category

Breakfast/Brunch, Pancakes/Waffles

Yield

24

Prep Time

5 minutes

Cook Time

30 minutes

Total Time

34 minutes, 59 seconds
Nutrition
Calories per serving

106