Yasso Greek Yogurt Ice Cream Review
Holy Sh*t, These Greek Yogurt Ice Cream Bars Are Insanely Good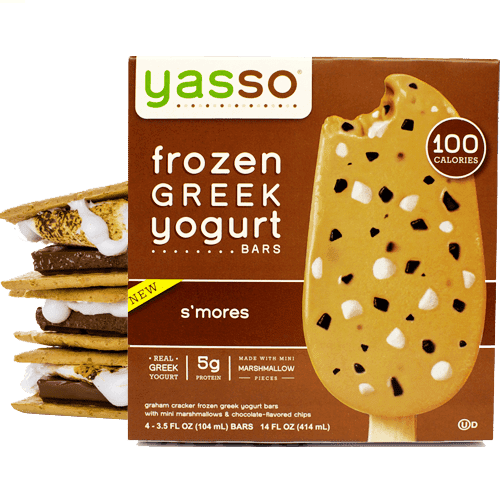 We have a bit of an obsession with healthy ice creams; from Halo Top to Enlightened, we're always on the prowl for a good-for-you frozen treat. When a box of Yasso Frozen Greek Yogurt bars came to our desks, it was mere minutes before all of them were gone. The results? Amazing. Everyone was super into all the flavors.
Yasso's sweet treats ring in at 100 calories a pop (pun intended), and 120 calories per sandwich. They each have five grams of protein, and are low in sugar — seven grams in the sandwiches and 14 grams in the pops (much, MUCH lower in sugar than the Unicorn Frappuccino). The bars have two grams of fat, while the sandwiches have 3.5 grams. You'll also get some gut-friendly probiotics from the Greek yogurt, which is a nice added health bonus.
So how do they taste? Damn delicious. Here's a breakdown of the flavors we tried — S'mores, Toffee Caramel Chocolate Chip, and Black Raspberry Chip bars, and Vanilla and Mint cookie sandwiches.
S'Mores
WOW.
OMG, it tastes like graham cracker! These are stupid good. Perfection.
Can't believe it's only 100 calories
You can really taste the graham cracker, and I like the marshmallow, but I'm not sure what they're made of. The only reason I gave it a 4 is because of the aftertaste.
Literally tastes like a straight-up frozen s'more.
Mint Sandwich
Doesn't taste that healthy!
I was put off by the tartness of Greek yogurt with mint, but with the Oreo it works!
It wasn't all that minty, but somehow refreshing.
Had a funny aftertaste, but I keep going back for more. Overall pretty impressive for a healthy dessert.
Vanilla Sandwich
So good and yummy!
Can't even taste the difference [between this and a regular ice cream sandwich].
Black Raspberry Chip
Great balance of fruit and chocolate!
Love the white and dark chocolate with the raspberry — a bit of an aftertaste though!
Toffee Caramel Chocolate Chip
Very rich! Good, but not sure I could finish it all.
Good ice cream flavor!