When the Olympics roll around, I'm all in on Team USA. Every sport, every event, from 1 a.m. soccer games to 9:30 p.m. basketball tipoffs (gotta love that Tokyo time difference!), I'm out here whisper-screaming into my laptop screen as American athletes push for the podium. As much as I appreciate the athleticism and accomplishments of the athletes from other countries, there's only one flag I want to see lifted in the center of that medal ceremony.
I rooted for Team USA to make every podium at the 2021 Olympics, but I also found myself enjoying the some of the upsets, the surprise victories, and the small moments between competitors, even when it meant my favorite athletes didn't make the cut for a medal. Did I want the USA softball team to win gold and avenge their 2008 loss to Japan? Of course — but there was also something incredibly special about watching the Japanese team win its second Olympic gold in its home country. Of course I want Katie Ledecky to win every single race she's in, but how could you not love the celebration of Ariarne Titmus's coach when the Australian swimmer beat Ledecky in the 400m freestyle?
It feels like this Olympics was about a lot more than medal counts, podium ceremonies, and nation-versus-nation action. It was a celebration of the effort put in by every athlete from every country just to be there, competing under unsettling circumstances after an extra year of unexpected training in the middle of a pandemic. The sportsmanship we saw across countries and events only underscored that, showing that even when athletes fell short of gold or the podium, they could appreciate and respect their fellow competitors and the work they put in. Hugs across the lane lines in the pool, sharing medals on the track, hefting athletes in the air after a bad spill at the skate park: these moments of mutual empowerment and sportsmanship reminded us that being an Olympian isn't just about the color of the medal that goes around your neck, but the respect you show to your opponent and the struggles and sacrifices it takes to make it to the Games.
Ahead, relive some of our favorite moments of pure sportsmanship from these Olympic Games that'll give you even more respect for these athletes and role models.
01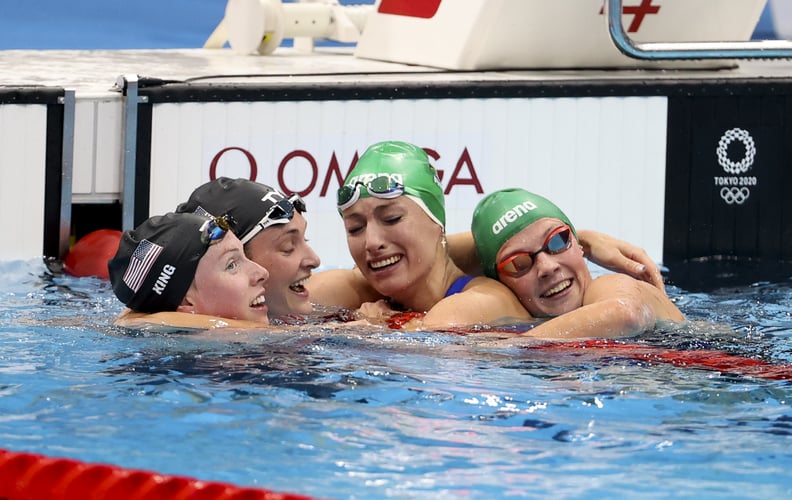 Swimmers Share Four-Way Hug After 200-Meter Breast Stroke Final
The women's 200m breast stroke finally was hotly contested, with defending gold medalist Lilly King going up against two strong South Africans, Tatjana Schoenmaker and Kaylene Corbett, as well as her Team USA teammate Annie Lazor. Schoenmaker out-touched King at the wall to win, and it took her a minute before she realized she'd also broken the world record. Overcome with emotion, she hugged bronze medalist Lazor across the lane line as King and Corbett swam over to join in the celebration. Watch the race and powerful moment here.
02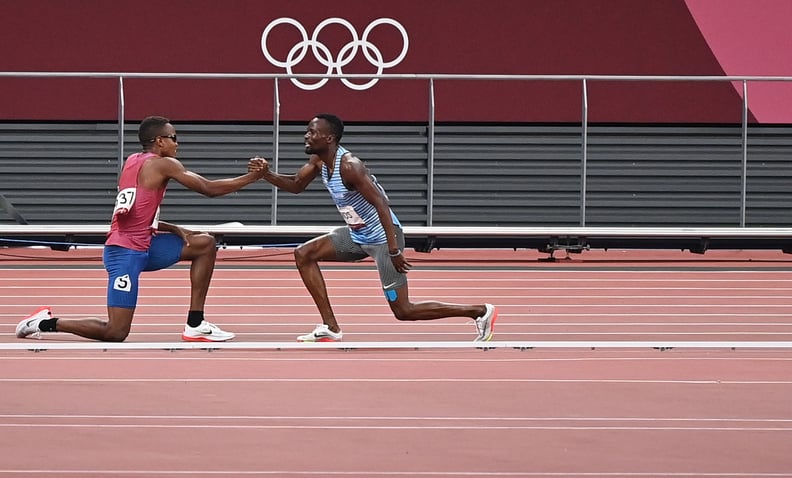 Isaiah Jewett and Nijel Amos Help Each Other Up After Falling in 800m Semifinals
It's devastating to see runners fall when they're in position to qualify for an Olympic final. Isaiah Jewett and Nijel Amos were both vying for a top three finish in the men's 800m semifinal before Amos clipped Jewett's heel and both athletes went down. The visibly disappointed runners spent a moment on the track together before helping each other up and finishing the race side by side.
03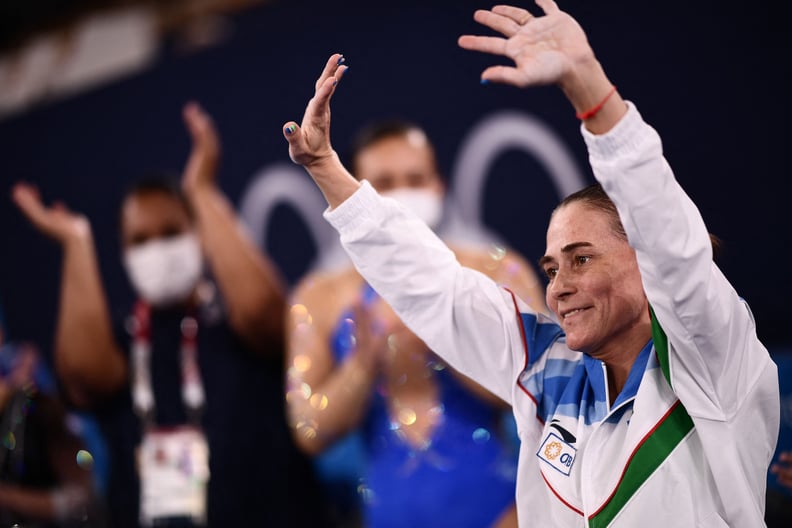 Oksana Chusovitina Gets a Standing Ovation
Oksana Chusovitina, 46, is the oldest Olympic gymnast, and this year she competed in her record eighth Olympic Games. Chusovitina missed qualifying for the event finals in vault, her specialty, but made history — and got a much deserved standing ovation from the few spectators in the stands — for her unprecedented longevity.
04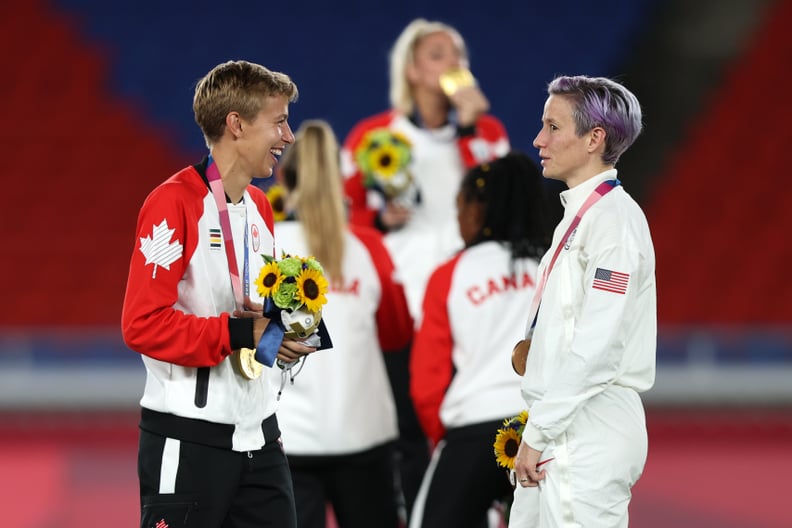 Megan Rapinoe Congratulates Quinn After Canada Beat USWNT
Megan Rapinoe was vocal about her disappointment when the USWNT lost to Canada in the Olympic semifinals. When the two teams met on the podium, though, she shared a moment with Canada's Quinn, the first known transgender gold medalist in Olympic history. Rapinoe and Quinn are club teammates on the National Women's Soccer League's OL Reign, and Rapinoe, an LGBTQ+ advocate, has supported Quinn throughout their journey. "To see someone just living their full life the way that they want to, I always feel like is really inspiring and beautiful," Rapinoe told Insider in March.
05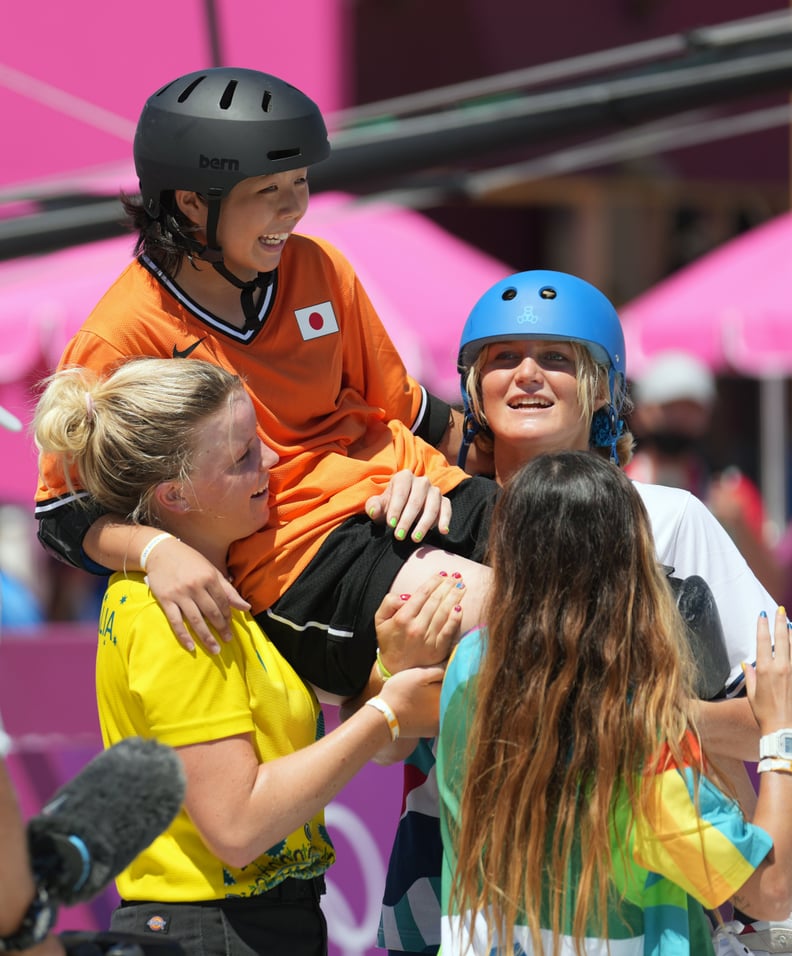 Skateboarders Lift Each Other Up After a Hard Fall
If you caught any of the skateboarding competitions in Tokyo, you learned that this tight-knit community of athletes support each other no matter what the results or what country they're from. In the finals of women's park, Osaka Misugu fell on her final run and climbed out of the bowl straight into the arms of her friends and competitors, who hoisted her up on their shoulders to celebrate her incredible effort.
06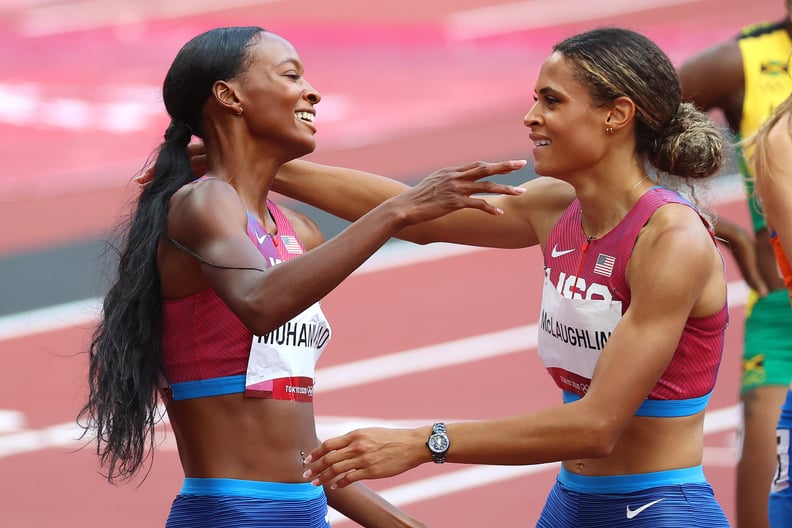 Sydney McLaughlin and Dalilah Muhammad Empower Each Other on and Off the Track
Sydney McLaughlin described her relationship with Dalilah Muhammad as "iron sharpens iron." The two best 400m hurdlers in the world push each other to greater and greater feats, and that was put on display in the finals in Tokyo as they crossed the finish line 1-2, with McLaughlin taking home the gold and a new world record. The first person to embrace her afterwards? Muhammad, of course. "There is no bad blood," McLaughlin said. "It's just two athletes wanting to be their best and knowing there is another great girl who is going to get you there."
07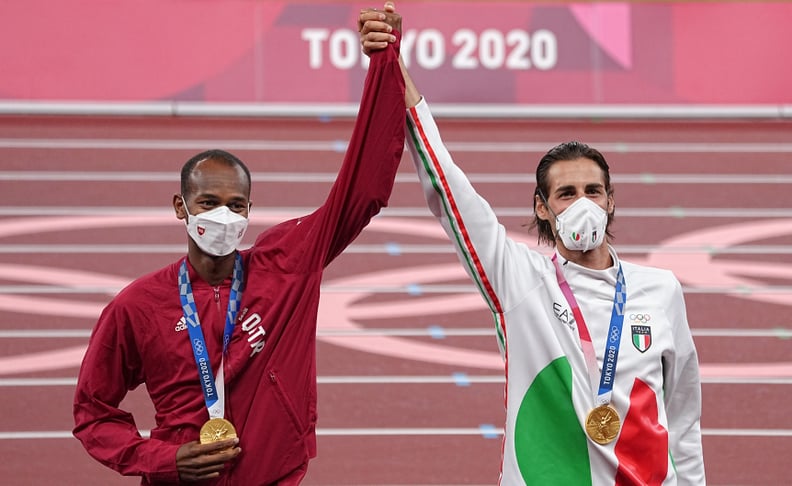 High Jumpers and Friends Share a Gold Medal
Italy's Gianmarco Tamberi and Qatar's Mutaz Essa Barshim stole the show in the Olympic field events. The longtime friends were going head to head for a gold medal, the only jumpers left when the bar went up to 2.37 meters. Both athletes failed to clear it, putting them on track for a high-stakes jump-off for the gold — until they agreed to share the medal, the first joint Olympic medal in athletics since 1912. Tamberi roared with joy as the two embraced.
"He is one of my best friends, not only on the track, but outside the track," Barshim said afterward. "We work together. This is a dream come true. It is the true spirit, the sportsman spirit, and we are here delivering this message.
08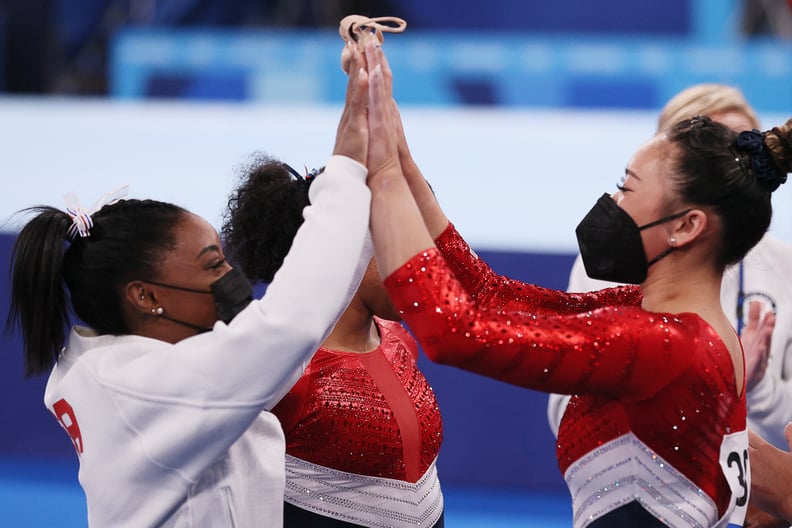 Simone Biles Cheers on US Gymnastics Team After Withdrawing From Team Finals
Simone Biles withdrew from most of her finals in Tokyo, but her presence was still felt in Tokyo in the best way. After staying on the floor to cheer on her teammates in the team finals, where the US took silver, Biles made sure to be in the stands for the all-around and event finals to provide even more support. We didn't think we could love Biles any more, but the way she stood up for her mental health and cheered her friends on to medals had our hearts bursting. (Her bronze on beam was pretty phenomenal, too.)