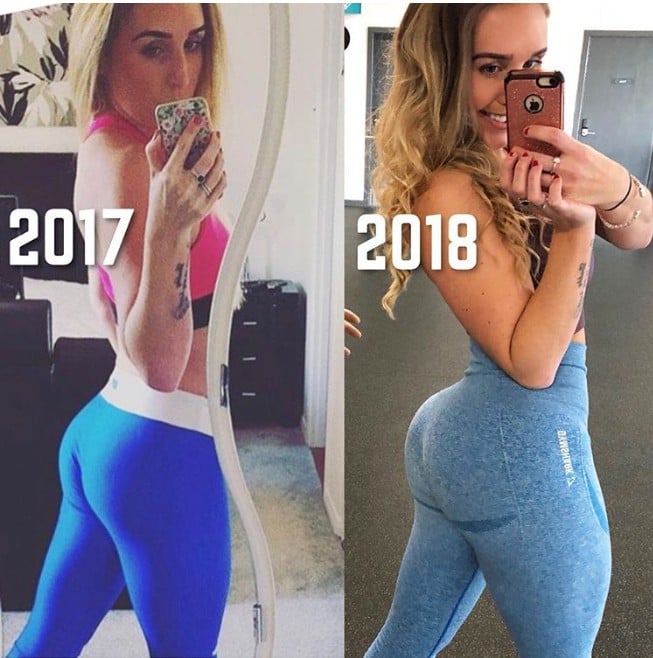 There's no shortcut to building a better booty (aside from plastic surgery) — it all comes down to hard work, eating right, and hitting the weight room. As these nine people show, it is possible to grow your butt and totally transform your body without stepping foot inside a plastic surgeon's office.
If you're trying to grow a booty yourself, scroll through to read their helpful advice, from upping your protein intake to falling in love with hip thrusts. These before-and-after photos speak for themselves.
01
"Don't compare yourself to somebody else. Compare yourself to you."
Madalin Giorgetta, a certified personal trainer with almost 800,000 followers on Instagram, knows a thing or two about putting on muscle. In her impressive booty transformation pics, it's clear she knows how to target those gains in her glutes. "So many people think that the best way to grow your booty is through squats, when in actual fact, the best way to grow your booty is through hip thrusts, glute bridges, and a mix of abduction exercises involving cables and resistance bands," she told POPSUGAR.
02
"First of all, your diet needs to be on point and you need to eat A LOT."
Bikini competitor and fitness expert Marta Mielczarska, NASM, CPT, FNS, shared her booty transformation on Instagram and revealed that in order to put on muscle, you have to eat more. She told POPSUGAR that she was eating 1,800 calories on the photo on the left, but was up to 2,200 calories on the photo on the right.
03
"I am so excited to see how much more my body changes!"
Teresa Hanson (@teresaahanson) shared her impressive 52-day transformation on Instagram, but said her muscle gain was only part of her fitness journey. "But honesty, ladies, for me it has been so much more than just body changes," she wrote in the caption. "It has been little things I have started like doing more self-care for myself, prepping my meals to make my days less stressed, and most of all seeing all my ladies kick some serious booty."
04
"Believe in yourself — you can be your own worst enemy."
Kim French (@kimfrench87) showed her one-year booty transformation in this Instagram post and offered some pointers in the caption: eat at a calorie surplus to feed your muscles, eat enough protein, do hip thrusts, and stay consistent. Sounds like solid advice to us!
05
Running vs. Weight Training
Cathy Martin showed what happens when you add weight training into your fitness regimen. "Running 2014 versus weight training 2018," she wrote in her caption.
06
"I worked out legs and glutes consistently."
Briana Chandler told POPSUGAR that she started her fitness journey her freshman year of college and had a goal of building her booty while building up her overall strength. "I wanted a transformation that I could be proud of — one I could inspire other people with," she said. She worked out her legs and glutes consistently around two or three days a week.
07
"Growth is possible! Consistency and effort are optional."
Davelyn Davenport showed that in just one month, progress is possible: the photo on the left is from March and the photo on the right is from April. To see changes, consistency is key. She told POPSUGAR that she works out once a day, five days a week, with two rest days. Her favorite workouts for booty gains are deadlifts, cable kickbacks, cable pull-throughs, and hip thrusts. She also eats four to six meals a day and increased her protein intake.
"Don't give up!" she told POPSUGAR. "Results aren't going to come in a week, so stay consistent and dedicated to your goals."
08
"You have work toward who YOU want to be! Mentally, physically, emotionally!"
Jena Desiderio showed what happened when she initially lost weight over the course of a year — she dropped pounds and inches, but, as she said in her Instagram caption, she lost her butt. "Even though I was super skinny in the middle picture, I lost my butt!" she wrote in her caption. "I ALWAYS had a butt, my boobs were gone, and I didn't fill out clothes the way I wanted to." Now, she's working on toning and defining her body, and the results speak for themselves!
09
"Let that booty pop."
It's amazing what can happen in a year. Leen Peeters showed her one-year transformation on Instagram, which included serious booty gains.