Since being stuck indoors for the last few weeks, I've been doing a lot of two things: cooking and looking through photos of the good ol' days when travel was a given. Cooking in particular has been something I'm using as a daily meditation — thinking through recipes and keeping to a schedule have so far been necessary for both my physical and mental health. Plus, it's given me a chance to test out all those healthy recipes I've had on the back burner.
I've actually had a few specific recipes I've been eager to re-create on my own that I first encountered a few months ago on a yoga and clean-eating retreat at the Hudson Valley venue Lundy Farm. The mini retreat was hosted by food and cocktail influencer Patrick Janelle (@aguynamedpatrick) and Wonderful Pistachios — a duo that boded well for the meals to come. Each day, we had dishes like honeynut squash and apple salad, wood-fired covington sweet potatoes, and sweet breakfast kitchari. I was so inspired by the meals from the weekend, I asked Patrick for a few recipes that I could take with me.
Keep reading for my favorite three recipes from Patrick — try them for yourself at home for a little food magic during this crazy time.
01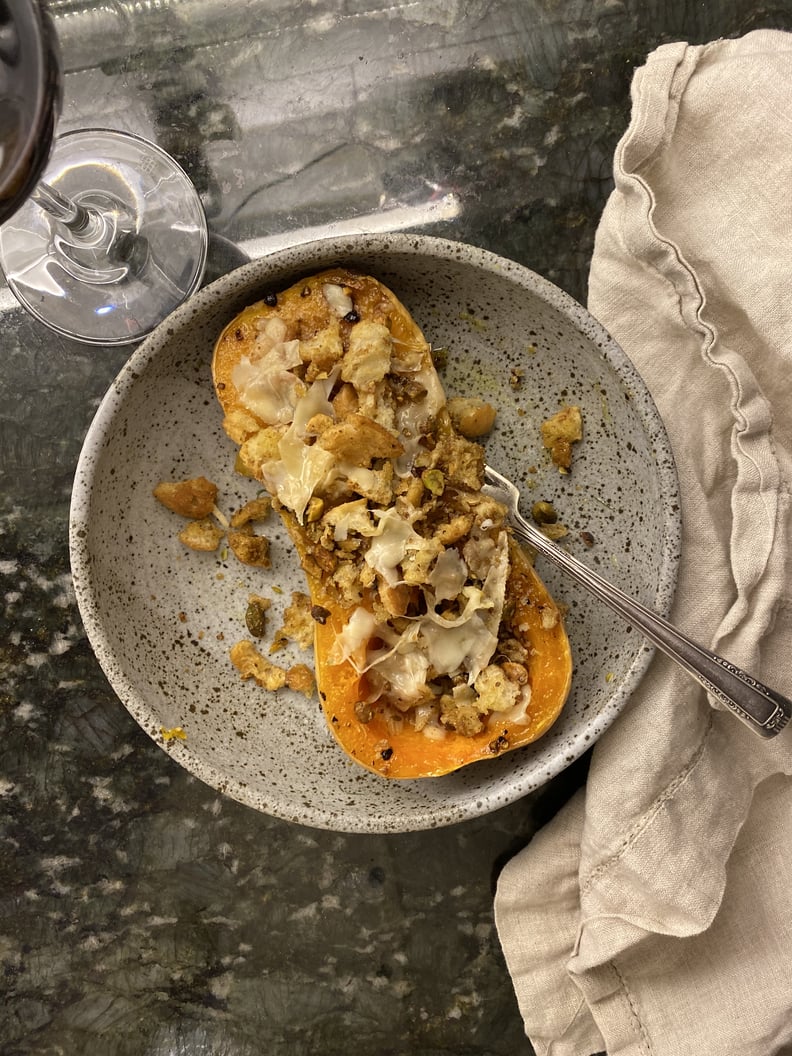 Roasted Honeynut Squash With Pistachio "Crumble"
Ingredients:
2 honeynut squash
3 tablespoons butter (or vegan butter)
1/2 cup Wonderful Pistachios No Shells Lightly Salted
1/2 cup shaved parmesan cheese (or vegan parm)
1/4 baguette or 2 thick slices day-old bread
1 small bunch flat-leaf parsley, torn
Salt
Olive oil
Preparation:
Preheat oven to 350°F. Tear bread into small chunks and toss with salt and olive oil. Place on a baking sheet and toast in the oven, stirring or shaking the pan occasionally, for 10 minutes or until bread is golden and evenly toasted. Allow to cool and place in a medium bowl. Set aside.
Prepare the squash by slicing in half lengthwise and removing the seeds. Coat each half with olive oil and plenty of salt and place flat side up on a baking sheet. Roast in the oven for 30 minutes or until they have a firm softness when you stick a fork through them.
While the squash is roasting, melt butter in a small skillet over medium heat. Roughly chop pistachios and add to the skillet when the butter is melted. Occasionally stir until the nuts begin to darken and they smell nice and toasty, about four minutes. Remove from the heat and let cool. Add to the bowl with the toasted bread along with parmesan and a pinch of salt. Using your hands, crumble bread into smaller bits and mix to incorporate.
When squash is finished roasting, top with bread mixture, and place in the oven for another ten minutes until the topping is heated through and the cheese has begun to melt.
Remove from oven and plate each squash half on its own plate and garnish with parsley.
02
Fennel Salad With Olives and Pistachios
Ingredients:
2 lemons, zested and squeezed
1/3 cup olive oil
1 tablespoon honey
1 medium fennel bulb
1/2 cup Wonderful Pistachios No Shells
1/2 cup castelvetrano olives, pitted and torn into chunks
Flaky sea salt
Aleppo pepper
Preparation:
In a small bowl, whisk together lemon juice, olive oil, honey, and a big pinch of salt. Add one half of the lemon zest, season with salt and pepper, mix again, and give it a taste test: the vinaigrette should be balanced but have a punchy zing.
Remove fennel fronds and set aside. Trim off any dried out woody bits, and remove the outer layer of the fennel bulb. Slice fennel stalks and bulbs into the thinnest slices possible, about 1/8 to 1/4 of an inch (you can use a mandoline if you have one handy). Toss fennel in vinaigrette and let sit until fennel softens, about 15 minutes. Add olives and half of pistachios and toss to combine. Arrange fennel mixture on a medium platter and garnish with fennel fronds, lemon zest, sea salt, Aleppo pepper, and remaining pistachios.
03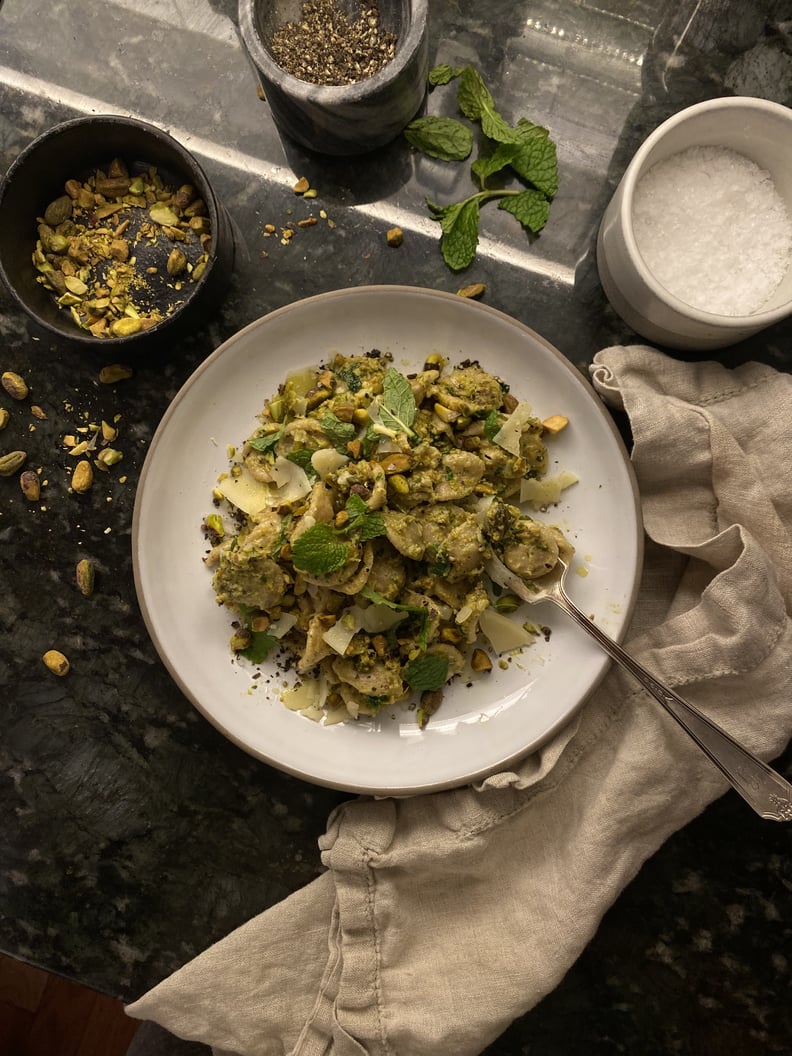 Orecchiette With Pistachio-Jalapeño Pesto
Ingredients:
2 jalapeño peppers, destemmed, deseeded, and diced
6 ounces (1/2 cup) Wonderful Pistachios No Shell Lightly Salted
1/2 cup olive oil
1 bunch (about 1 oz.) flat-leaf parsley, divided
Zest and juice from 1 lemon
Zest and juice from 1 lime
2.5 oz (1/2 cup) parmesan cheese, plus more for garnish
1 pound orecchiette pasta
Flaky sea salt
Pepper
Preparation:
Reserve a handful of pistachios and roughly chop. Set aside. Pour olive oil in a large skillet and add pistachios and jalapeños, stirring over medium-high heat until fragrant, about three minutes. Remove from heat and place mixture in a bowl. Set aside and let cool.
In a food processor or blender, place cooled pistachio mixture, 1/2 bunch of mint and 1/2 bunch of parsley (about 0.5 oz each), juice and zest from lemon and lime, and parmesan. Pulse until combined but still slightly chunky. Consistency should be thick and slightly creamy. If the mixture is too thick to blend, add a little more olive oil. Once mixture is ready, place in a bowl and set aside.
Meanwhile, fill a large pot with heavily salted water and place over high heat. When the water boils, add orecchiette and cook pasta until it floats to the surface, 3-5 minutes. Pasta should be soft, slightly chewy, and slightly al dente. Reserve 1 cup of pasta water and set aside. Strain pasta.
Add 1 tablespoon olive oil to a large skillet and place over medium heat. Add pasta and sautée for one minute. Add pesto and stir, adding reserved pasta water, a little at a time, until mixture coats pasta and has a creamy consistency. Sautée for one more minute and transfer to serving dish. Garnish with reserved herbs, chopped pistachios, parmesan, pepper, and flaky sea salt.