30-Minute HIIT Cycling Workout by SoulCycle's Luigi Aldon
This HIIT Indoor Cycling Workout Feels Like a 30-Minute Island Escape (and It's Just as Sweaty)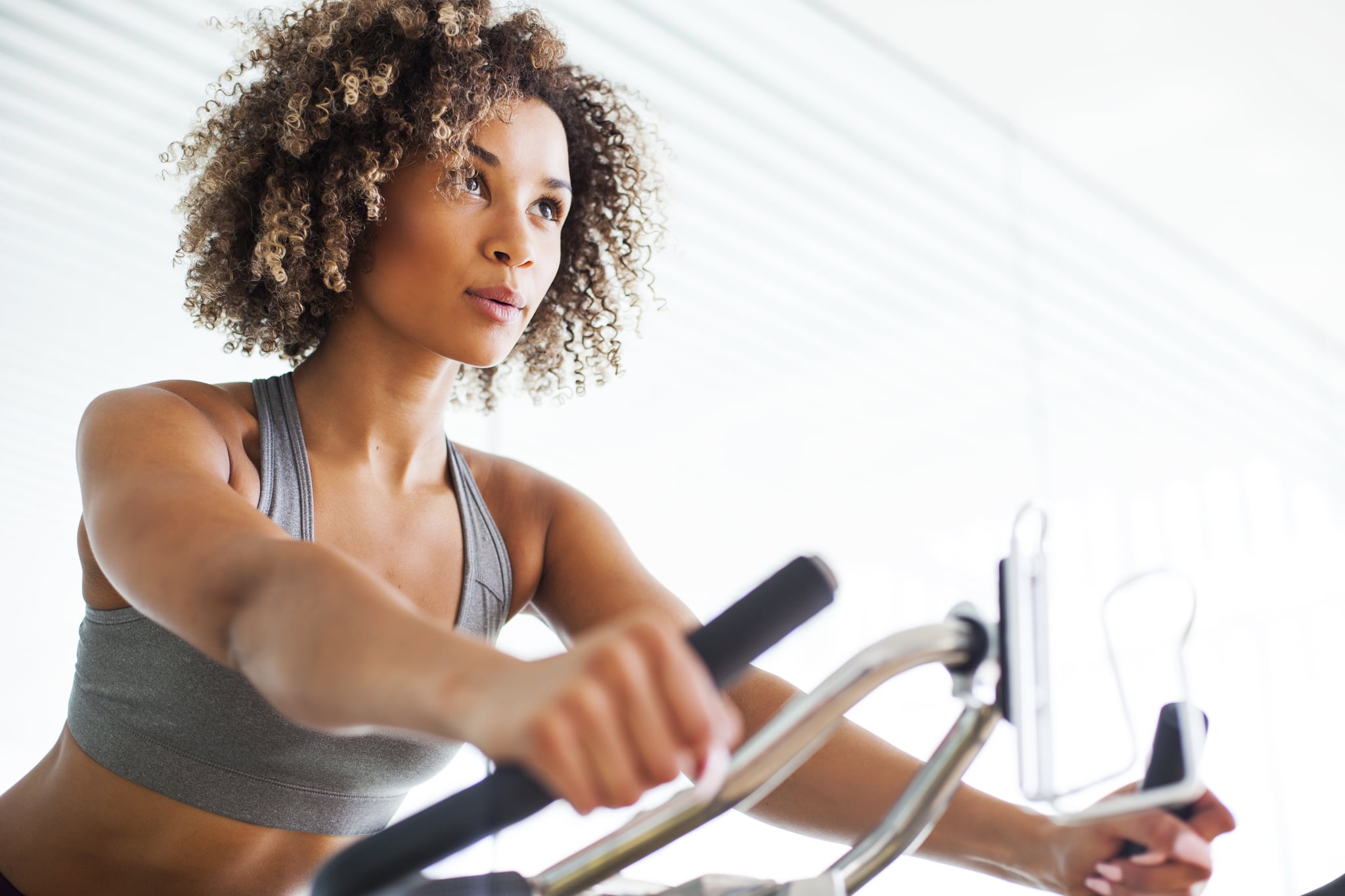 This year, many of us have turned to indoor cycling as a way to stay healthy, energized, strong, and happy while we're staying at home (and out of the gym). Even so, home workouts can grow stale. If you're looking for a fun way to mix up your routine, you'll love this tropical vacation-inspired HIIT cycling workout created by Luigi Aldon, senior SoulCycle instructor and creator of the Zoom cycling class LuigiCycle. His donation-based virtual sweat sessions have raised nearly $100,000 for causes including the Transgender Law Center, the Center For Policing Equity, and Black Lives Matter.
Aldon's classes are like a dance party on a bike, so you can bet we've got the playlist to help power you through this high-intensity, 30-minute home workout. Scroll ahead to get the details on the ride and music, as well as some coaching from Aldon.
The Playlist
For starters, make sure you download the free Spotify software or app to listen to Aldon's The Islands playlist. It'll set the tone (and rhythm) for your workout.
The Workout
| Cadence | Resistance | Song | Notes |
| --- | --- | --- | --- |
| 70 RPM | 30-40+ | "Blind Faith" by Chase and Status | Warm Up |
| 60 RPM | 40-60+ | "Temperature" by Sean Paul | Bring the Heat |
| 100 RPM | 25-35+ | "Pon De Replay Remix" by Rihanna feat. Elephant Man | Speed It Up |
| 50 RPM | 50-70+ | "La Isla Bonita" by Madonna | Climb to the Sun |
| 85 RPM | 40-50+ | "Give It Up" by Knife Party | Let It Go |
| 85 RPM | 30-40+ | "Turn Off the Lights" by Nelly Furtado | Deep Dive |
| 65 RPM | 50+ | "Hey Mamama" by Tritonal | The Journey Home: Part 1 |
| 110-130 RPM | 30-40+ | "Hey Mamama" by Tritonal | The Journey Home: Part 2 |
| Stretch | | "Mele Kalikimaka" by Kacey Musgraves | Extra Credit |
The Details
Not quite sure what to make of those notes? Aldon breaks down each segment of the workout below.
Warm Up: Begin in the saddle, picking the lead leg that feels the most natural. Start to match your cadence with the rhythm of the song (70 RPM, or revolutions per minute). Feel free to stay in the saddle the entire time, turning up the resistance gradually anytime you feel like you can handle more. Maintain an engaged core and focus on activating the glutes and hamstrings. Extra credit: Come up out of the saddle during the choruses, keeping your hips directly over the seat and lifting your chest.
Bring the Heat: Add resistance until you find a good starting point (40 to 50). Remember that this is rhythm riding, so the goal is to get to a max amount of resistance while matching your cadence to the beat of the song (120 RPM). Use the choruses to check in with the resistance, turning it up every time — even one resistance point counts! Extra credit: Beginning at 2:50, push against the resistance for the last 45 seconds of the song, increasing your cadence without turning down that dial.
Speed It Up: Start to peel off the resistance until your legs can speed up again, finding this new rhythm. Pay attention to which leg you lead with for this one — every chorus you should switch. The goal is to find a level of resistance that is challenging at this pace, increasing gradually to your max effort by the end of the song. Extra credit: Try coming up for two- or four-count jumps during the chorus. Pretend you're a sun-kissed Rihanna filming a music video.
Climb to the Sun: This is your hill, the highest resistance you'll do. Begin in the saddle for eight counts, then if you feel comfortable, come up for eight counts. Every time you come out of the saddle, see if you can add a little more. Feel free to use your entire body for this. If you have a resistance record, see if you can beat it at this cadence. Extra credit: At about 4:00, begin your biggest push today. A one-minute, max-resistance, max-effort run to the top of that sunny island mountain.
Let It Go: If you can, begin this song out of the saddle, choosing a lead leg. Place your hands somewhere along the sides of the handlebars, at a distance that feels like your natural extension. See if you're able to maintain this pace out of the saddle with proper form — chest up, shoulders down, knees straight forward. During the drops, hit the saddle and begin to increase speed for about 45 seconds. Try to maintain that max RPM for the entire interval. Repeat again for the second. Extra credit: In the time leading up to the speed interval, incorporate some choreography. Squeeze the abdominals to travel back over the saddle for a few counts or try tricep presses.
Deep Dive: This is a cooldown before your last song! Take a moment to breathe, feel the impact of your efforts, sing along. Extra credit: Close your eyes and allow some time to explore what's happening on the inside.
The Journey Home: You'll pedal through two intervals here. First, find a level of resistance that works for this cadence and feels challenging out of the saddle. Then, pick a lead leg and stomp it out! During the beat drop at 1:14, begin to push, increasing your cadence while maintaining or even adding resistance. The push will last about 45 seconds. Don't give up!
The second interval is an all out sprint to the finish. Begin by finding a cadence in the range of 110 to 120 RPM. When the beat drops again around 3:15, begin the sprint. Try to get to 130 RPM or more. If you can't maintain it, you have about 45 seconds to get to your max RPM as many times as you can. Once the sprint is over, halt your effort and bring your hands to rest on the top of your head.
Extra Credit: Finish your workout with some stretching — here's a list of stretches that can help aid in your recovery and keep you limber for your next ride.