If you don't eat dairy and you're an ice-cream-lover, you have got to get your hands on a pint of NadaMoo! It's my favorite brand of vegan ice cream because it's the creamiest. Just in time for the holidays, it's now selling a new seasonal flavor: Peppermint Bark. I'm a huge fan of the brand's Lotta Mint Chip, so I couldn't wait to get my spoon in this. Keep reading to find out how this new flavor tastes and the nutrition breakdown.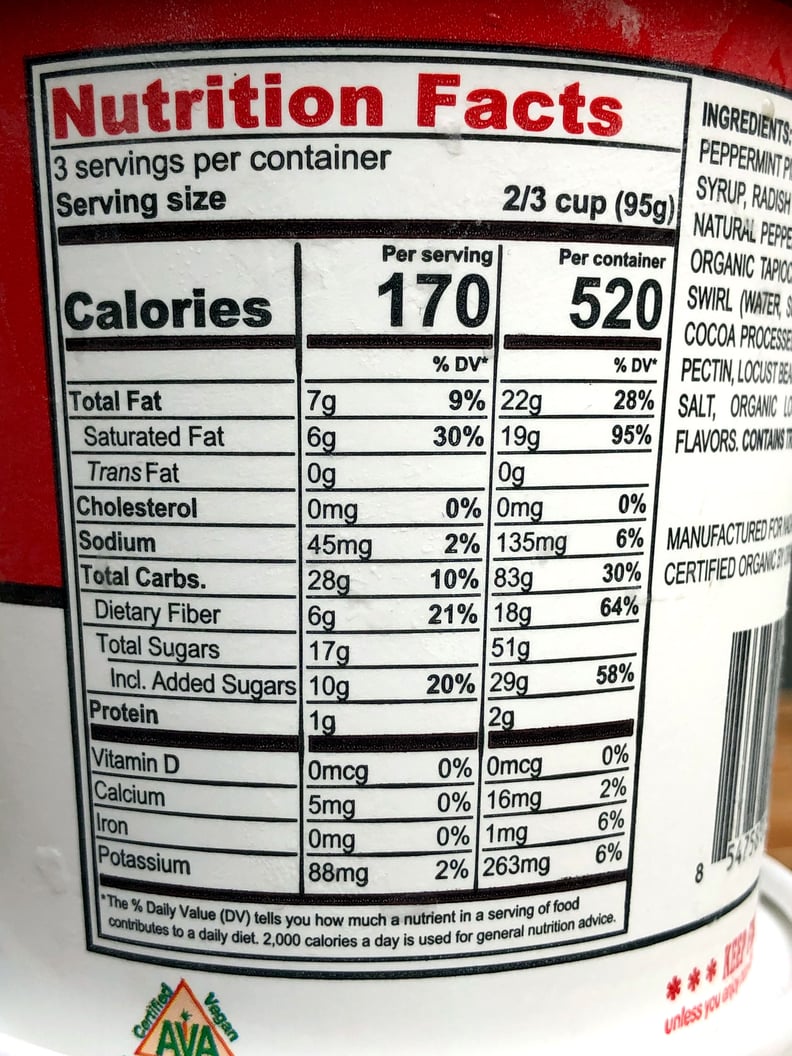 NadaMoo! Peppermint Bark Nutritional Information
First of all, thank you, NadaMoo!, for knowing that sometimes, I may want to devour an entire pint in one sitting and for including the nutritional info in case I do so. Knowing it's 520 calories is definitely eye-opening (although that won't stop me from enjoying the whole damn thing!).
For one serving, which is one-third of the container, this Peppermint Bark dairy-free dessert has 170 calories, seven grams of fat, six grams of saturated fat, no cholesterol, 45 milligrams of sodium, 28 grams of carbs, six (!) grams of fiber, 17 grams of sugar (which includes 10 grams of added sugars), and one gram of protein.
Just for comparison, Haagen-Dazs makes a Peppermint Bark ice cream and it's 280 calories, 16 grams of fat, 10 grams of saturated fat, 75 milligrams of cholesterol, 40 milligrams of sodium, 30 grams of carbs, zero grams of fiber, 26 grams of sugar, and four grams of protein per serving.
This NadaMoo! Peppermint Bark has over 100 fewer calories, slightly fewer carbs and less sugar, no cholesterol, and way more fiber. Although ice cream isn't the healthiest food you can eat, NadaMoo! is definitely healthier.
NadaMoo! Peppermint Bark Ingredients
The ingredients in NadaMoo! Peppermint Bark are water, organic coconut milk, peppermint pieces (cane sugar, non-GMO tapioca syrup, radish juice (color), beet juice (color), natural peppermint oil), organic agave syrup, organic tapioca syrup, organic inulin, fudge swirl (water, sugar, maltodextrin, glycerin, cocoa processed with alkali, natural flavor, pectin, locust bean gum), organic guar gum, sea salt, organic locust bean gum, and natural flavors.
I love that the pink color of the peppermint candy comes from radishes and beets!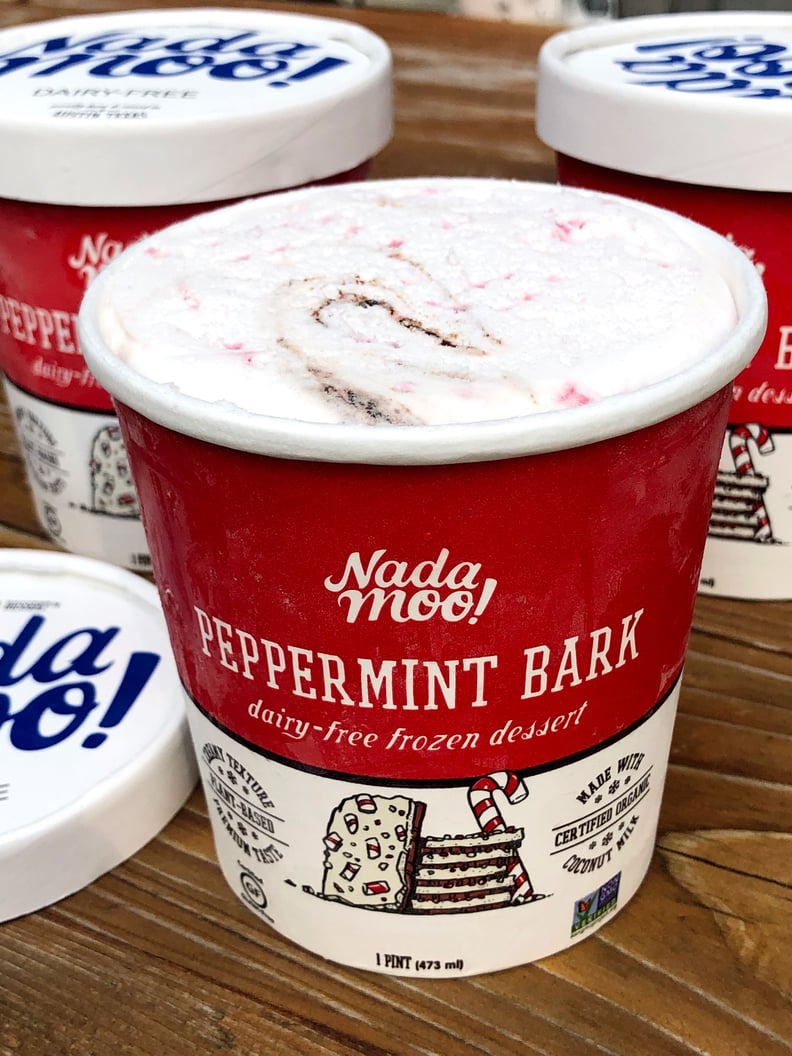 What Does NadaMoo! Peppermint Bark Look Like?
I had a vision that this ice cream would be pieces of chocolate peppermint bark mixed into vanilla ice cream. It wasn't, but it still looked amazing! Creamy peppermint-flavored ice cream with swirls of fudge . . . where's my spoon?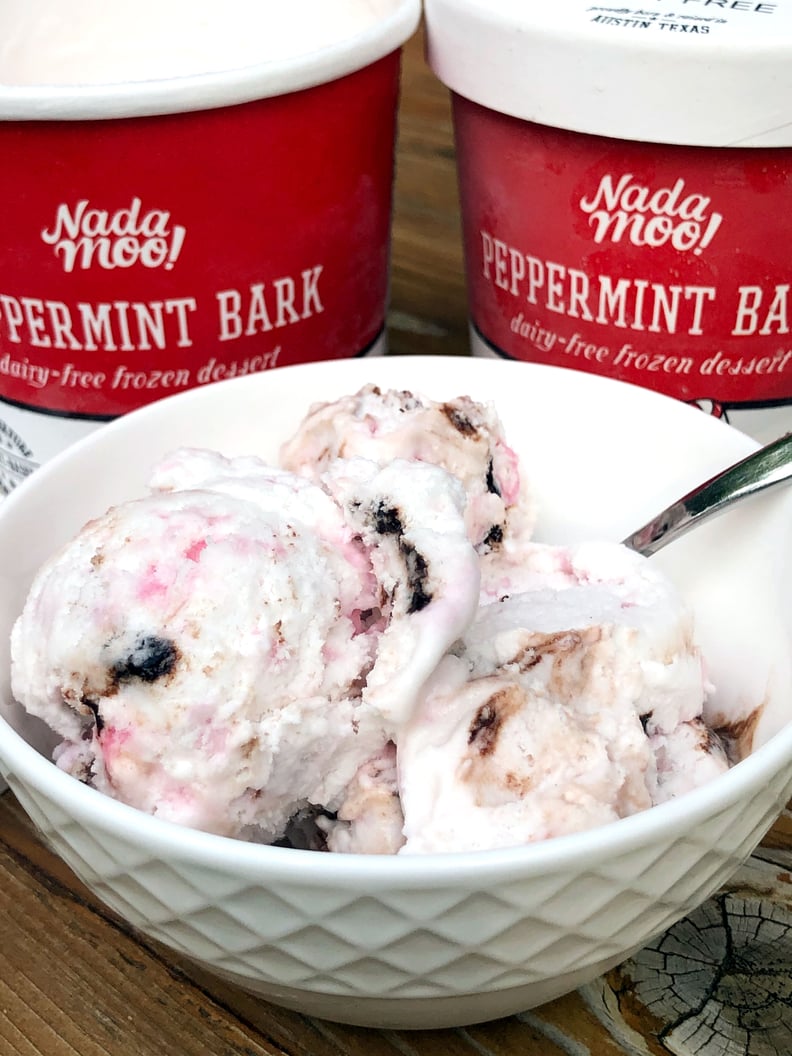 How Does NadaMoo! Peppermint Bark Taste?
I was eager to see if the peppermint candy was hard and crunchy, which is what I thought it might be, but it wasn't at all. This dessert is totally creamy and smooth and has a very strong and sweet peppermint flavor.
And while I was hoping there'd be dark chocolate chunks mixed throughout, there wasn't, but the rich and decadent fudge swirls were perfect. If you love the combo of peppermint and chocolate, you will love this!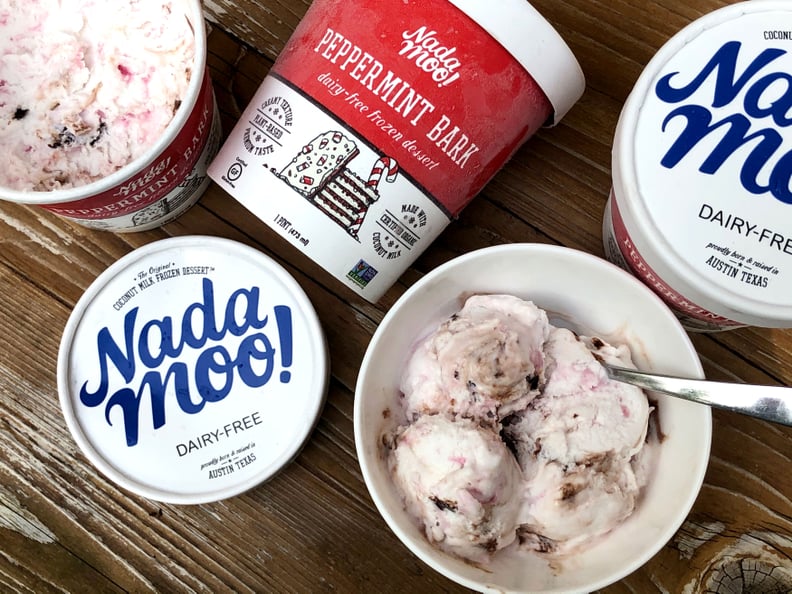 Where Can I Buy NadaMoo! Peppermint Bark Dairy-Free Ice Cream?
NadaMoo! Peppermint Bark dairy-free dessert can be found at select stores. If you can't find this flavor and you can't find NadaMoo! at all, you can still get your hands on a few pints.
You can buy NadaMoo! Peppermint Bark online (five-pack for $30). For the same price, it also sells a five-pack of new flavors (Peppermint Bark included, as well as Marshmallow Stardust and Peach Cobbler) or a pick-your-own five-pack (from flavors such as Chocolate Peanut Butter, Birthday Cake Cookie Dough, and Mmm...Maple Pecan). Note that there is a shipping fee of $25.