I Love Working Out While I'm on Vacation — Here's How I Make My Routine More Relaxing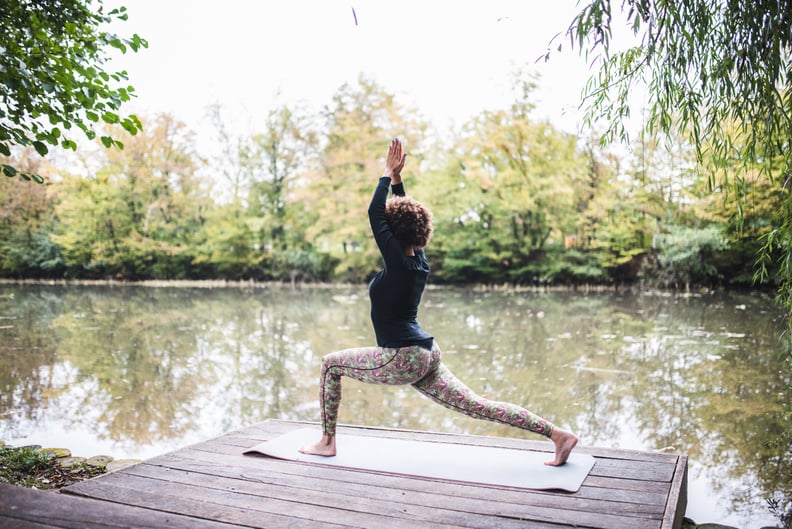 Getty Images | kovaciclea
Getty Images | kovaciclea
Sneakers have always made my suitcase, no matter if I was just going away for a three-day weekend or a two-week excursion. I've even been known to throw a booty band in the glove compartment of my car before driving away for a little getaway. I love working out on vacation simply because I absolutely love working out.
Starting the day with movement, whether it's a gentle, tension-releasing head-to-toe stretch on my yoga mat or a hilly four-mile run, helps put me in a positive mindset before tackling a busy day's work or any stressful hiccup that life throws at me. But exercise also gives me that same exact mood boost and mind-clearing confidence when my email out-of-office is on and I have nothing planned for the day other than sitting on the couch and watching TV, reading while social distancing in the park, or laying by a secluded lake — which is obviously what many of my days off have looked like this year.
Even though I make exercise on vacation days a priority, regardless of what my plans may look like, my workouts always get a small edit, so that they are as relaxing and holiday-like as possible. Ahead, all the tiny tweaks that make my vacation workouts worth doing.
I Don't Set an Alarm
During the work week, I set an alarm for 6 a.m. — if my dog hasn't woken me up already, I can roll out of bed and log in a workout before I sit down at my computer. I'm an overly enthusiastic early bird, so I don't mind getting up before the sun has fully risen — but who enjoys the jarring sound of a blaring alarm? I even switched my alarm sound to one of my favorite songs, and I still hate it. On vacations, I try to maximize my sleep and allow myself to wake up naturally, which helps me approach my morning workouts with a little more tranquility — and slightly less puffy-eyed.
I Only Do My Favorite On-demand Classes
In my opinion, vacation is not the time to experiment with new workout instructors and exercise methods — only to find out seconds into a 45-minute live class that you dislike the instructor's training style or can't safely do the moves. As you might have guessed, this has happened to me before, and while I'm thankful I didn't end up injured, I did have to shake off a lingering bad mood.
In order to prevent general grumpiness or wasting my money (because, of course, I exited the class early), I try to stick to on-demand classes that I've already vetted, so I know exactly what to expect.
I Use Activity as Exercise
Long, leisurely walks, kayaking, paddleboarding, biking, and hiking are all examples of exercise — albeit sometimes in disguise as fun. When I'm vacationing, I make it a point to unplug as much as possible from technology. On those mornings when I don't want to even look at my phone or open up a fitness app, I stash away my phone in my nightstand drawer and lace up my sneakers for an outdoor activity instead.
I Choose a Relaxing Location
Like many others, my living room has turned into my office, and it can be hard to disconnect my mind from all the tasks and errands on my to-do list. In those moments — when I'm off from work but can't stop thinking about unread emails — I relocate my workouts for a welcome change of scenery. My neighborhood park, a nearby lake, or my apartment balcony usually does the trick. Doing yoga under the trees as a breeze gently touches my skin makes me feel like I'm on some sort of far-away retreat, rather than a three-minute walk from my apartment building.
Click here for more health and wellness stories, tips, and news.