Jameela Jamil Talks About Making Social Media Positive
Actress Jameela Jamil on Her "I Weigh" Movement and Protecting Yourself on Social Media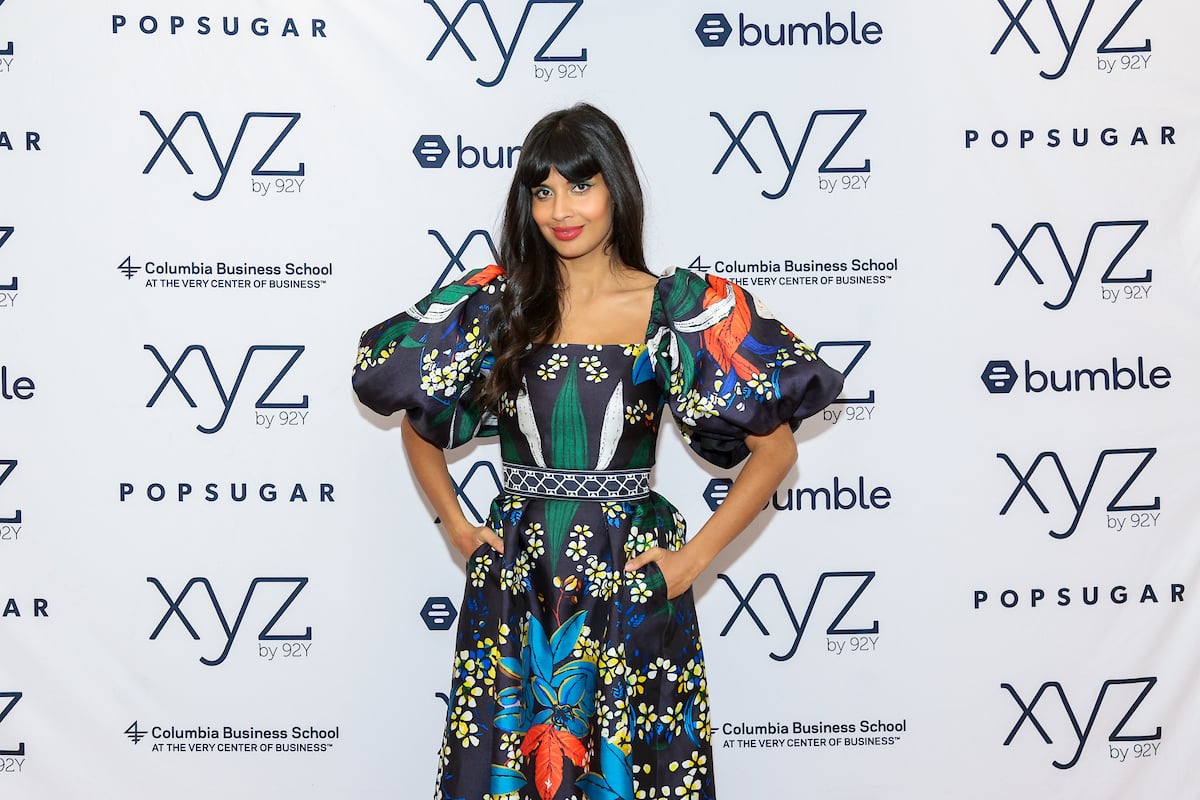 Jameela Jamil didn't want to start a social movement on Instagram specifically — "I was never much of a pictures girl," she told POPSUGAR ahead of a conversation at New York City's 92Y with writer Ashley C. Ford. What began as a single post about her weight in worth, not in numbers, quickly became an account for every type of person to contribute to this idea that we're more than what the scale says. With 870,000 Instagram followers, a community that's turning into a multimedia platform, and a push to fight for human rights, environmental justice, and mental health awareness, I Weigh has exceeded all of Jameela's expectations.
"I was very surprised that it turned into this whole movement around the world, but it's become about so much more than bodies now," she said. "We are able to mobilize young activists around climate change and ageism and gender discrimination and racial discrimination and trans discrimination. This has become an activist platform where we are going to leverage my privilege and my finances to try and help young activists worldwide who don't have access to that, to get the much-needed word out, because I can't be the spokesperson for everyone. I shouldn't be the spokesperson for everyone." The 33-year-old who plays Tahani Al-Jamil on The Good Place said that she's so invested in the movement that she's taking a break from her first-ever acting gig (the series finished filming and will come to a close after its fourth season). She'll be shifting her focus toward the launched of I Weigh into a full-blown activism platform. She's the investor and will be in the office with her team of women every day, hard at work.
Jameela first got the idea for I Weigh while scrolling through Instagram and seeing a post of the Kardashians with their weights written across their bodies. She said she's been campaigning for eating disorder awareness since she was 19 years old — she had her own experience with an eating disorder as a teen and says her life was "so messed up" — and the post immediately triggered emotions. Jameela explained, "I saw a post of women who deserve to be treated with more respect than any numbers written across their body that aren't even their net worth, it's their body weight. A photo like that of a man just wouldn't exist, nevermind a group of businessmen who are worth upwards of a billion or two billion dollars, and so that just made me so angry. That's why I decided to post what I weigh, which is actually my contribution to society, my financial independence, my relationships."
Once I Weigh started in March 2018, Jameela also began advocating for a safer space on Instagram. The social media platform, she stated, is full of unrealistic imagery, toxic messages, and diet and detox products endorsed by celebrities promising impossible transformations without clear side effects listed. Instagram itself wanted to have a meeting with Jameela — "I think they really supported I Weigh, and they'd been trying to clean up Instagram and turn it into a safe space for young people. It wasn't ever supposed to be what it became," she told us — so, before the meeting, she decided to act. Jameela started a petition called "Stop celebrities promoting toxic diet products on social media." In just three days, it got 250,000 signatures.
"We're just clearing the rubbish out of Instagram."
Instagram listened. On Sept. 18, it announced a new policy that will block users they know to be under 18 from viewing posts that include price tags with the intent of selling weight-loss products or cosmetic procedures, according to a press release sent to POPSUGAR. It will also ban any posts that make a "miraculous claim" about these products and link to a "commercial offer such as a discount code," and people will be able to eventually report a post that they think violates the policy. Elle UK spoke to the actress about Instagram's new policy last month, so you can read her initial comments there. "We're just clearing the rubbish out of Instagram," Jameela told POPSUGAR.
"I don't really wish Instagram for anyone under the age of 18 currently where it's at," she said, adding that it has the capacity to be a great place "that a lot of amazing activism is taking place on." She pointed out, for instance, that the Me Too and Time's Up movements wouldn't have existed without social media, so these spaces do have tremendous power. "We just need to do more to legislate it and police it and make sure that young people are safe," she said.
Start Applying This Positive Change to Your Own Instagram Feed
Though some of what you see on Instagram isn't in your control, much of it is. Jameela gave us some tips for trying to cultivate this safety factor online. For one, she suggested, delete or mute accounts that make you feel lesser than. "I think anyone who makes you feel bad about your life or your clothes or your weight or your skin color . . . any of those people . . . you just delete them," she said. "Why would you ever purposefully show yourself upsetting images? It's not going to get you more money, it's not going to make you thinner, and it's not going to make you happier. It's just going to make you sad and take up your valuable time."
Also, you should get rid of the idea that you need to follow certain people to stay up to date on pop culture, she stated. If it stresses you out, if such people promote negativity or post photoshopped photos, you can curate your own social media space and check in on those accounts when you ever need to. (Jameela, in fact, gave me this advice when I told her that working in media makes me feel like I need to follow people to stay up to date. "They still exist," she assured me, "and when you need to find them, check on them.")
"Protect yourself. You deserve that."
Jameela continued, "I unfollowed all the supermodels, and I followed Ashley Ford and Roxanne Gay and these wonderful people. They're the influencers I'm interested in, people who can make my mind expand and people who are making me feel seen and who pushed me to learn." My favorite hack of Jameela's? To avoid upsetting images on her Explore page, click the "Animals" category on the top bar. Because of that, she's rarely seen a diet product — "Or ass!" she noted — on that page in years. Jameela doesn't let herself scroll aimlessly; cute animal pictures, after all, are better. "Protect yourself," she encouraged. "You deserve that."
Image Source: Maricela Magana / Michael Priest Photography