Just Egg Is a Vegan Egg That Looks Like Real Scrambled Eggs, but How Does It Taste?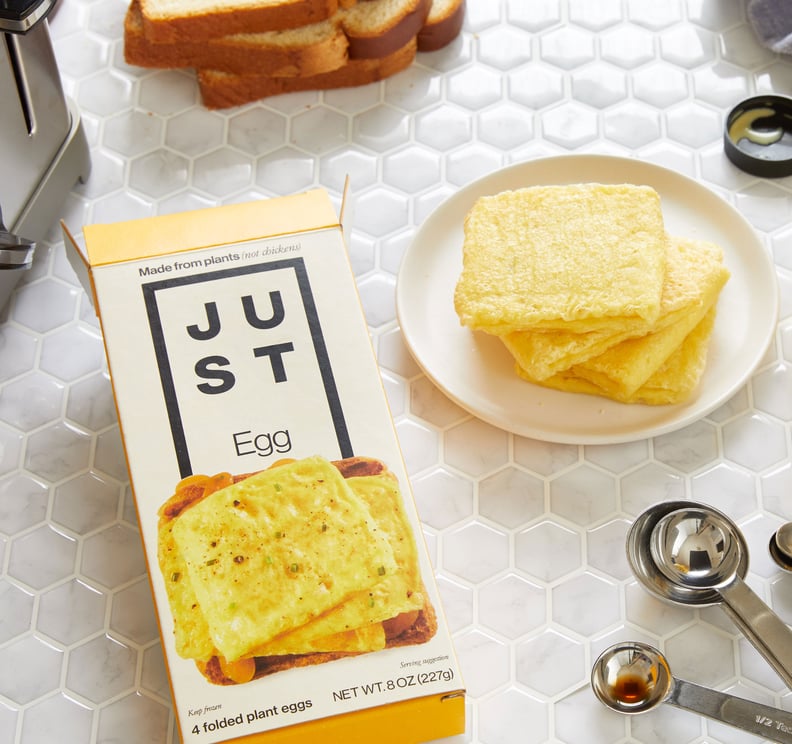 Just Egg
Just Egg
As POPSUGAR editors, we independently select and write about stuff we love and think you'll like too. If you buy a product we have recommended, we may receive affiliate commission, which in turn supports our work.
There are easy and healthy egg replacers for vegan baking like flaxseed or banana, but you can't exactly scramble those and make an omelet! Just Egg is a new product for those wanting to eat eggs, but as the package states, it's "made from plants (not from chickens)." OK, but how does it taste? And is it healthy? Keep reading to find out.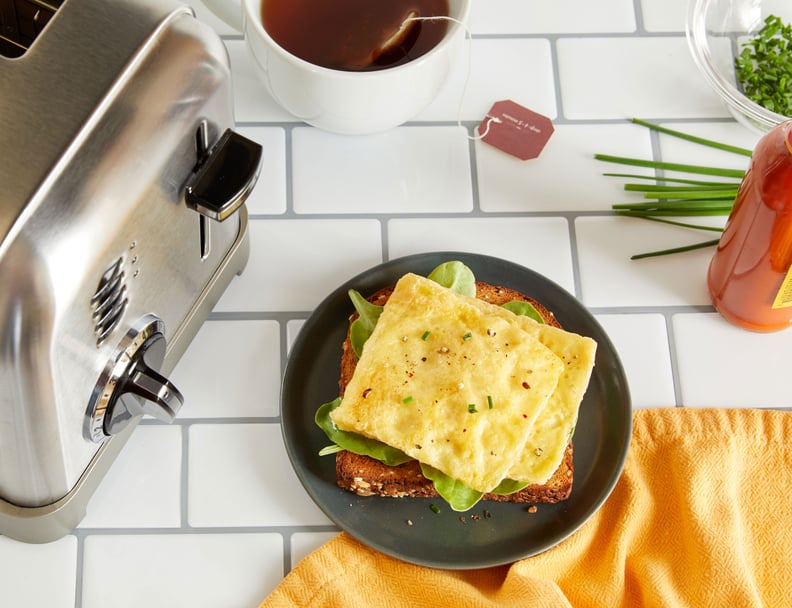 Just Egg Is Vegan
It took Just Egg five years to find it, but they discovered that the protein in the mung bean magically scrambles like an egg. Who knew? The company also sells a liquid Just Egg so you can scramble your own, but this product comes pre-cooked, folded, and frozen (four in a box), so all you need to do is warm it up. Easy!
By making Just Egg from plants, 98 percent less water is used and 93 percent less greenhouse gases are emitted as compared to conventional eggs.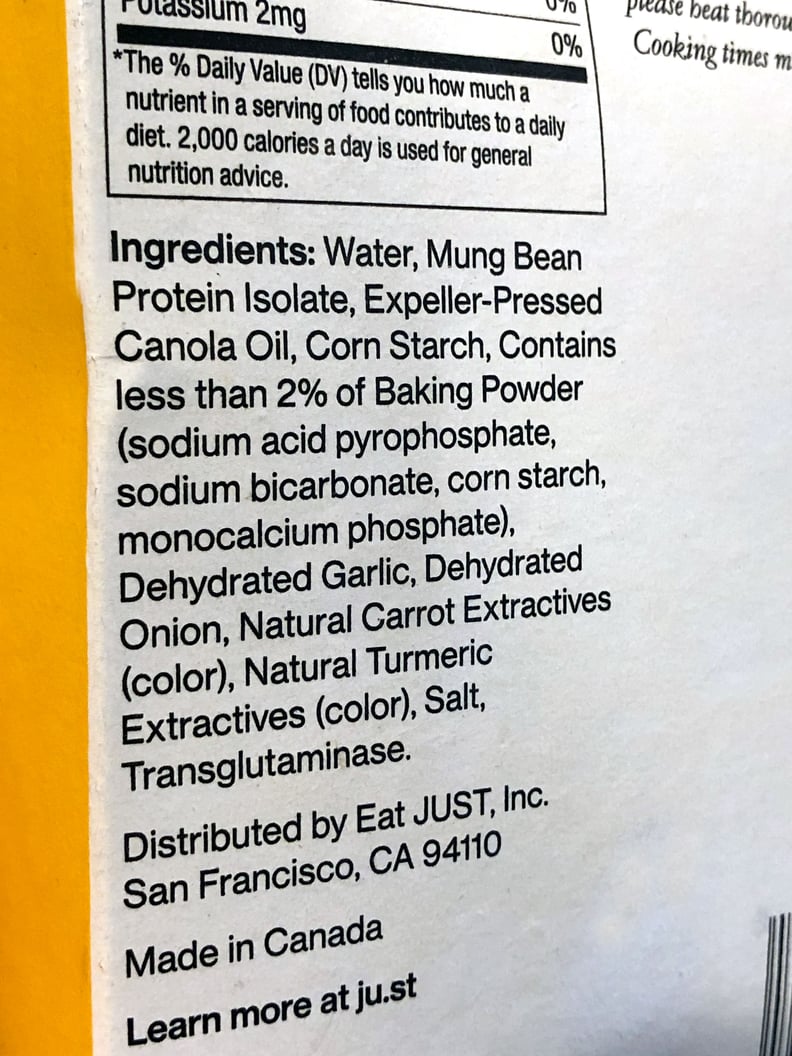 Just Egg Ingredients
The ingredients in Just Egg are water, mung bean protein isolate, expeller-pressed canola oil, corn starch, contains less than two percent of baking powder (sodium acid pyrophosphate, sodium bicarbonate, corn starch, monocalcium phosphate), dehydrated garlic, dehydrated onion, natural carrot extractives (color), natural turmeric extractives (color), salt, and transglutaminase.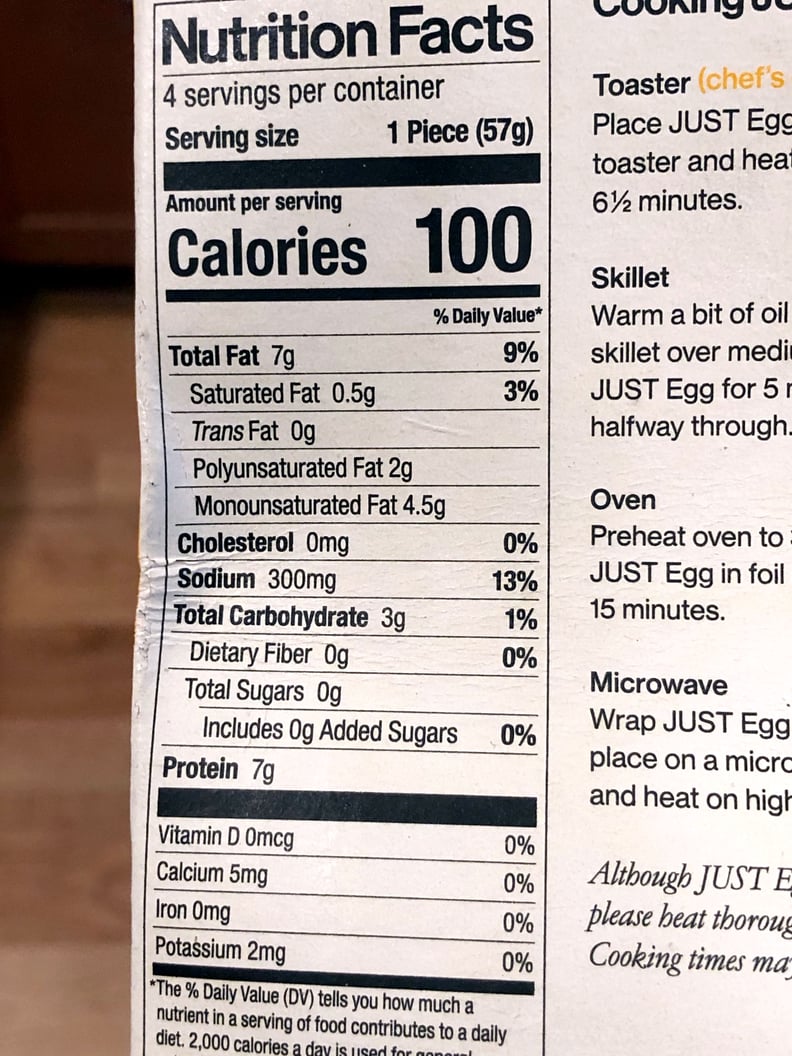 Just Egg Nutritional Information
For one piece of folded egg, it's 100 calories, seven grams of fat, and 0.5 grams of saturated fat. It has zero cholesterol, 300 milligrams of sodium, three grams of carbs, no fiber or sugar, and offers seven grams of protein.
For comparison, two medium eggs would be 120 calories, eight grams of fat, and three grams of saturated fat. It has 330 milligrams, 120 milligrams of sodium, no carbs, sugar or fiber, and offers 12 grams of protein.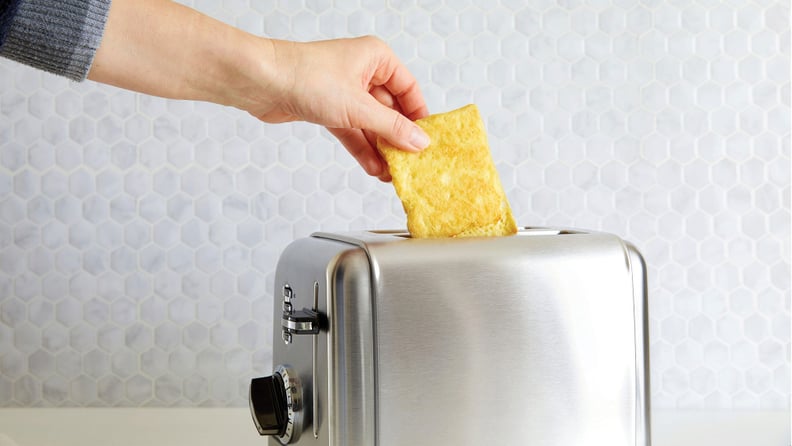 How to Cook Just Egg
There are four ways to warm up your Just Egg. The recommend option is using a toaster oven and heating it for about six minutes. You can also cook it in a skillet for five minutes, or in the regular oven at 350°F wrapped in foil for 15 minutes. Lastly, you can wrap it in a paper towel and pop it in the microwave for 90 seconds, which is what I did.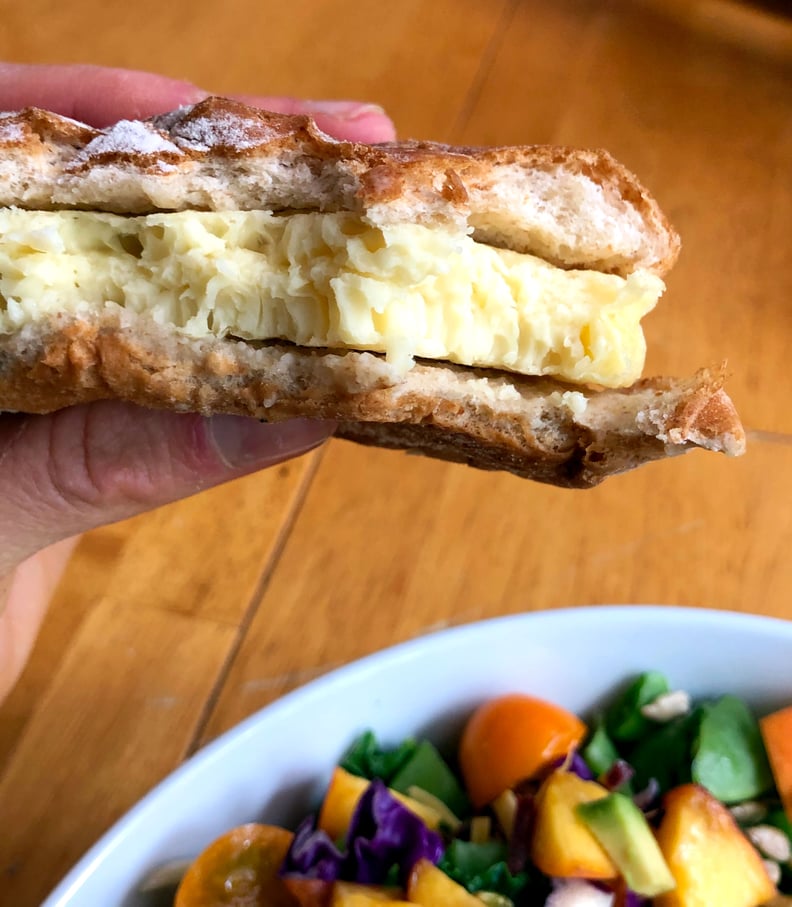 How Does Just Egg Taste?
I went basic and just put my Just Egg on a whole wheat bun, and was admittedly a little nervous to take my first bite. But it was . . . awesome! I couldn't believe how much it looked and tasted like a real scrambled egg. It had a much more subtle egg flavor than actual eggs, but I was very impressed.
If I added other ingredients to my Just Egg sandwich, I don't think I would have been able to tell that it wasn't real eggs. The texture was soft and moist, and I immediately went in for my second bite.
I made some for my family and both my kids and husband liked it, too! My kids actually asked for a second sandwich, but the package only had four folded eggs.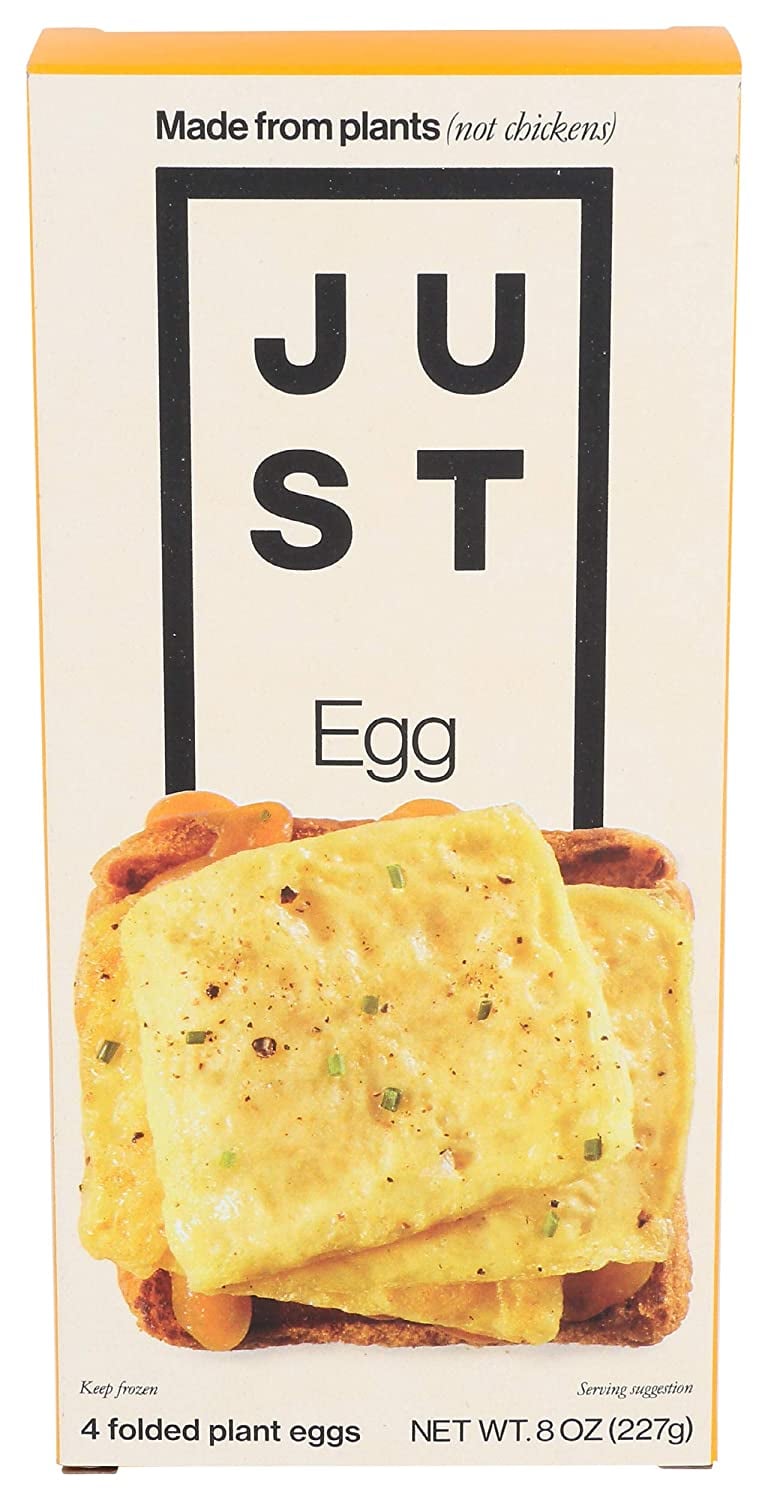 Just Egg Recipe Ideas
Aside from an egg sandwich, you could also cut up cooked folded Just Egg and put it in pad thai, fried rice, a burrito or quesadilla, or in a wrap. For vegans looking for an egg substitute, this is 100 percent a winner! Order Just Egg ($4 a box online through Amazon) or look for it at a store near you.