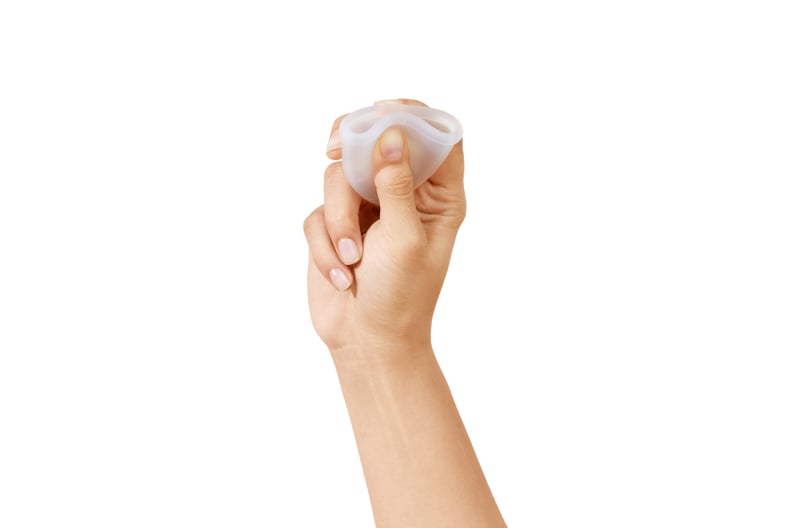 Courtesy of LOLA
Courtesy of LOLA
As POPSUGAR editors, we independently select and write about stuff we love and think you'll like too. If you buy a product we have recommended, we may receive affiliate commission, which in turn supports our work.
If I had a tampon for every time I asked my group chat for advice pertaining to my period, I'd have a bathtub full of them (maybe more). But, if you were experiencing trepidation about putting in a menstrual cup specifically — or had any other cup questions — my personal group chat would not be able to help. Luckily, period and sexual wellness brand LOLA can! With the launch of LOLA's first-ever menstrual cup, the brand officially kicked off its Menstrual Cup Hotline.
LOLA's reusable menstrual cup ($34) comes in two sizes and is made with medical-grade silicone. LOLA cofounder Alex Friedman told POPSUGAR, "Over the years, it just seems like everybody knows someone who swears by the cup. I think there's both a lot of interest in trying it and simply a lot of conversation about the product in general. And so we wanted to bring something to market that would service the need and also drive an open conversation in the category."
As for the hotline itself, it's a messaging service. Just text LOLACUP to 844-539-1411, and your question will be transferred to either a team representative or an expert from the LOLA Collective made up of physicians and educators. Friedman added that you may have a chance to speak with someone over the phone or via email, but the initial hotline is texting-based.
No question is off limits. Ones that Friedman anticipate include inquiries about insertion and cleaning, whether you can wear a cup with an IUD, and how long you can keep one in. "For the hotline, we will be considering every question individually," Friedman said. "If we have the answers already composed and off the shelf, we'll be able to get back to people really quickly with that information. Otherwise, if it requires a little bit more of a deep dive or discussion, we'll pass it on to the appropriate person on the team or expert who can answer that question."
The hotline is available for use Monday through Friday during business hours (9 a.m. to 5 p.m. ET). You should expect to hear back within the hour, Friedman said, and questions sent over the weekend will be addressed the following Monday. Additionally, Friedman said that anyone who uses a menstrual cup, not just LOLA's new product, can utilize the hotline. This is a service that's meant to be permanent, and LOLA wants to encourage unfiltered conversations in order to destigmatize the category of menstrual cups.
Questions? Check out LOLA's handy "how to" video above, or text LOLACUP to 844-539-1411. A hotline for all things menstrual cups? Yes, LOLA did that!