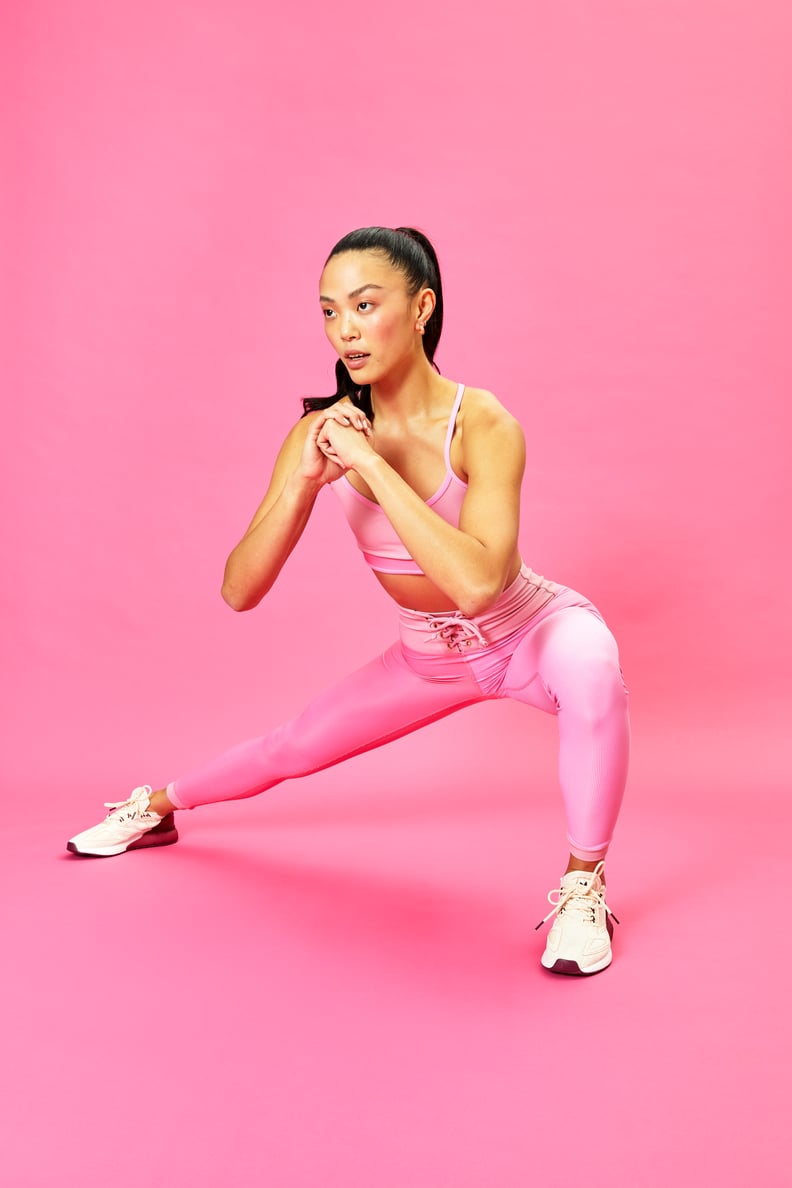 POPSUGAR Photography | Chaunté Vaughn
POPSUGAR Photography | Chaunté Vaughn
Look, I'm all about the jumping, sprinting, high-impact cardio when I'm exercising outside or in my gym's studio. But when it comes to working out in my apartment, when one wrong burpee could send me crashing into my downstairs neighbors' living room? Not the best idea.
Recently, I've gotten really into doing low-impact cardio workouts on YouTube. Even if you love your burpees, star jumps, and jumping jacks, there's a place in your fitness routine for low-impact cardio. When those jumpy, intense moves are off the table — whether because you're injured, tired, a beginner, coming back from a hiatus, or just don't have the space — low-impact workouts can make you break a sweat just as well. "Low impact" means you always have some part of your body (usually a foot) on the floor, so you're doing any jumping, hopping, or bounding. And though they're often confused, low impact doesn't mean low intensity; you can still get your heart pounding when doing low-impact cardio moves. You're just not leaving the floor.
Try one of the following low-impact cardio workout videos — all from our award-winning YouTube channel, POPSUGAR Fitness — to see for yourself; you're guaranteed to spike your heart rate and save your floorboards while giving your joints a break, too.
— Additional reporting by Lauren Mazzo
01
30-Minute Low-Impact Bodyweight Workout With LIT Method | POPSUGAR Fitness
Challenge yourself with Justin and Taylor Norris, founders of the LIT Method — which actually stands for "low-impact training." Commenters can't get enough of the workout or the trainers: "The energy, the enthusiasm, the exercises were all so good! Had so much fun doing it!" wrote one viewer.
02
15-Minute Low-Impact Workout With Kayla Itsines
Fitness sensation and trainer Kayla Itsines shared a full-body express workout that's low impact, requires no equipment, and takes only 15 minutes. That might sound like a piece of cake, but be warned; one commenter wrote: "I kinda started thinking it would be easy...what a fool!" You'll do moves that target your legs, arms, and core, and get your heart pumping as well.
03
10-Minute Low-Impact HIIT Workout With Natalie White | POPSUGAR Fitness
Natalie White is POPSUGAR's resident queen of HIIT, but she proves in this cardio workout that you can get high-intensity training done without the impact — and fast. As White says, "It's low impact, but high energy."
04
10-Minute Low-Impact Dance Cardio With DanceBody Founder Katia Pryce
Dance cardio classes usually equal tons of jumping — but not this one. DanceBody founder Katia Pryce has a quickie 10-minute low-impact dance cardio workout that will surprise you. Pop on some optional wrist weights for an added challenge.
05
30-Minute Low-Impact Cardio Workout With Rachel McClusky | POPSUGAR Fitness
Up for a longer sweat session? Strengthen every muscle in your body and get your heart rate pumping with Rachel McClusky, who'll lead you through this 30-minute low-impact cardio workout. Commenters love McClusky's vibe as well as the workout itself. "I was feeling groggy and unmotivated, but I knew I wanted something to get my body moving," one commenter wrote. "This was the perfect workout for that. It was fun, boosted my mood, and I feel like I got a great workout in."
06
30-Minute Low-Impact HIIT With LIT Method
Crank out some more low-impact HIIT with the Norrises. You'll start this 30-minute routine with a dynamic warmup, then move through some lower-body, upper-body, and core moves, finishing with a mindful moment — which one commenter really appreciated. "When your life is busy and you don't have much time, you need an efficient cardio routine that's safe for your joints. This is it!" they wrote. "I do yoga too and really appreciated the 30sec shavasana at the end. Way to stay mindful."

07
Build Up Your Core Strength With This 30-Minute Cardio Workout | POPSUGAR FITNESS
This low-impact workout is dedicated to cardio and core and uses just your bodyweight. The Norrises offer plenty of variations for each exercise so you can find the modification or advancement that's right for you.
08
8-Minute Low-Impact Cardio Workout With LIT Method
When you want to sneak in a low-impact cardio workout but don't even have 10 minutes to spare, cue up this 8-minute HIIT routine will the Norrises. From cross-punch crunches to fast-paced knee drives, these moves will have you surprised at how much you'll sweat.
09
30-Minute Low-Impact Cardio Sweat Session to Heat Up Your Workout | POPSUGAR Fitness
Score another low-impact cardio workout with the LIT Method founders. This one has "great low impact moves that are challenging cardio and strength wise but are simple and not confusing to learn," one commenter writes. "Appreciate the motto of building not breaking bodies."