Marlyne Barrett Thanks Fans After Cancer Diagnosis
Marlyne Barrett Thanks Fans For Encouragement Amid Cancer Diagnosis: "It Means a Lot"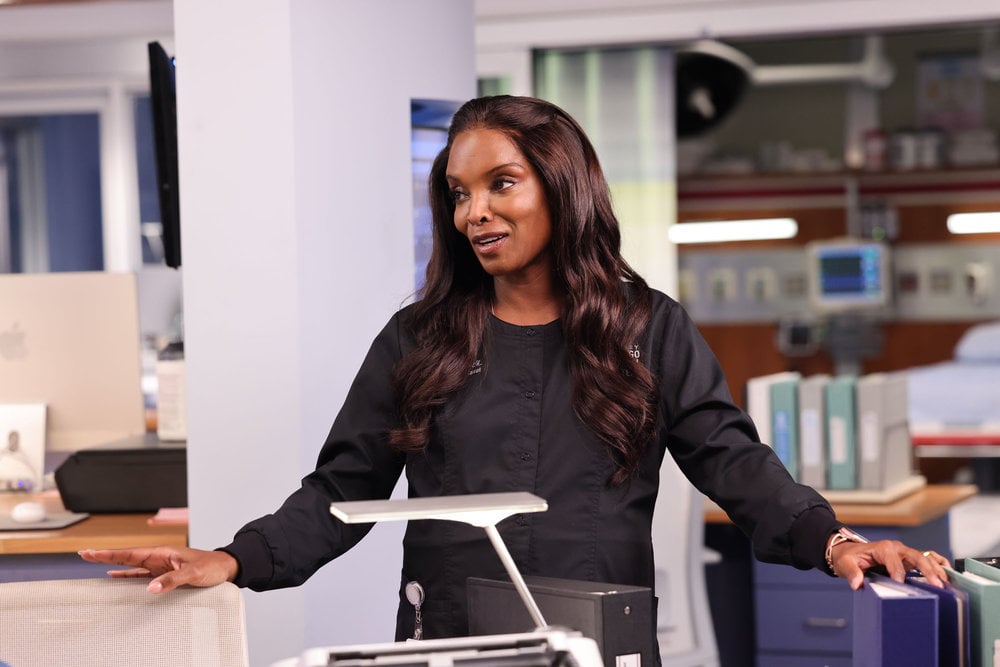 Image Source: NBC / George Burns Jr
Marlyne Barrett is sharing her gratitude over the staggering fan support she's received since announcing her cancer diagnosis on Sept. 27. In an interview with People, the "Chicago Med" star revealed that she's quietly been facing uterine and ovarian cancer since July 18, when doctors told her she had a football-sized tumor on her uterus and left ovary. "The initial experience was a shock, a shock to my womanhood," she told People. "I didn't believe them, but when they showed me the CT scan, I went, 'Oh my word.' The first questions were, 'Am I going to live?' I just fell into my husband's arms. It still takes my breath away when I think about it."
"I took my own razor and I shaved my head. I did it in front of my babies so they'd see it was still Mommy. I wept, I wept, I wept. But it was a beautiful experience to do it in front of them."
The star's journey with cancer first began in April, when she began feeling ill after a hernia repair. "I had this accumulation of fluid [in my abdomen] that I couldn't shake," she said. "I looked like I was nine months pregnant. And I also had shortness of breath, but no pain, which was interesting."
After she was diagnosed, Barrett was told she'd need "aggressive" chemotherapy and a hysterectomy, an experience she chose to face head on. "There's no running from it because it's my life," she said in her People interview. "And eventually you just surrender because it's so much bigger than anything you've ever faced. I found this courage and I just hunkered down and said, 'I'm going to face this.'"
Still, accepting her hair loss as a result of the chemotherapy was difficult. "I didn't want to give the power to chemo," Barrett said. "My hair has always been an essence of beauty. But I took my own razor and I shaved my head. I did it in front of my babies so they'd see it was still Mommy. I wept, I wept, I wept. But it was a beautiful experience to do it in front of them."
Barrett, who has 11-month-old twins Joshuah-Jireh and Ahnne-N'Urya with her husband, pastor Gavin Barrett, has delivered countless emotional performances as the nurse Maggie Lockwood across the Chicago franchise. Memorably, her character, Nurse Maggie, experiences breast cancer, a storyline that had an unexpected influence on the star's real life due to outpourings of love from fans. "When my character went through breast cancer, I had a sea of people reach out to me through social media," she said. "They brought me courage, and so I felt a sense of inevitability to meet their hearts where they met me."
Since announcing her diagnosis, Barrett has been overwhelmed by the continuing encouragement from fans. "I am blown away at the support and love that I've received," she wrote on Instagram. "Thank you for the encouragement. It means a lot to me and my family at this time. . . . It's beyond words how grateful my husband and I are. To this extended family around the world, I pray we as people remember how BIG life is and how much LOVE can do in a persons life."
In the post, the actor went on to thank the cast and crew at Wolf Entertainment for their support and gave a shout-out to the second episode of season eight of "Chicago Med," noting "it was hard to shoot the first two episodes for me." "I start an hour earlier to get my bearings before I start my day," said Barrett, who has also appeared on "The Wire" and several iterations of "Law & Order."
The star notes that the costume department has also done an incredible job working around the mass on her torso. "Work brings me a lot of joy right now," she told People, adding that it helps get her mind off the difficult day-to-day realities of a cancer diagnosis, such as juggling treatment appointments.
As she prepares to undergo her third round of chemotherapy, Barrett admits that she doesn't "have it all together," but she's holding onto faith with the help of her loving family. "I find new strength to carry on every day because of [my children]," she told People. "I want to see them get married one day. And I will."