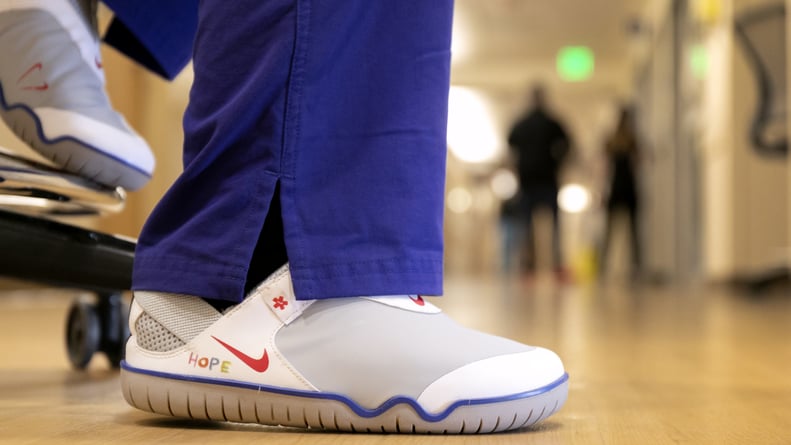 Courtesy of Nike
Courtesy of Nike
Healthcare workers on the front lines of the novel coronavirus pandemic are sacrificing a lot to help take care of us all (as are other essential workers), and Nike wants to lend its own helping hand by providing comfortable and supportive shoes to medical professionals around the world working long shifts during this trying time. The company, in partnership with nonprofit Good360 and local organizations across Europe, will be donating 32,500 pairs of Nike Air Zoom Pulse to healthcare workers.
Here are the numbers: 30,000 pairs will be donated to health systems and hospitals in Chicago, Los Angeles, Memphis, and New York City, according to a press release. An additional 2,500 pairs are being donated to hospitals across Europe in cities such as Barcelona, Berlin, London, Milan, and Paris.
The Nike Air Zoom Pulse came out in November 2019, and it was the first Nike shoe designed for healthcare workers, or what the company accurately calls "healthcare athletes." Nike received insights from medical workers at OHSU Doernbecher Children's Hospital, located in Portland, OR, for the function and design. In the original press release for the Nike Air Zoom Pulse, the shoe is described as easy to get on and off, and "the fit, cushioning, and traction systems work together to secure the foot in all hospital conditions." It is a "clog made athletic" and protects against spills and tired feet.
As for which US hospitals these shoes are being donated to, a Nike spokesperson told POPSUGAR that the company will be giving all of its current inventory of Air Zoom Pulse to front-line healthcare workers located in the four aforementioned cities through Good360. The Veterans Health Administration will also receive pairs from Good360 as part of the US donations. Nonprofits and health systems interested in receiving products can sign up to become a partner with Good30 at good360.org/marketplace/register. "Nike is unable to accept unsolicited requests for product donations," the spokesperson clarified.
This is part of Nike's broader initiative of donating more than 140,000 pieces of apparel, footwear, and equipment to healthcare workers on the front lines of the pandemic. Brands Hoka One One and Crocs recently donated footwear of their own to hospital staff as well. Cheers to you, healthcare workers! Here's to lending support to those who support us.