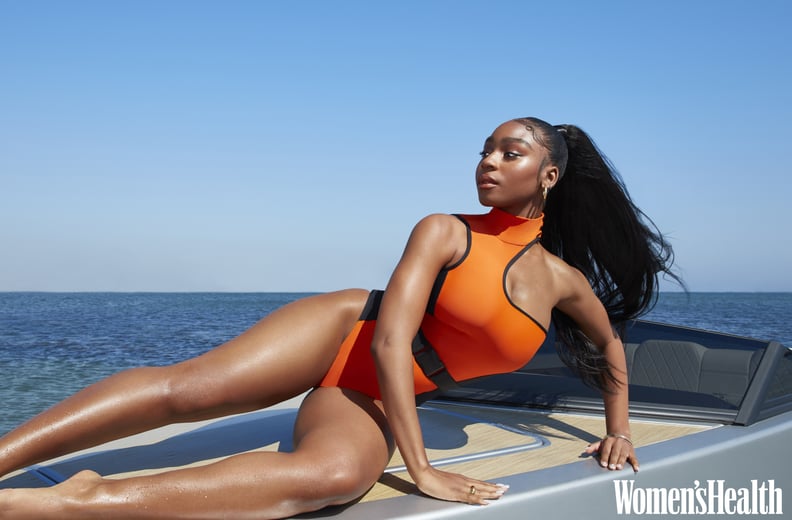 Dennis Leupold for Women's Health
Dennis Leupold for Women's Health
While at home during a global pandemic, Normani does what some of us probably do too: throws dance parties and "mini concerts" in her shower (it's all about those great acoustics!). The 24-year-old singer and dancer said in her cover interview for the December issue of Women's Health that the COVID-19 pandemic has brought her to a better "mind-body bond," as she described it. Her tools? Yoga, meditation, self-affirmations, and workouts.
The first thing Normani gets to in the morning is meditation and a "time-out before allowing anybody else to affect my energy," she explained. Before she talks to anyone, looks at a text, or goes on social media, "I center myself in my room and pray and do breathing exercises and create my own space so that I have a foundation to walk on throughout the rest of the day." Yoga is also a form of meditation for her.
Normani, who exercises three days a week either with cardio, ab, and glute workout sessions from her trainer or by following along to yoga classes (plus hiking routes), admitted that she didn't know she could benefit from these other wellness techniques. They've helped her become increasingly in tune with her body. "Having more awareness about what's going on pushes me to be in the now and to breathe, which is something I desperately needed because I'm always thinking ahead or dwelling on something that could've been better," she said.
What's more, Normani has tried incorporating words of affirmation as a form of self-care especially at a time when negative thinking can intrude into our minds. She described the process: "I look at myself in the mirror and manifest and speak things that I want to happen as if they already did, as if I'm already that version of myself."
Examples of these affirmations include, according to Women's Health, "You are beautiful," "You are a representation for an entire generation," "You are important," and "You have purpose." By repeating these phrases to herself, she's trying to assert some control during a period of uncertainty for us all.
Here's an action item for you: assess how you're tending to all aspects of your health. Wellness isn't just about working out and focusing on the physical, as Normani has learned. It's about nurturing your relationship with your mind and truly making time to exhale.