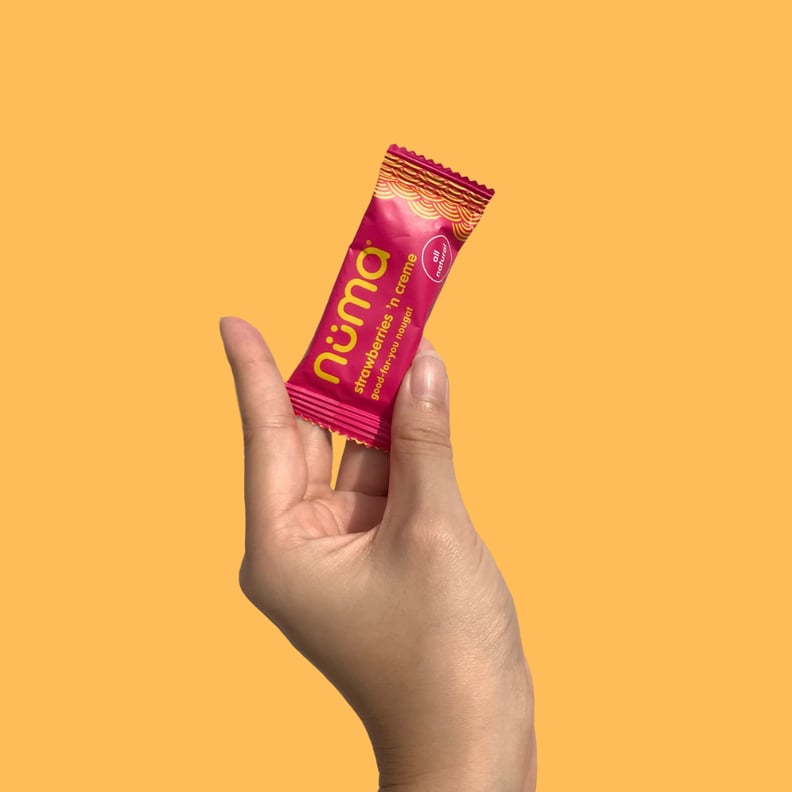 Courtesy of Joyce Zhu and Numa Foods
Courtesy of Joyce Zhu and Numa Foods
As POPSUGAR editors, we independently select and write about stuff we love and think you'll like too. If you buy a product we have recommended, we may receive affiliate commission, which in turn supports our work.
I was a big strawberry girl growing up — I chose doughnuts with strawberry glaze over powdered munchkins, and whenever I could get my hands on chocolate milk, the strawberry flavor was my favorite. So when I was transported back to my childhood after tasting Numa's Strawberries 'n Creme nougat, I was elated. And it gets better: two pieces have four grams of protein and eight grams of sugar (Strawberry Laffy Taffy, in comparison, has zero grams of protein and 17 grams of sugar per serving). What candy chews ever had a decent amount of protein in them? None, to my memory.
Numa, which means "daughter" and "mother" in Chinese, was founded two years ago by Joyce Zhu, whose own mother made her candy to satisfy her sweet tooth in a healthier way. Zhu has an autoimmune disorder, and her mom's candies were what she calls a "perfect solution" for needing to, in her words, "eat clean to control it."
The candy gets its higher protein count from egg whites and dairy. For sweetener, it's made with maltose, a "natural sweetener distilled from fermented grains that's widespread in Asia," Zhu told POPSUGAR, adding that it's "50 percent less sweet than table sugar."
That makes sense: Strawberries 'n Creme Numa is sweet but not too sweet, and it literally tastes like strawberry milk on your tongue. It's creamy and chewy, yet not too chewy (I'm admittedly not a huge taffy fan, so the lack of stickiness here was a huge win for me). I'm glad these came into my life for the fact that they're great-tasting, better for you, and, specifically, higher in protein than other candy.
The only remotely negative thing I would say is that the nougats sometimes aren't in the rectangular shape they're shown to be in on the packaging. That's a minor detail, though, and it didn't deter me from savoring the candies with every bite. Strawberries 'n Creme Numa ($4 for one pack of eight) is a top-selling flavor — and I can see why! Numa also sent me the other flavors it sells, which you can check out online. Enjoy! I know I did.