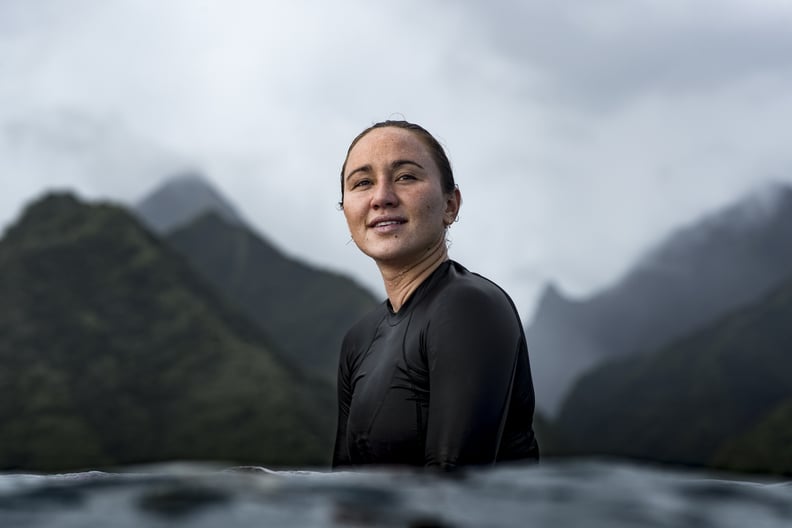 Ben Thouard | Red Bull Content Pool
Ben Thouard | Red Bull Content Pool
It was already going to be an unusual year for surfer Carissa Moore. After winning the 2019 World Surf League title, the four-time world champion made an unexpected decision: withdrawing from the 2020 season to focus her energy solely on the Tokyo Olympics, where surfing was to make its debut. The break was to follow a grueling season. The world title race had come down to the last competition of the year, a three-way, all-American battle that would also decide which surfers would represent Team USA at the Tokyo Olympics. Moore took the title and the first berth; then-17-year-old Caroline Marks took the second. (Moore's dramatic, season-long journey to the title was captured in Riss, a RedBull TV docu-film released May 11.)
All of which meant that when the coronavirus outbreak accelerated into a pandemic, shutting down sports and postponing the Olympics, Moore was in a different position than many athletes. "I hadn't really started training at all," she said. In March, when the Olympics postponement was announced, she was still in relaxation mode. "I was looking at April as [the month] where the intensity would pick up."
And unlike athletes in many other sports, Moore's spot on the Olympic team is secure and will transfer over to 2021. "I feel very fortunate as a surfer, because for our team, everything got solidified fairly early," Moore told POPSUGAR. "I feel for the other sports, where people were in tip-top shape, getting ready to go into their trials."
Moore's unique situation means that her training schedule hasn't actually changed much since the shutdown. "In the mornings, I usually get up early and find some surf somewhere," she said. (Surfing is still allowed at beaches in Honolulu, where Moore lives.) In the middle of the day, she'll "get creative": reading, working in the garden, or scrapbooking. She'll train in the afternoon, doing home workouts, running, or hiking in the valley where she lives. "I'm very fortunate that I'm still allowed to do most of what I do normally," Moore said.
She's also been giving back, taking part in the World Surf League's #StayLocal campaign to support small businesses through the pandemic. The league asked athletes to make a donation to one of their favorite local businesses, promising to match the amount up to $2,000. Around the same time, Moore said she was approached by a local representative and asked to hand out school lunches at a local elementary school, which had closed down during the pandemic.
"That got me thinking, how cool would it be if I got to kill two birds with one stone?" Moore said. Choosing Banan, a banana-based fruit soft-serve shop, as her local business, Moore purchased 200 cups and brought them to Palolo Elementary School to give away with lunches.
It was a good way to practice something that Moore's been working on lately: staying present and focusing on daily goals, as simple as finishing the laundry or cleaning her house, to stay on track. "This is the first time in my whole life I've had to just slow down," she said. "The most challenging thing is finding ways to stay busy and motivated, physically and mentally." While she misses the constant on-the-road lifestyle of a pro surfer, she said she's working on finding space and peace in this moment.
"What's been helping me is finding three things to be grateful for every morning. Starting my day with a grateful heart," she said. "Just embracing the stillness. I'm trying to be as grateful as possible."