All You Need Is 1 Dumbbell to Crush These Quick, Challenging Total-Body Workouts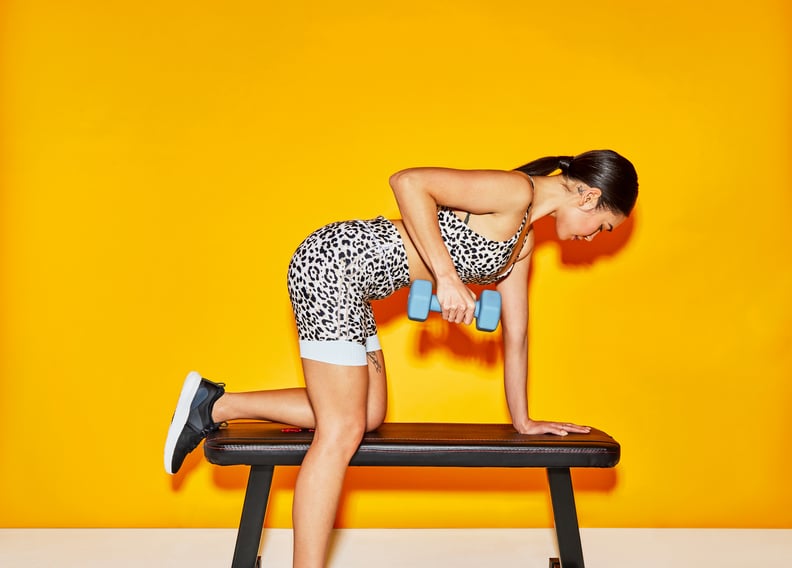 POPSUGAR Photography | Matthew Kelly
POPSUGAR Photography | Matthew Kelly
Sometimes life only gives you one dumbbell to work with, which puts you in a bit of an awkward position when you're trying to get a strength workout in. Luckily, there are plenty of single-dumbbell workouts out there, if you know where to look. And we're officially making that part easy for you: keep reading to get six effective, efficient, single-dumbbell workouts you can do right now. No dumbbells around? Grab a jug of water or even some heavy cans instead. (Here are more weight substitution tips.) Now grab your weight and get ready to sweat!
01
Intense Total Body Workout With One Dumbbell by Trainer Kaitlin
A certified trainer leads you through this challenging circuit workout, which has a nice balance of core-centric and full-body moves, including squat-to-plank, lunge rows, and single arm dumbbell swings (similar to kettlebell swings). You'll do two 40-second sets of each move, so get ready to work!
02
20-Minute, One Dumbbell Full-Body HIIT Workout by PMA Fitness
Make sure to warm up before this HIIT workout (here's a quick sequence that'll work), led by celeb trainer Faisal Abdalla. The first three exercises have you holding the dumbbell overhead (hellooo, shoulders), followed by more multi-muscle groups moves like goblet squats and low-to-high woodchops. You'll repeat the circuit twice through for major burn!
03
One Dumbbell Workout At Home by CC Matthews
This workout is 20 minutes long and so challenging, starting with a plank and rotate and ending with a dumbbell single-leg deadlift — before you start over and do it all again on the other side! Trainer CC Matthews offers helpful cues throughout the workout and ends with an ab and cardio burner that'll have you sweating.
04
One Dumbbell Tabata Workout by Tabata Songs
This simple workout features just two moves, but you'll feel muscles all over your body firing for each one. Bonus: it's only four minutes long, so you can fit it into a busy day.
05
30-Minute, One-Dumbbell Workout by XFA Fitness
This workout takes you from warmup to cooldown and features two rounds of twelve different moves, hitting every muscle group as you go. Some of the moves are more advanced, so feel free to modify or drop your weight as needed!
06
Live One Dumbbell Workout at Home by CC Matthews
This full-body dumbbell workout is a challenge from beginning to end. The strength exercises will exhaust your muscles, and trainer CC Matthews sneaks in a few cardio exercises (tuck jumps and burpee variations!) to get your lungs burning. Remember to modify as needed!