Peloton's New York Studio Opens This Summer — Here's What It's Like to Take an In-Person Class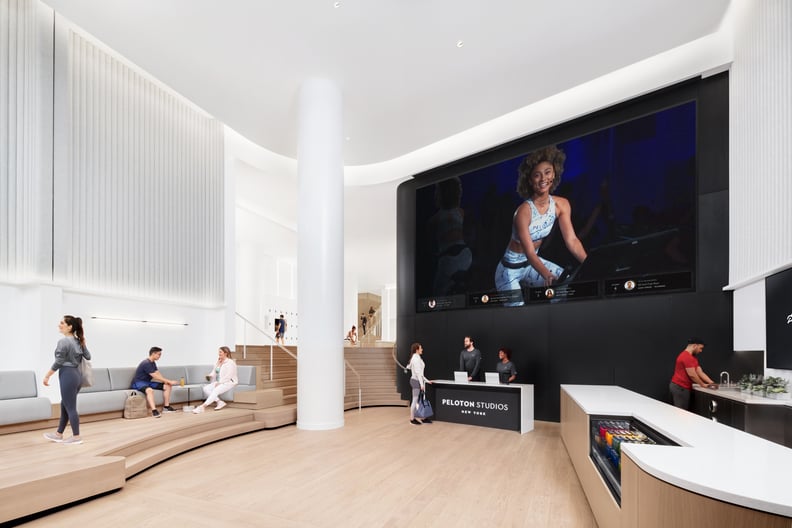 Courtesy of Peloton
Courtesy of Peloton
If you've taken a virtual Peloton class with tread, strength, and bootcamp instructor Jess Sims, then you've probably heard a few of her legendary quotes. My favorite? "Not every workout is going to feel like Disneyland." But that's exactly what walking into Peloton Studios New York feels like: magical and otherworldly.
From the bright, backlit walls to the polished wooden floors, the design is modern and the tech is most prominent, beginning with the gigantic screen flashing snippets of the world-renowned instructors before guests at entry. At the bottom of the screen, there are real-time class countdowns for each of the four studios — Cycling, Running, Strength, and Yoga — all of which are situated somewhere beyond view, booming to their own beats.
The new studio has been ready and waiting since March 2020, when it was finished, but unable to open to the public because of COVID-19. Finally, the time is near; Peloton Studios New York is scheduled to open to the public in August 2022, according to a press release.
And it's so much more than just a place to work out. Up the first flight of stairs is the familiar "P" sculpture that the instructors routinely pose in front of before or after teaching a class (as evidenced on Instagram). Down the corridor to the right are the workout studios, along with floor-to-ceiling locker space. On the third level, there's a lounge, plus displays of all the latest Peloton products and apparel. Here, you can also catch a glimpse of the control room or spend time in the state-of-the-art locker rooms, which are equipped with bathrooms, showers, and towels, along with hair and makeup stations and floor-length mirrors. It's the type of fitness space you want to thoroughly enjoy; one where working out definitely doesn't feel like a chore, but more like a luxury.
About 20 minutes before a class is scheduled to start, a voice echoes over the loudspeaker, announcing that the studio doors are open, inviting athletes in to temporarily step away from the rest of their lives and focus, together, on the workout at hand. But what happens once those doors close? What's it like to do a workout that's recorded live for a community of seven million members to stream from their homes, and to compete against thousands of people from that community on the live leaderboard while you're in the studio?
Ahead, we're answering every burning question you have about what it's like to take an in-person class at the new Peloton Studios New York.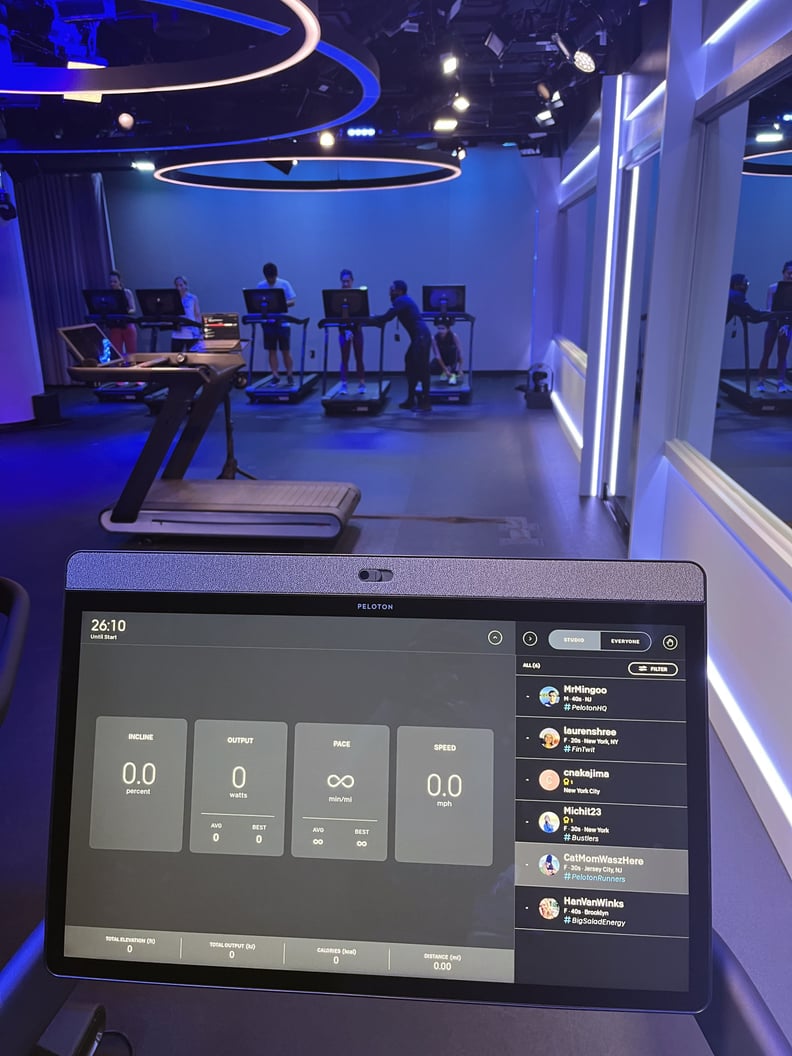 Peloton Studios New York: Class Information
How much will it cost to take a class at Peloton Studios New York?
Member preview classes will be complimentary when the studio opens in summer 2022. Members will be allowed to take preview classes once a week for live Cycling, Tread, Yoga, and Strength class tapings.
Can you take a Peloton Studios New York class if you're not a member?
Both members and nonmembers will be able to take classes; however, more information about the booking process will become available when the studio officially opens. Right now, Peloton is beginning to actively invite members who had previous class bookings at Peloton Studios New York that were canceled due to COVID-19, as well as local members in the greater New York City area, in order to gather feedback and streamline processes.
How many people are allowed in each type of class at Peloton Studios New York?
At this time, the Cycling classes are capped at 39 people, Yoga at seven people, Strength at six people, and Tread at 16 people.
Can you connect a heart-rate monitor at Peloton Studios New York?
At this time, there is no heart-rate-monitor connectivity for in-studio hardware on the Tread or Bike, though this may be updated after the official opening.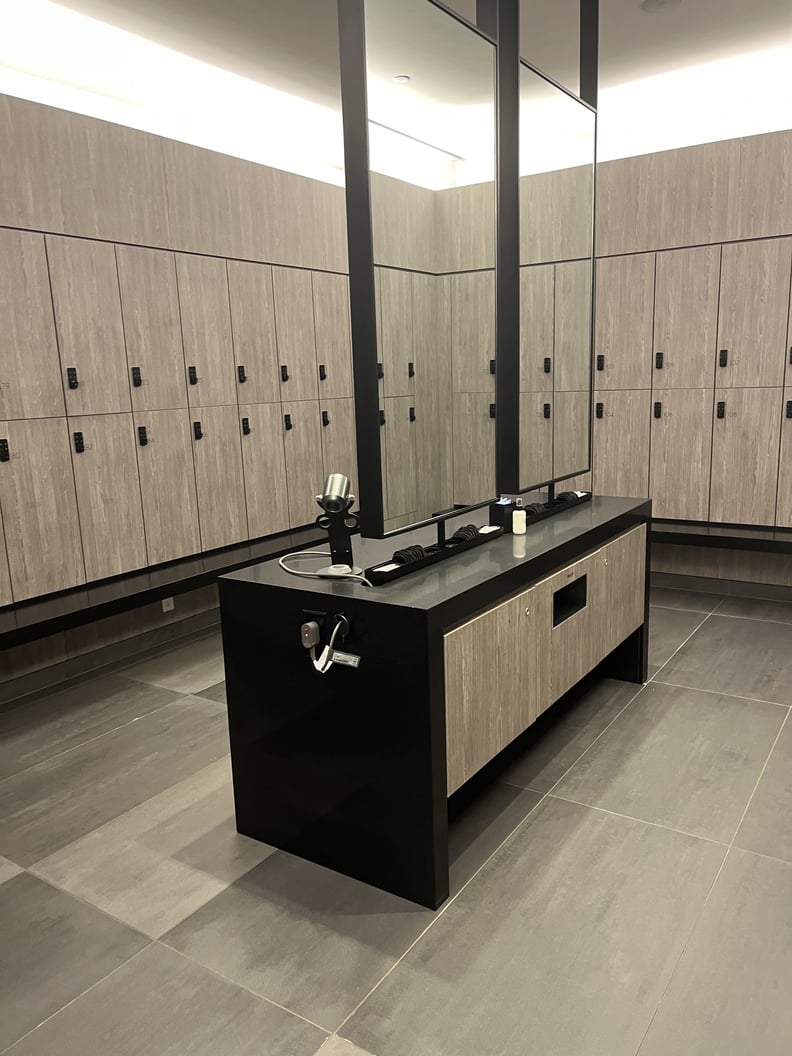 Peloton Studios New York: Amenities and Safety
What's provided at Peloton Studios New York, and what should you bring to class?
Members will be advised to wear workout clothes based upon the discipline of the class they've signed up for, but cycling shoes, mats, equipment, sweat towels, water bottles, and showers will be available on-site.
Can you purchase beverages and food on-site at Peloton Studios New York?
Peloton Studios New York will feature a cafe offering juices, cold brew, and other light snacks.
Is there a time limit for how long you can stay at Peloton Studios New York?
No. Peloton Studios New York will be a destination for members from around the world to meet up with other people in the community, get the chance to meet their favorite instructors during visits, and enjoy time in the lounge as a space to congregate.
What are the COVID-19 regulations at Peloton Studios New York?
Peloton requires individuals to show either proof of vaccination (it can be a photo on your phone) or a negative PCR test taken within the last 72 hours to enter the studio without a mask. (In accordance with CDC guidance, a person must have received their second or final dose of the COVID-19 vaccine 14 days prior to be considered fully vaccinated.) People who do not have proof of vaccination or a negative PCR test are required to wear a mask for the entirety of their time at PSNY.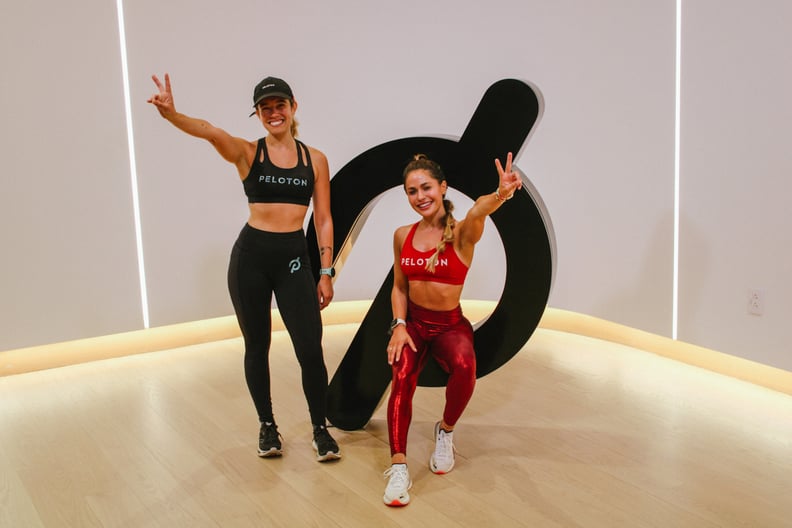 Peloton Studios New York Live: Class Experience
Do you get to meet the instructors at Peloton Studios New York?
Members will have the opportunity to meet and take photos with their instructor after every class. Here, I posed with Peloton's Olivia Amato after a 30-minute EDM run, which was the first class she taught in front of a live studio audience since the start of the pandemic. Amato was introduced to the class about 10-15 minutes before start time, once we were all situated on our Peloton Treads. Other staff members walk around the room to ensure safety measures and help with setup.
Will you be filmed during the class?
It all depends on the location of your workout space, which gets assigned to class members as they filter into the room at random. There are certain camera angles that will, in fact, capture members working out off to the side or in the background. However, there are plenty of staff members on-site for you to chat with if you'd like to make a request to be off-camera.
Is the atmosphere different than that of a regular group fitness class?
The one significant difference between a class at Peloton Studios New York and a regular workout class is the lighting. It's significantly darker than you might expect, since the lights are most prominently cast upon the instructor at the center of the room. Before class starts, you'll hear your instructor test out their microphone with the members of the control room, who have the capability to broadcast a voiceover to the entire room. Your instructor will also take a minute to turn toward the central camera and pose for stills that are then used to coincide with the class listing on the Peloton app.