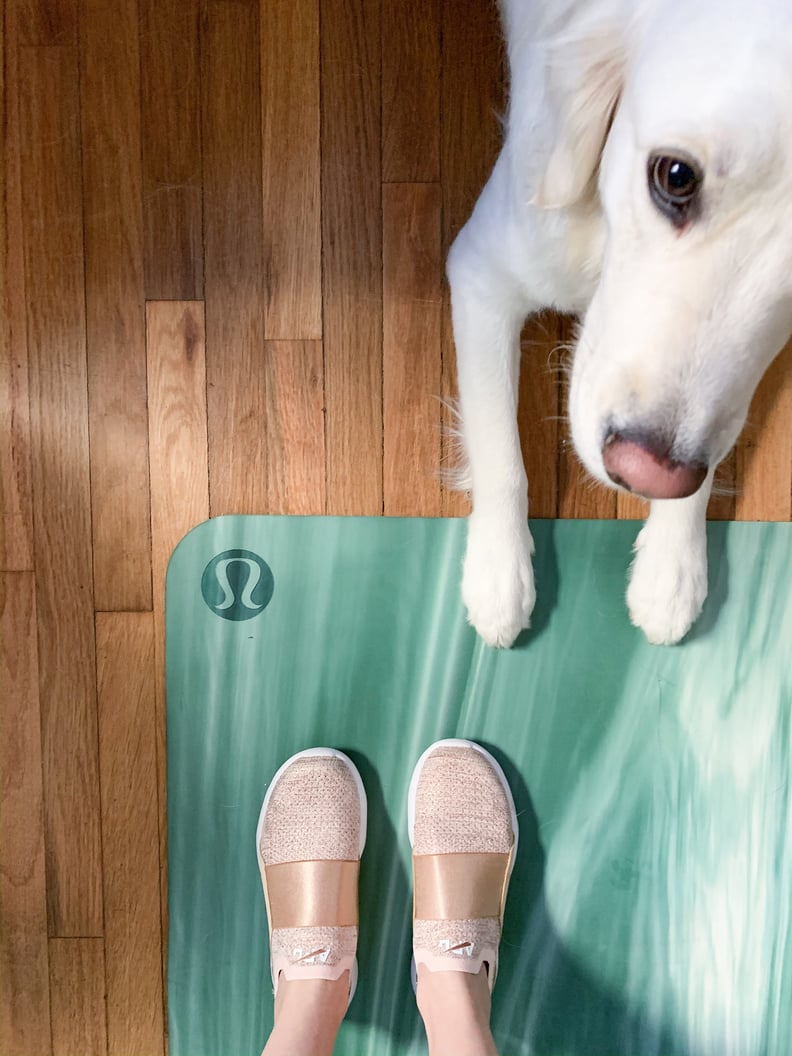 POPSUGAR Photography | Dominique Michelle Astorino
The holiday season came and went, and left me with some cute souvenirs to remember it by: bloat and fatigue! Don't get me wrong, I love the holidays, but I've been anxiously anticipating the start of the new year so I can get back into a healthy routine. I also have a Disney Princess 10K coming up in February and hadn't yet found a program that would give me total-body conditioning.
So, I was psyched to get the opportunity to try the POPSUGAR Fitness 4-Week Full-Body Fusion program, available exclusively on Glow by POPSUGAR, to kick my own butt from the comfort of my living room. The description of the classes showed the exact combination I need to keep my energy levels up and help me get 10K-ready: cardio, strength training, and yoga! Plus, I immediately spotted trainers I love and have taken classes with IRL, which made me even more eager to get started.
Each week of the program has one rest day built in (so essential!), and none of the workouts are more than 45 minutes long. Keep reading to find out how the first week went!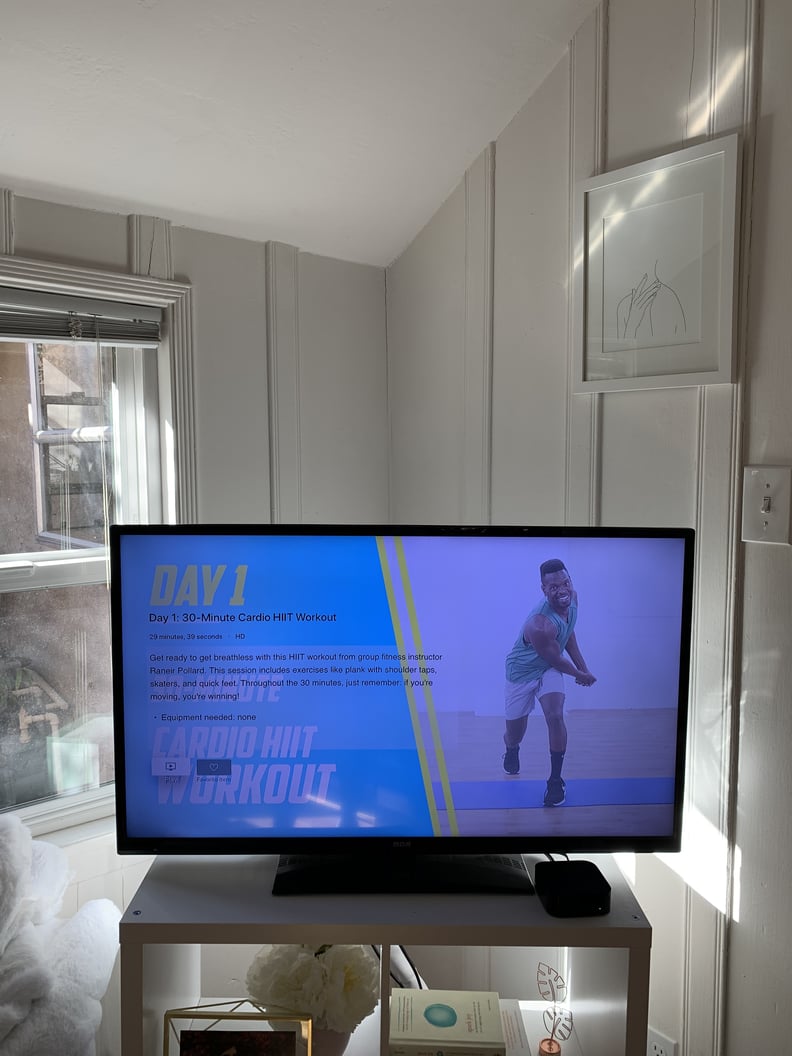 Week 1 Overview
Equipment Needed For Week 1
Yoga mat
A set of light free weights
Sneakers
My Personal Goals
I think it's so important to have an intention when you start a new workout, new program . . . honestly, anything new! My intention for this program is to have more energy (one of my goals for 2020 is to wake up earlier!), feel happier, and, of course, to have my body in excellent condition to crush my 10K race at the end of February. I think the combination of cardio, strengthening, and restoration will be the trifecta for my endurance.
Where I'm Working Out
My living room! I'm using the Glow by POPSUGAR app on Apple TV, which makes the streaming experience so much better. I have a cushy yoga mat, and fortunately, I have ample space for moving about for the more intensive classes. Of note: working out at home is both more fun and more challenging when you have a needy golden retriever who wants to participate in everything — and I do mean everything — that you're doing.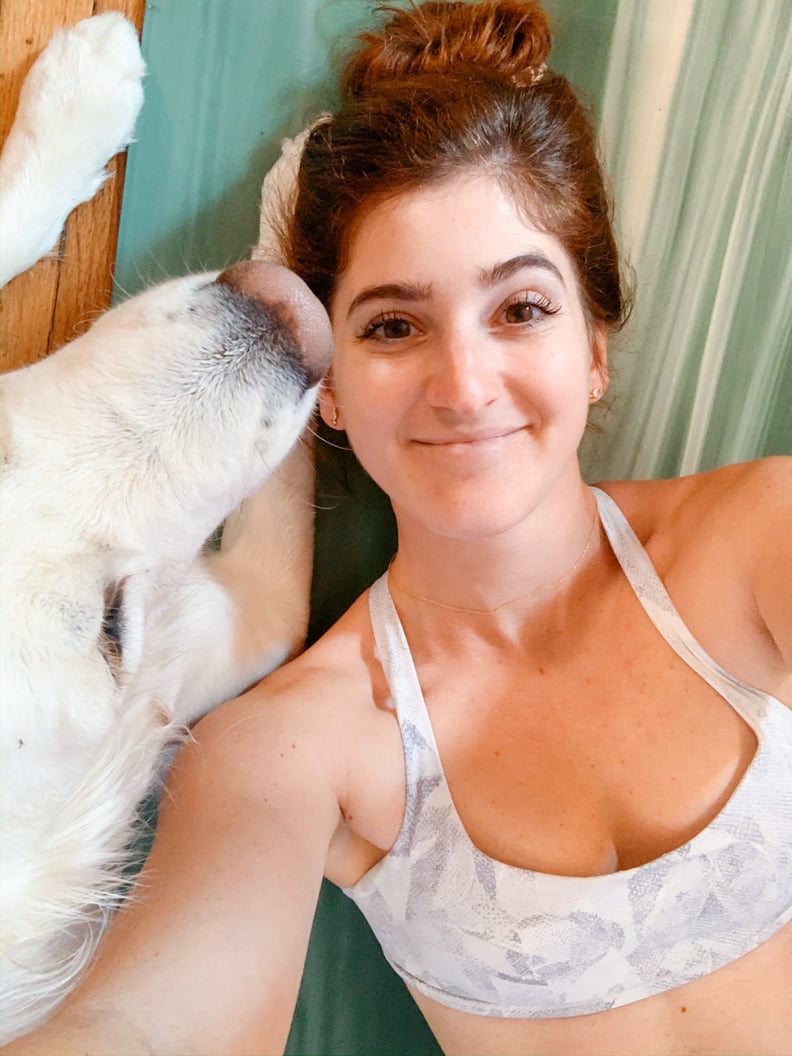 How It Went
Day 1: Cardio HIIT Workout With Raneir Pollard
There's something about starting the new year with a blast of cardio that makes me feel especially energized and optimistic. Plus, Raneir's energy was amazing — I literally laughed aloud during this session (my dog thinks I'm insane, it's fine). A trainer's energy is make-or-break for me, and this was such a stellar way to start the program. A few more quick takes:
Adequate breaks. I loved the pace of this and that there was time to catch your breath and get a sip of water.
Warmup and cooldown built in. A pet-peeve of mine is shorter classes that skip these fundamental components. I was relieved that this cardio workout didn't skip the warmup or cooldown.
Broke a sweat! I became acutely aware that my heater was on and promptly opened all the doors in my house . . . you get warm quickly with this one!
Day 2: Ab and Oblique Workout With Jake Dupree
"Snatch that waistline!" Jake Dupree is human sunshine. I'm not gonna lie, I was fighting some savage PMS on day two, and it was so hard to motivate myself to work out at all, but the fact that I could do it in my sweats, didn't have to leave the house, and got to be entertained by Jake was perfect. I also loved that I needed zero equipment for this workout, finished it feeling more energized than when I started, and really felt it in my obliques.
Day 3: Above-the-Belt Workout With Christa DiPaolo
I'm fully obsessed with the warmup in day three, and I'm so happy that, during the cooldown, Christa shared her story about hurting herself from skipping recovery days — this is such an important message that more people need to hear! Plus, the stretching at the end of the workout felt so good that I kind of want to do it every night before before bed.
As for the workout itself, it was another amazingly energizing class (boxing this time!), with adequate breaks and a good pace. Not gonna lie, I was pretty pissed off when it came time to do burpees — I don't know many people who are pleased with burpees — but I felt so good and so sweaty at the end.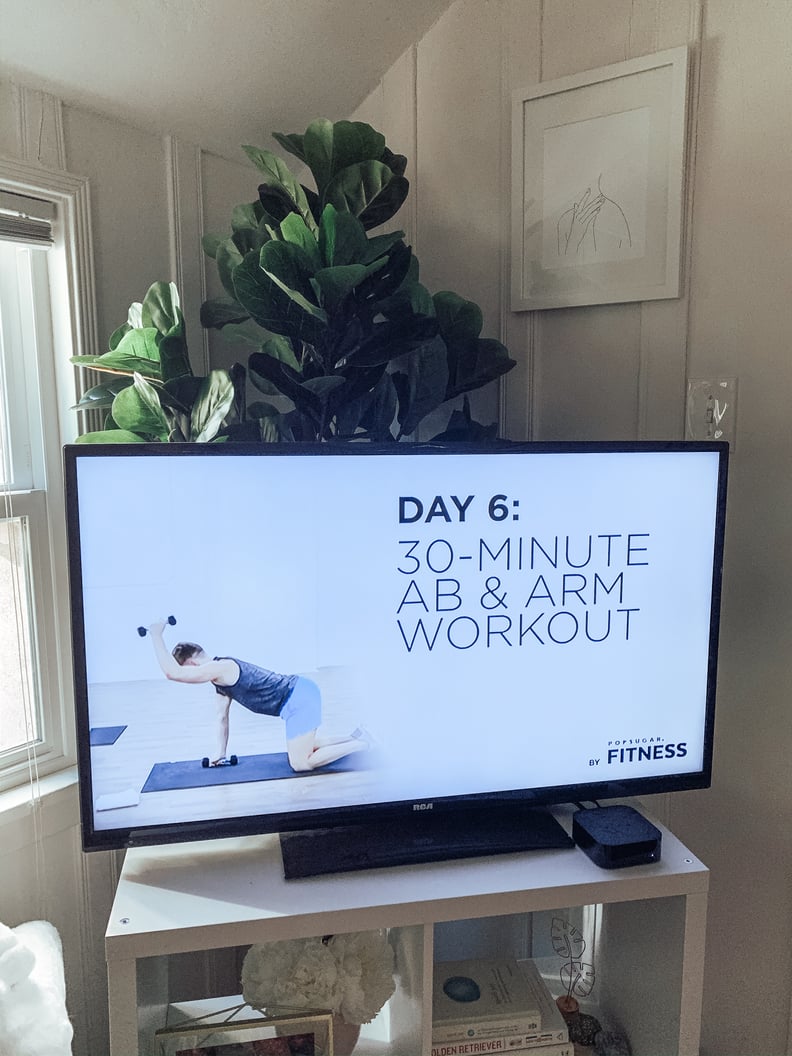 Day 4: Yoga and Restorative Meditation With Koya Webb
I have been soooo looking forward to this workout. I haven't done yoga in months and have been seriously longing for a class. This was such a wonderful addition to the routine of butt-kicking strength and cardio from the past few days.
Koya's energy was exactly what I needed this week. Her voice is like the auditory equivalent of CBD oil and bedtime stories. Her emphasis on recovery being as important as exercise itself really spoke to my soul (can you tell this is an important subject to me?), and the stretching made me realize just how sore I was from the past three days, so it was perfectly timed.
Day 5: Dance Cardio With Amanda Kloots
I've always wanted to take one of Amanda's upbeat dance classes, so I was thrilled to see her workout on this program! This was the fastest 27 minutes of my life — it seriously flew by. And while you're only really dancing for about 20 minutes (with three minutes each for warmup and cooldown), you break such a sweat. This was another one of those "Is my heater on?" workouts.
Day 6: Ab and Arm Workout With Jake Dupree
The last workout of the week was back with Jake, focusing on arms and abs. It also happened to be the only one that required equipment! I quickly realized that my free weights are at my mom's house (cool, cool, cool), so I used wine bottles instead. It seemed on brand.
I loved ending the week with a little more ab work. This was a good combination of strength and cardio, and to be honest, I kind of felt like I was at Barry's Bootcamp, minus the red lights and chaos. And while I'm always up for a Barry's workout, I was happy to save the fee and be spared from the drive this time!
Day 7: Rest
And on the seventh day, she rested!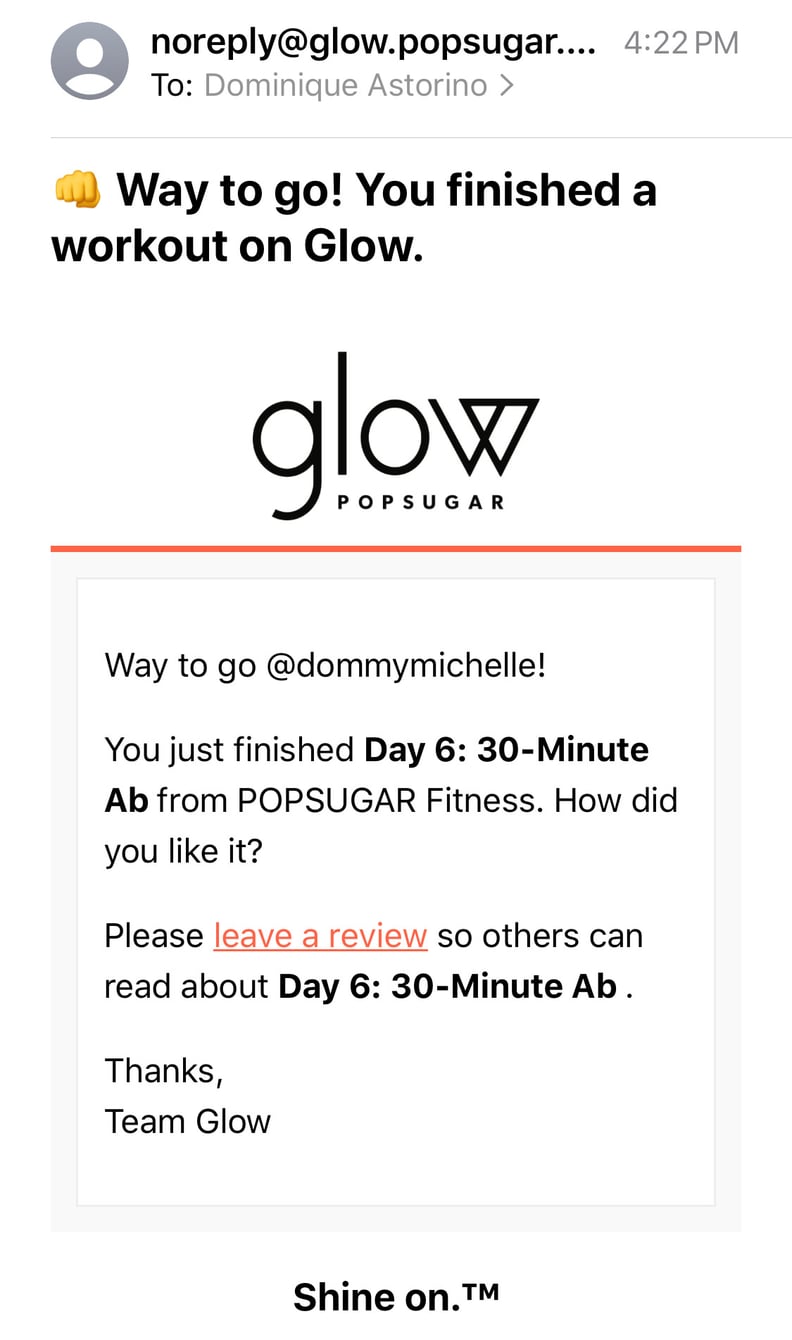 End-of-Week Thoughts
Wow! A week of cardio conditioning, strengthening, boxing, yoga, and dancing. This week was dynamic and challenging, but always exciting, and I seriously loved mixing it up.
This program is like a virtual ClassPass: you get to experience a variety of workouts that you'd get at high-end boutiques, all from home (much more cost effective!). I thought all the classes were really well paced, and I seriously appreciated the attentive messaging — both verbal and structurally — around recovery. It's about time a workout program tells us that recovery is just as important as the exercise itself! Yes, break a sweat; yes, kick your own butt; yes, work hard . . . but make sure you take care of your body, too.
My first impression of this program after week one is that it's fantastic for many fitness levels, and there's very little barrier to entry. You don't need a ton of space, and you barely even need equipment! It's dynamic enough to keep your boredom at bay, and the workouts are short enough to fit into any schedule.
As for me? I'm just the right amount of sore, and feeling pretty good energy-wise. Let's see how the program adds up over the next few weeks!