I decided to brave the crowds and hit Trader Joe's on a Sunday (two weeks before Christmas, no less) and I'm so glad I did. I discovered that two of my obsessions have married into one: Trader Joe's and overnight oats! I was so excited about this new product, but even more excited that it only has five ingredients, it's vegan, and it's high in protein and fiber. Keep reading to find out how it tastes.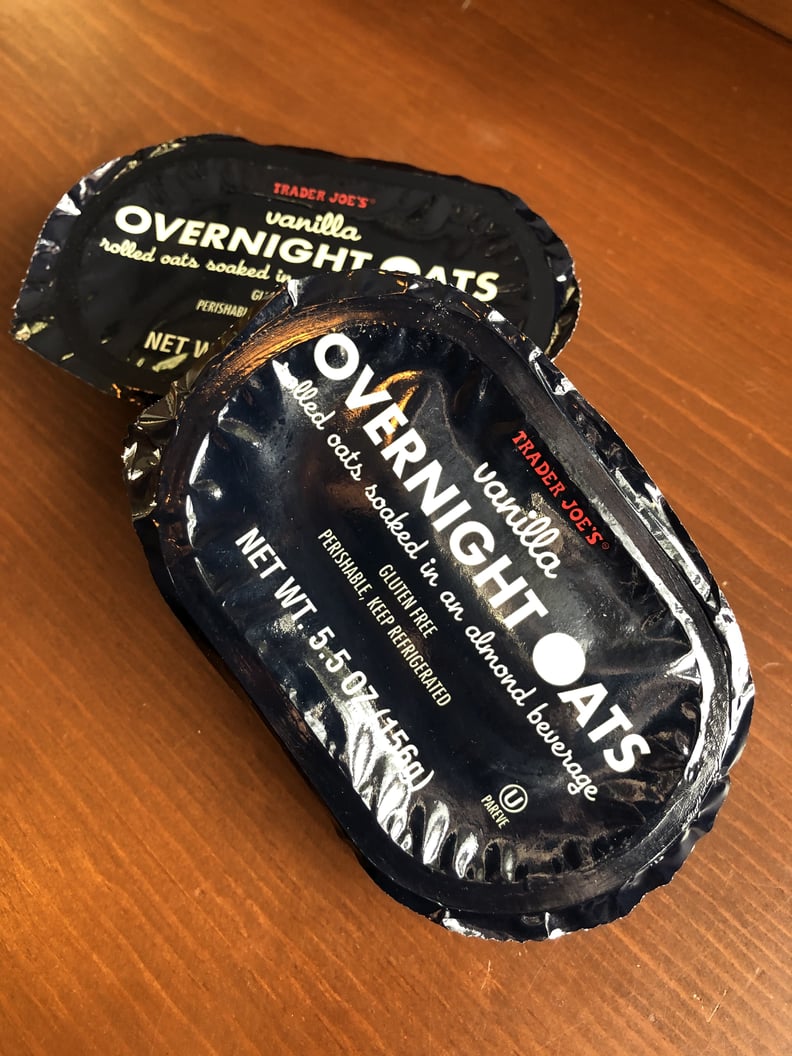 Trader Joe's Vanilla Overnight Oats Ingredients
The new Trader Joe's Vanilla Overnight Oats is made with only five ingredients: unsweetened almond milk (which is made with water and almond butter), rolled oats, dates, vanilla extract, and sea salt. It's gluten-free, free from sugar, and vegan!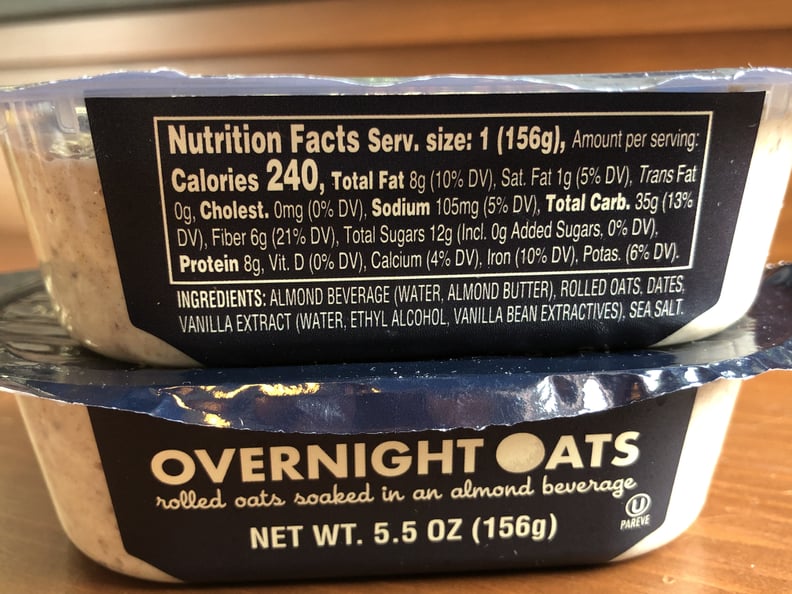 Trader Joe's Vanilla Overnight Oats Nutritional Information
For 240 calories, a serving of this Vanilla Overnight Oats has eight grams of fat, one gram of saturated fat, 105 milligrams of sodium, 35 grams of carbs, six grams of fiber, and 12 grams of sugar (zero grams of added sugar), and offers eight grams of protein. The high fiber and protein amount is perfect for satiating hunger.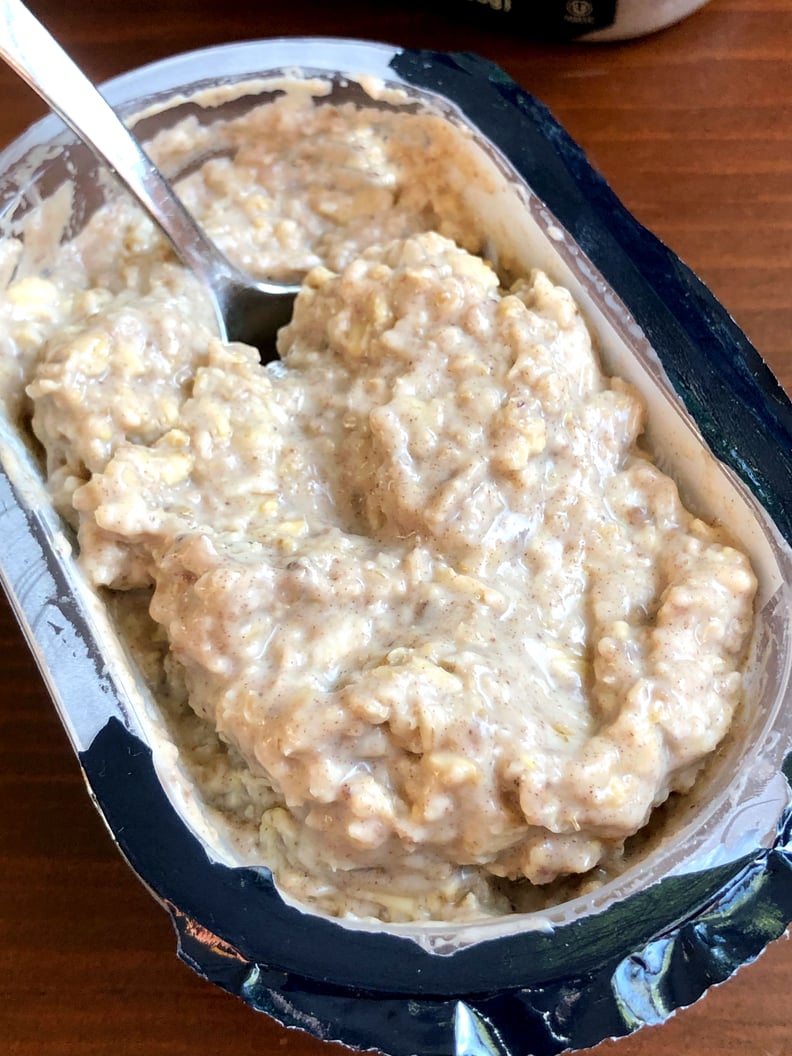 How Do Trader Joe's Vanilla Overnight Oats Taste?
Just as you'd imagine, these overnight oats are creamy, soft, and hearty. Since these oats have been soaking in almond milk for well over just overnight, the texture is softer than you'd make at home the night before, which I actually loved. It was definitely sweet enough with the dates and vanilla!
This oatmeal is tasty on its own but even more delicious dolled up. I topped mine with sliced banana and fresh blueberries, and added a sprinkling of chopped almonds and chia seeds. On another day I stirred in some peanut butter, cinnamon, a little protein powder, and added some frozen raspberries.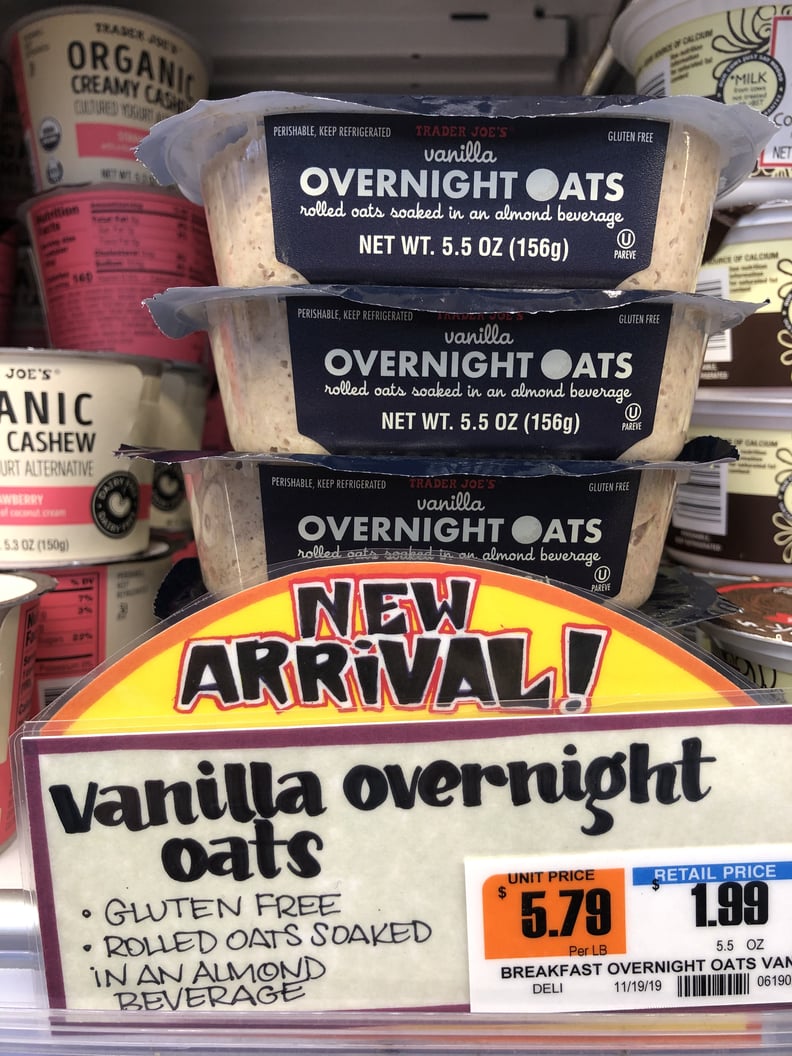 How Much DoeTrader Joe's Vanilla Overnight Oats Cost?
One package of Trader Joe's Vanilla Overnight Oats is just $1.99, which is incredibly reasonable. If you don't feel like making a week of overnight oats on Sunday, you can pick up five, plus whatever toppings you like — a few bananas, a bag of frozen blueberries, cacao nibs, a package of chopped pecans, or some almond butter — and breakfast is done!