Mental Health Nonprofit TWLOHA Just Released an App For Daily Self-Care and Reflection
For 15 years, To Write Love on Her Arms (TWLOHA) has provided an avenue of hope for people struggling with depression, self-harm, addiction, suicidal ideation, and other mental illnesses, and now, the nonprofit launched its first app to coincide with the 15-year anniversary of its creation. The app, fittingly called The Hopeful, is available via iOS right now and will be coming out for Androids soon (you can sign up for updates about the Google Play app store launch here). Everything in the app aligns with the TWLOHA mission that founder Jamie Tworkowski defines as moving people "from a place of isolation to connection. From hopelessness to hope."
When you first download the app, you'll be prompted to create an account (or you can skip that part and explore the app without all of the features). The app has daily encouragements — on March 31, I was greeted with "Your life matters. Your life is worth fighting for." — a section to track your mood, and a place for journaling. The journal entries give you thought starters each day. On March 30, I got "What or who makes your heart feel full?," and on the morning of March 31, the question was "How do you move through fear?" Links to resources and curated content that live on the TWLOHA website, including blog posts and podcasts, also live on the app.
"The reality is depression, addiction, self-injury, suicide, they don't give you the freedom to pick what day you're going to be struggling."
People involved with TWLOHA have talked about creating an app for years, and when the TWLOHA movement took hold in 2006 with the publication of Tworkowski's original blog post about his friend's mental illness, apps weren't even a topic of conversation. "We want to be a source of encouragement in everything we do," Tworkowski told POPSUGAR.
Tworkowski continued, "We know that our website or social media accounts are already a daily source of hope and encouragement and resources for a lot of people." The app, he noted, is an extension of that and the organization's legacy of giving back to the mental health space; to date, TWLOHA has donated more than $2 million directly into treatment and recovery and continues to promote community, education, and, above all else, hope.
"We hope the app just makes it even easier for us to be a part of someone's everyday life," Tworkowski said. "Something that they turn to daily, whether it's for the content that we create and provide, or whether it's for some of the other things they'll find on the app like the mood tracking and the journaling."
TWLOHA Director of Outreach and Experience Chad Moses told POPSUGAR his favorite part of the app is the ability to track your mood and see a calendar view of what the current month looks like. "As someone that lives with seasonal affective disorder, it's going to be so valuable to look back and remember that when I'm in the thick of it in, in January and February, that I can compare that to, 'Hey, what did April look like last year?'" Below, you'll see an example of my home feed as well as my own calendar that Moses referred to.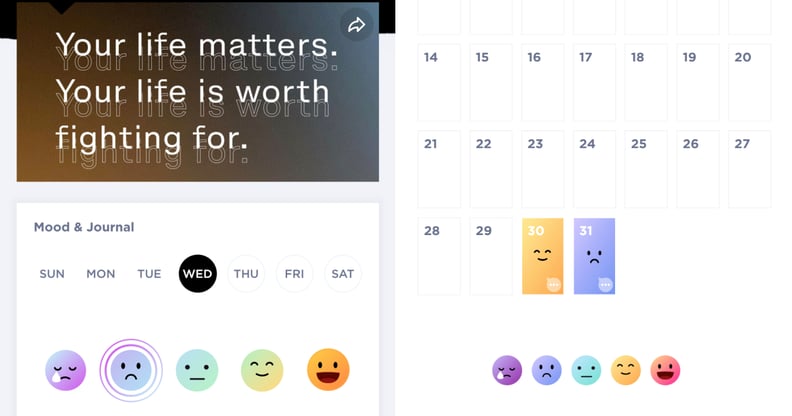 "In America, in the West and North America, so much of conversation dealing with mental health is put in these calendar boxes: 'OK, we're allowed to talk about eating disorders during February. We're allowed to talk about suicide during September.' And you know, the reality is depression, addiction, self-injury, suicide, they don't give you the freedom to pick what day you're going to be struggling," Moses said. "This is about how you are feeling today. This is about seeing if you can draw a line between your mood and what's happening in the world around you, and you don't need to apologize for it, you don't need to justify it. We just ask that you check in and give yourself, really, just the space to be you."