Vegan Apple Cinnamon Sheet Pan Protein Pancakes
Trade the Spatula For a Sheet Pan and Make These Apple Cinnamon Protein Pancakes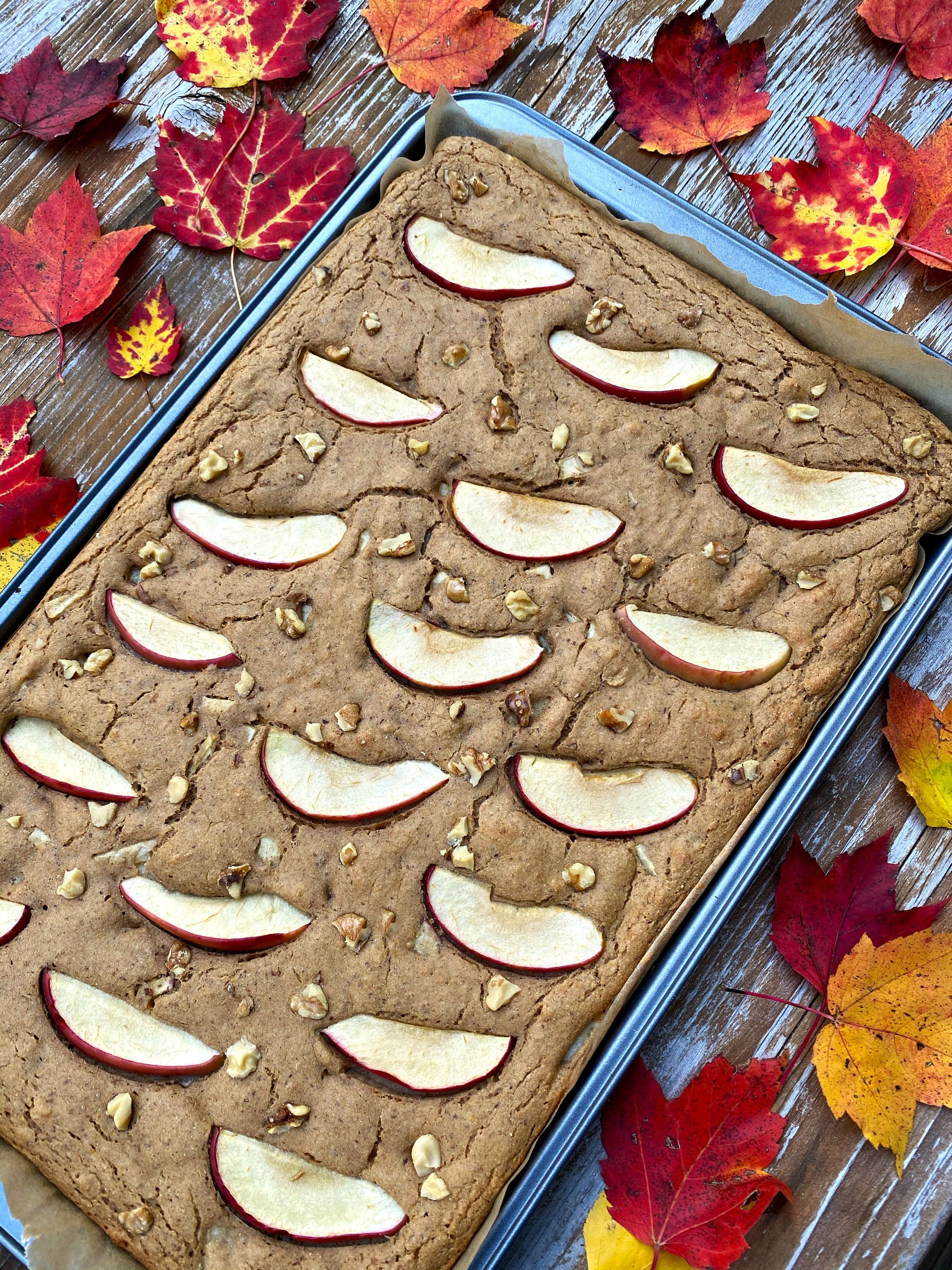 Whether you picked apples fresh from a tree or grabbed a pack from your grocery store, if you're looking for a healthy vegan breakfast recipe to use up those apples, make these superquick and easy apple cinnamon sheet pan pancakes. Fluffy, packed with protein, and perfectly spiced, once you bake these apple cinnamon sheet pan pancakes, you'll realize how much faster they are than traditional pancakes.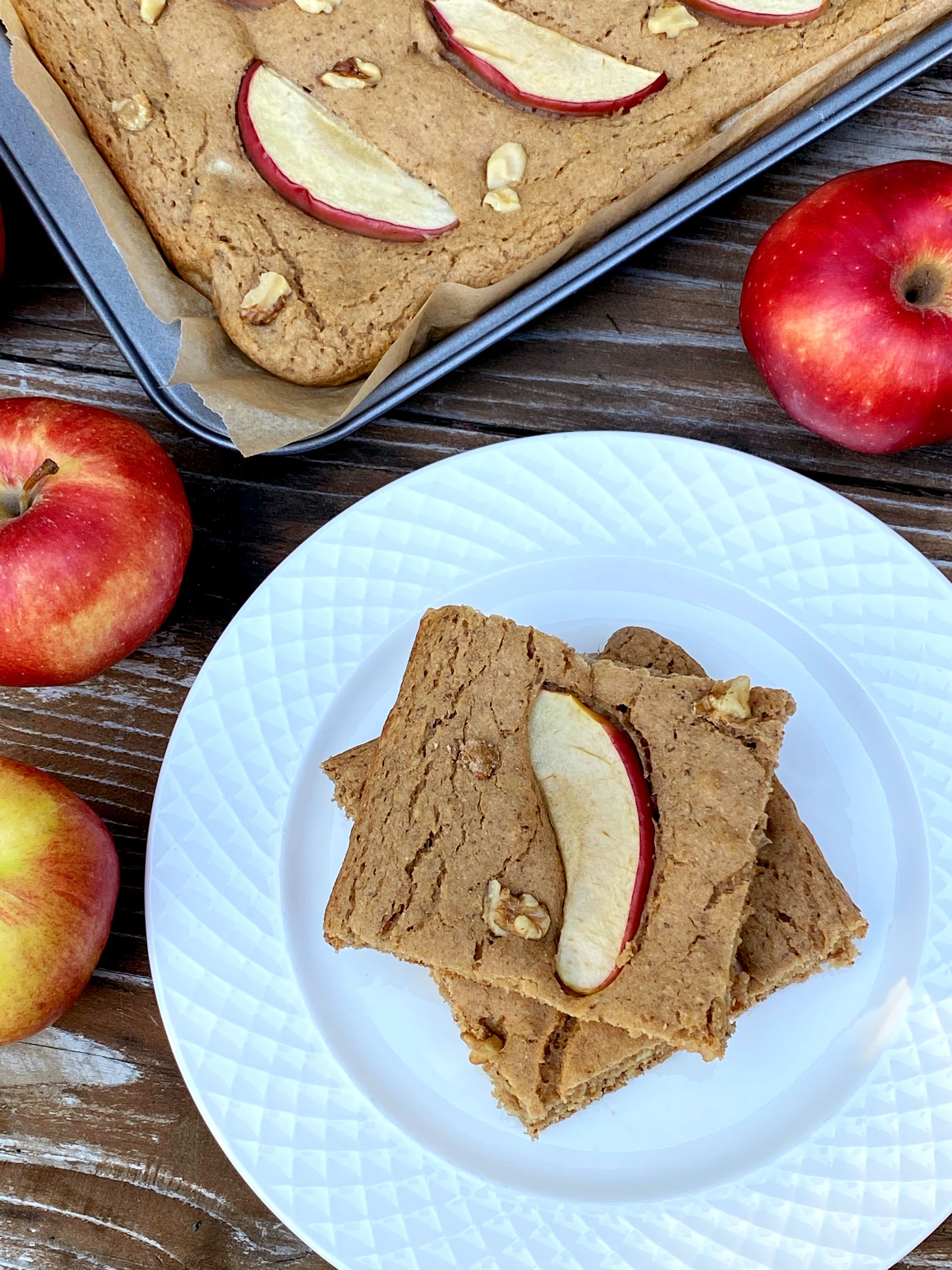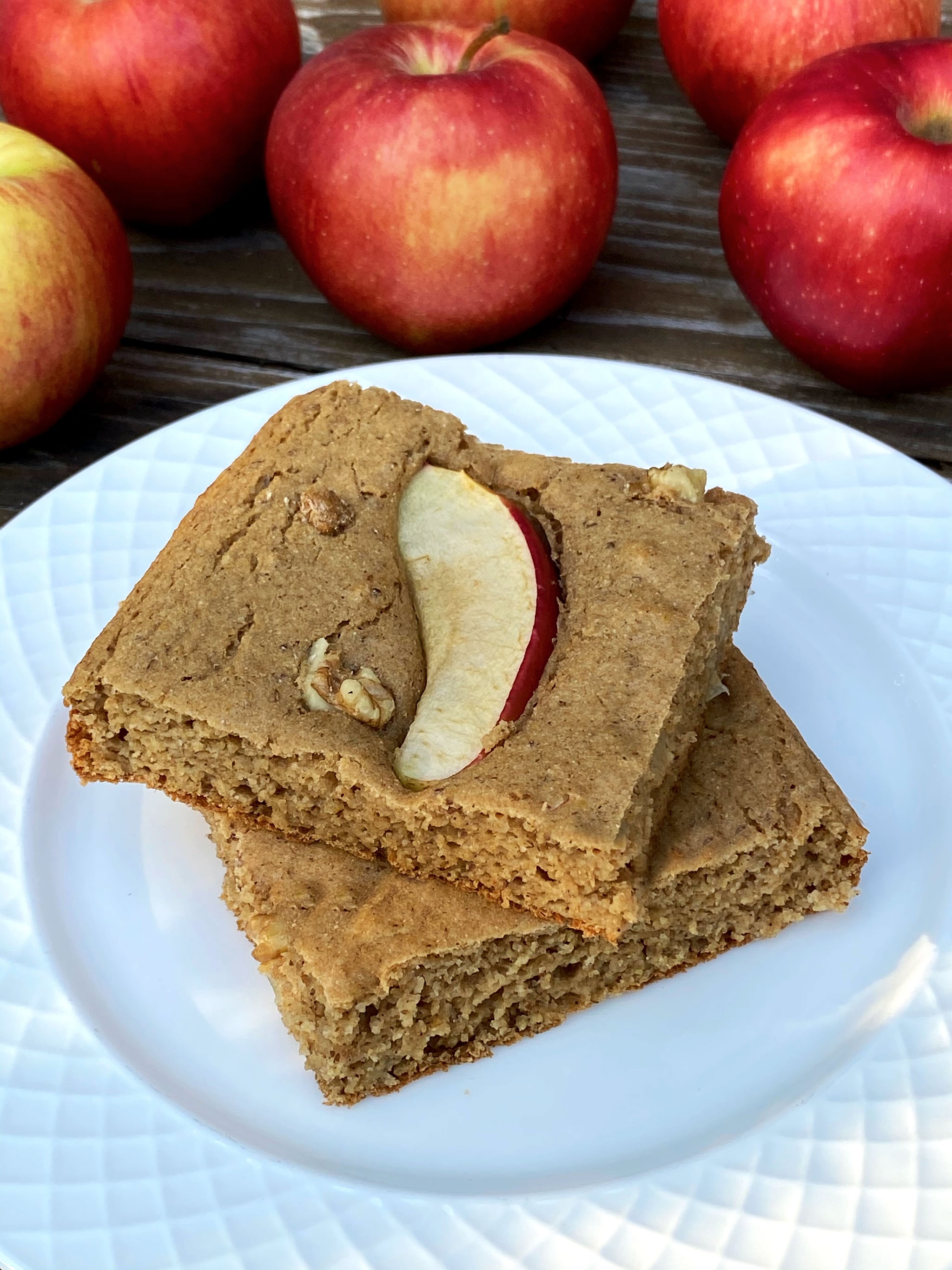 Baking pancakes on a cookie sheet saves you time standing over a hot pan flipping, and saves calories and fat from the oil you need to spray on the pan every time you pour the batter. If you enjoy three pancakes, that's 270 calories, 6.6 grams of fiber, and 13.2 grams of protein.
These pancakes taste sweet enough, but you can obviously enjoy your stack with a drizzle of maple syrup. If you need to eat on the go, make a pancake sandwich with nut butter smeared inside — I suggest this pumpkin spice cashew butter. These are a perfect Sunday meal-prep recipe that makes 15 pancakes, which store beautifully in the freezer.
Love healthy breakfast ideas and looking for more? Try these vegan blueberry sheet pan protein pancakes as well.
Vegan Apple Cinnamon Sheet Pan Protein Pancakes
Jenny Sugar, from POPSUGAR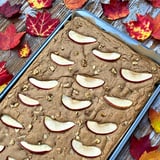 Ingredients
3 1/4 cups unsweetened soy milk (or any nondairy milk)
1 tablespoon apple cider vinegar
2 1/2 cups white whole-wheat flour
1 serving vanilla plant-based protein powder (about 1/3 cup; I used KOS, which has 20 grams of protein per serving)
3 tablespoons baking powder
2 tablespoons flaxmeal
1 1/2 teaspoons ground cinnamon
1/2 teaspoon salt
1/2 cup applesauce
1/4 cup maple syrup
1 teaspoon vanilla
2 apples, cored; one chopped, one sliced
2 tablespoons chopped walnuts, optional
Directions
Preheat oven to 425°F. Line an 11"x17" baking sheet with parchment paper.
In a small bowl or four-cup measuring cup, mix the nondairy milk and apple cider vinegar and set aside to curdle.
In a large bowl, mix the flour, protein powder, baking powder, flaxmeal, cinnamon, and salt together.
Add the applesauce, maple syrup, and vanilla to the nondairy milk mixture and mix well.
Pour the wet ingredients into the large bowl with the dry ingredients and mix until just combined. Add in one chopped apple.

Pour the pancake batter onto the parchment-lined baking sheet, using a spatula to spread it evenly. You'll notice that the batter will be puffy — that's the baking powder reacting with the apple cider vinegar, and that's what makes these pancakes fluffy. Top with sliced apples and walnuts.

Bake for 15 to 20 minutes, or until a toothpick inserted comes out clean.
Allow pancakes to cool for five minutes before cutting into 15 squares. Enjoy with syrup, more fruit, nuts, yogurt, or nut butter. Store leftovers in an airtight container in the fridge for up to five days, or in the freezer for several weeks.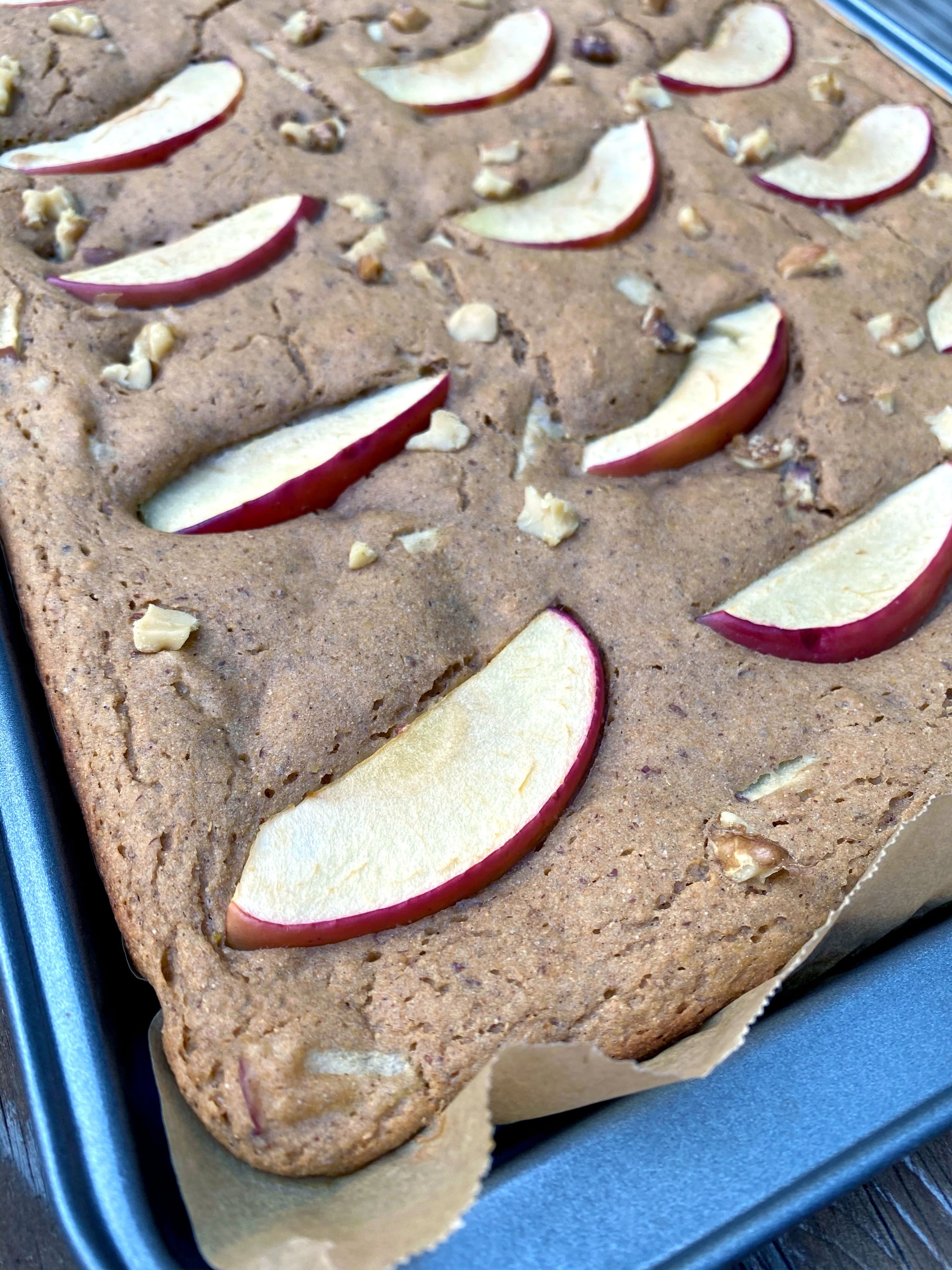 Here's the nutritional information from verywell.com for one square (makes 15):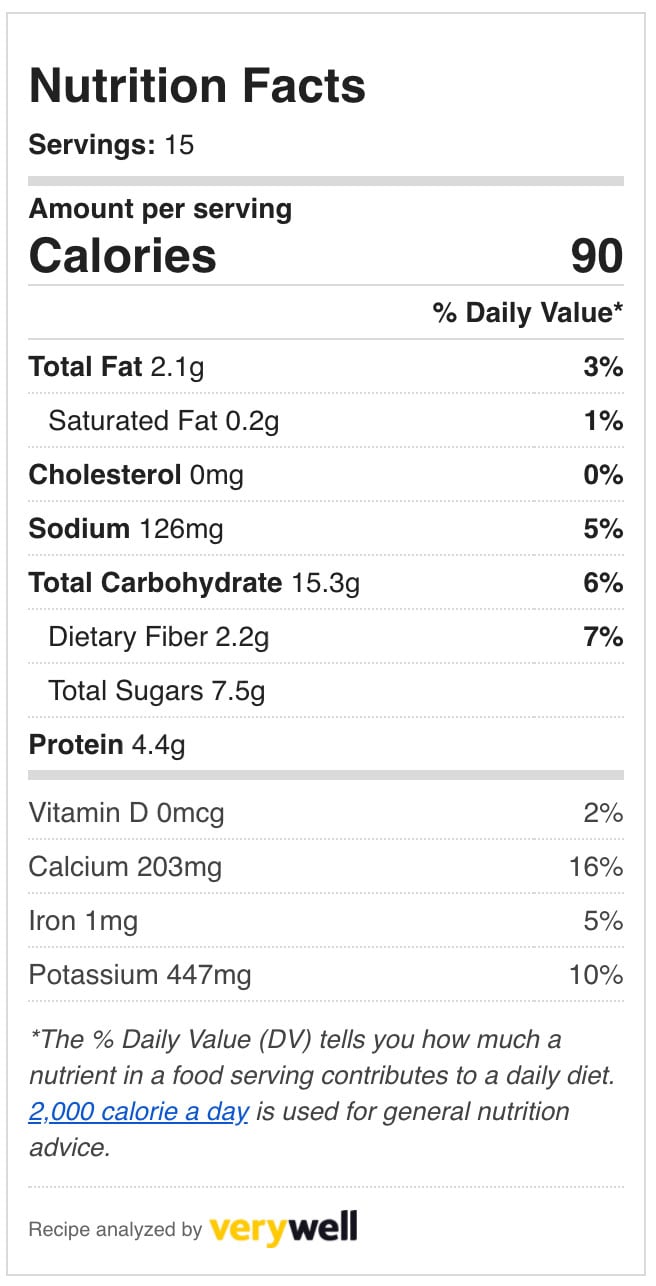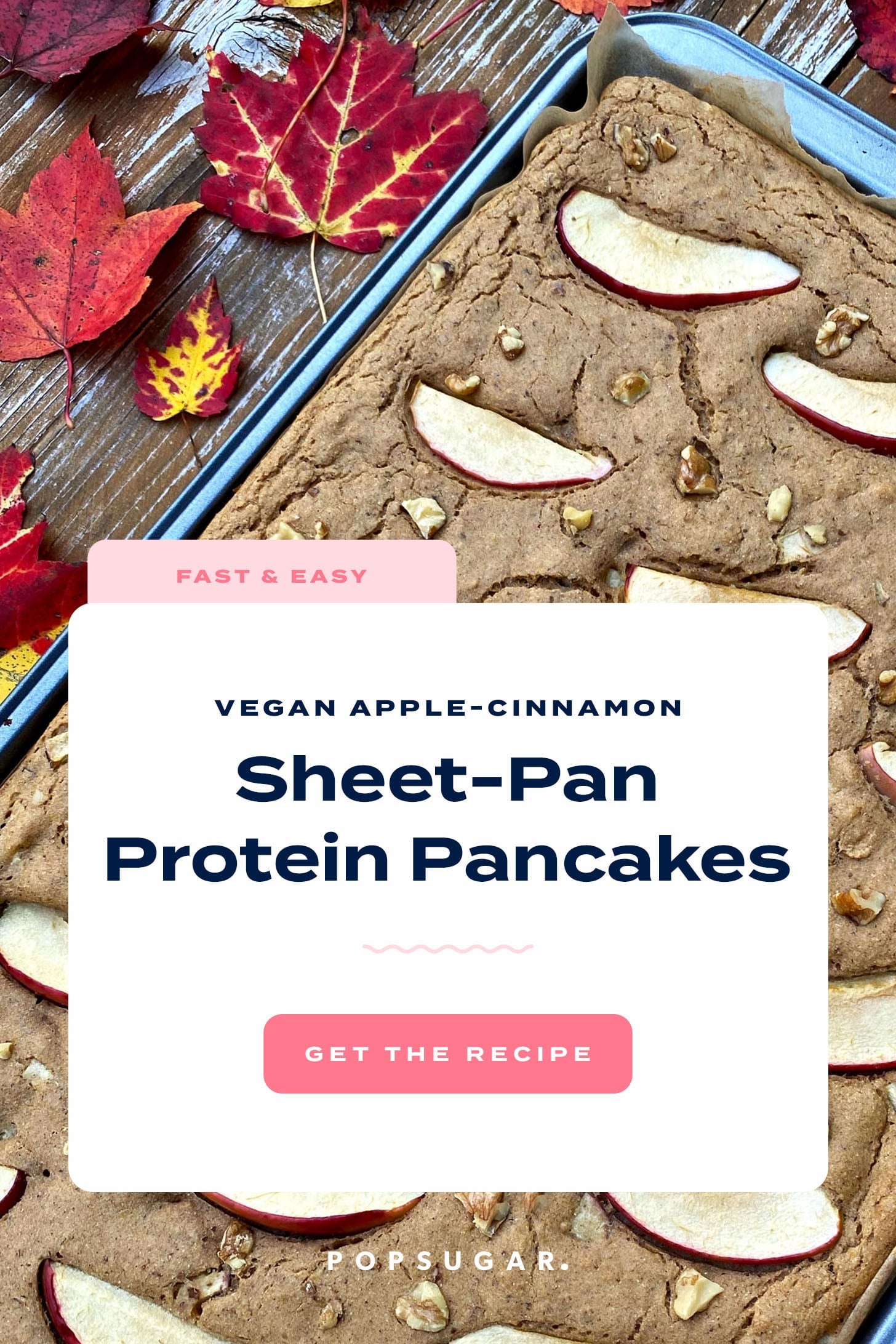 Information
Category

Breakfast/Brunch, Pancakes/Waffles

Yield

15

Prep Time

15 minutes

Cook Time

15 minutes

Total Time

29 minutes, 59 seconds