Do you like yoga? Do you like dance? Have you tried the two . . . together?
Thanks to the Wanderlust 108 Festival I attended last weekend, I got a taste of dance yoga for the very first time. I knew I loved "dancing" to the beat on a stationary bike, so dance-centric fitness was already in my wheelhouse. I love yoga, so I assumed I'd love dance yoga, too — and I was right. It was AWESOME.
Set to music spun by a DJ, and hosted by an emcee (named MC Yogi, no less), we came into a high Crescent Lunge. Once we were set in our pose, the emcee had us waving our hands side to side, like we were at a concert. We put one hand on the ground, and came into a Revolved Side Angle, one hand stretched toward the sky — and everyone was snapping their fingers with a little twist of the wrist. It was beautiful, it was in sync, and it truly was a yoga dance party.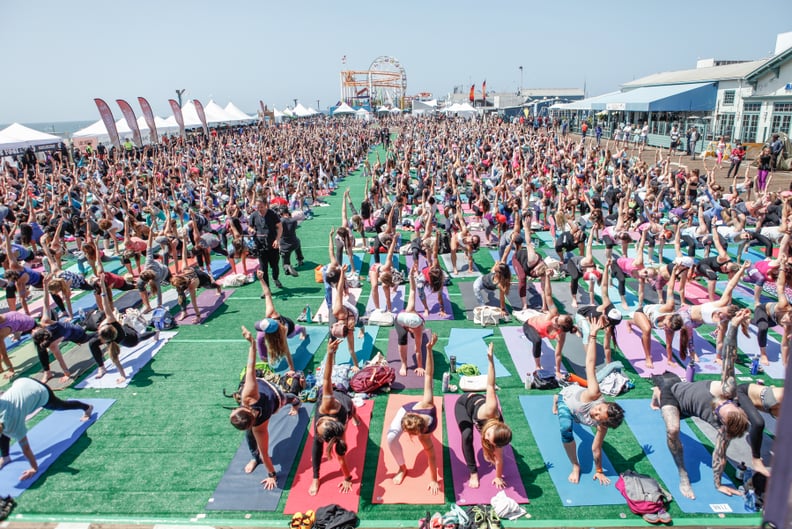 MC Yogi doesn't just lead dance yoga at Wanderlust; he tours around the country, fusing music and yoga together for thousands of people. In his words, "Yoga is evolving in America." He wants us to "dig down and discover where it comes from, how it relates to us, and how we can really move it forward so that it can benefit humanity."
Similarly, yoga studios across the country are fusing music, rhythm, and dance into their practices, offering more variety in their programming. Some studios, like Ritual Yoga, are specifically dedicated to a rhythmically focused practice, making the connection between dance and yoga stronger than ever.
Dance yoga is a fun, approachable access point to a fitness practice that can be life-changing. The feeling that comes from this renewing, exciting practice is indescribable. You can likely find dance yoga in some form at a studio near you, but if the festival atmosphere is more your scene, we suggest checking out Wanderlust 108, or finding a similar event in your community.