Why Calling Carli Lloyd Ungrateful Is Wrong
Carli Lloyd Isn't "Ungrateful" or a Bad Teammate For Wanting More World Cup Playing Time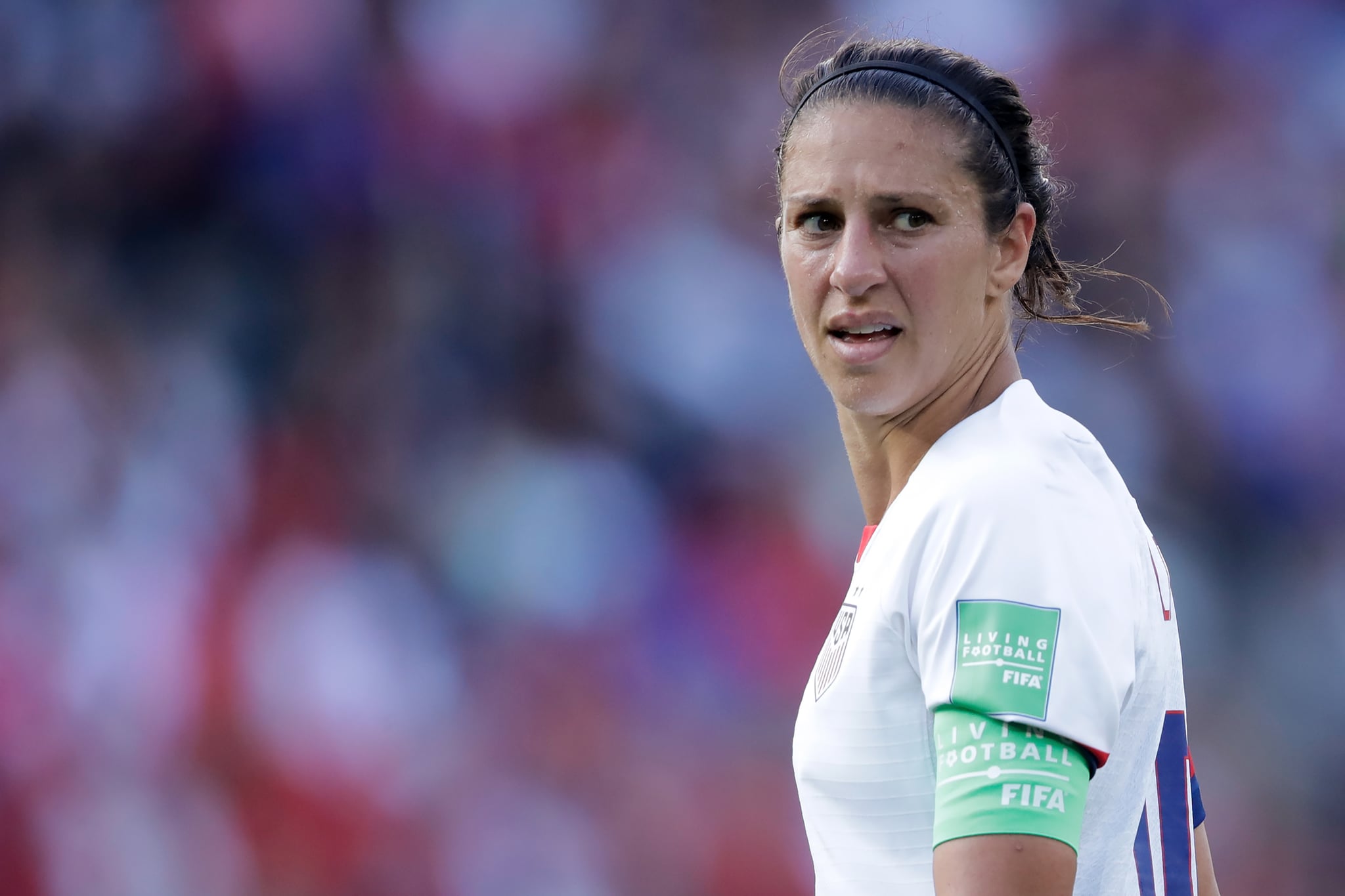 When the final whistle blew on the USWNT's record-breaking fourth World Cup title, the celebration moved across the field like a ripple. Players sank to the turf, broke into tears, yelled in triumph, and sprinted across the field to swarm each other in sobbing, ecstatic group hugs. Near the sideline, ball at her feet, was a player who'd been here before: cocaptain Carli Lloyd. A veteran, hero of the last World Cup, her immediate reaction was perhaps part exhaustion, part relief. She lifted her arms in the air, pumped her fist once, and pushed the ball away from her feet one last time. Happy and proud, but restrained.
Carli had come on in the second half as a substitute. That was her role in this World Cup, and she made no secret of how she felt about it. This was the player who, in 2015, had the fastest hat trick in Women's World Cup history, scoring three goals in the space of just 13 minutes during the final. Four years later, Carli remained a threat. She went on a hot streak in the USWNT's World Cup warmup games, scoring three goals over two of the last matches. In Carli's mind and on paper, there wasn't much of a question of whether she could keep up, but she knew the situation. This was the best soccer team in the world; the competition between starters would always be stiff, and Carli had missed time over the past few years with injuries. The coaching staff was upfront with her about the changes to her playing time. "Here I am, once again, facing a new struggle," she wrote in The Players' Tribune five days before the World Cup kickoff. At 37, she wondered, "Am I too old? Am I fit enough? Am I done?"
Now, three months after the final whistle, that struggle is making headlines again. Appearing on Julie Foudy's Laughter Permitted podcast, Carli spoke candidly about her dissatisfaction with her World Cup playing time. "I know what I'm capable of," she said. "There's no denying that I deserved to be out on that field that whole World Cup, but I wasn't." Sitting on the bench for a large part of the tournament was one of the "worst" experiences of her career, Carli went on to say. But in the end, she said, she came out a stronger, better person because of it.
From an hourlong interview, those were the quotes that caught everyone's attention. The tweets and comments rolled in, excoriating Carli as ungrateful, a poor teammate, a complainer who blamed her lack of playing time on others (her coach, her teammates) rather than her own inability, apparently, to keep up.
Was Carli blunt and honest about her disappointment and frustration? Without a doubt. We're so used to hearing athletes shy away from those kinds of statements, so it's understandable that they caused a stir. But it's false to say she was complaining or that she threw anyone — her coaches or her team — under the bus to do it. Those teammates were actually the ones who helped her grit her teeth and make it through the tournament, the "rock bottom" of her career. "My teammates had my back," Carli said. She was proud of them. She was thrilled to take home another World Cup title; being a two-time World Cup winner was her proudest accomplishment, she said.
Still, she was anguished to be left off the field. Frankly, she wouldn't be a champion athlete if she felt any other way. You can be grateful for the opportunities and accomplishments you have and still push for more. That's not complaining; that's knowing what you're capable of.
"If you think there's a threshold with how good you can become, then you're never going to be successful," Carli said in the podcast. "For me, there's no threshold. I can become a better friend, a better wife, a better teammate, a better leader, a better soccer player, a better everything. And that's just the mindset that I've always had." Age, in Carli's opinion, hasn't diminished her talent. If anything, it's the opposite. "This is the best version of me," she said. "The version of me right now is the best there's ever been in my career."
And the thing is, Carli knows the difference between confidence and complaining. As a younger player, she admitted, "I pointed the finger at others if I didn't make teams. If I didn't necessarily have a good game, I blamed my teammates. I never took responsibility with my own play."
Compare that to the athlete who, this week, stated that the reason she wanted that playing time was so she could "do everything possible to help the team." Her goal in the World Cup, regardless of how long she was on the field, was "to be a great teammate and a great leader. That was the most important thing to me."
It's just plain false to accuse her of being "ungrateful" and self-centered. Underneath that criticism, though, is a more harmful implication: that it's a bad thing to know how good you are. Why does it seem like we hear this so often? Calling the USWNT "arrogant" during their record-breaking fourth World Cup run; forcing Simone Biles, who shatters records and performs unreal tricks like it's nothing, to defend herself from accusations of "cockiness" — why does this feel so familiar?
We don't have a right to criticize athletes who know how good they are. If they worked, sweat, bled for their success, they should reap every last one of its rewards. We all should. When your role models refuse to sell themselves short, it has a trickle-down effect. It encourages us all to own what we can do and how good we can be. Let's separate self-confidence from arrogance, cockiness, self-centeredness, being a poor sport. If you put in the work, get the results, and support the rest of your team, you deserve to own it. You deserve to want, work for, and demand even more.