How to Make a Summer Salad
9 Pantry Staples to Keep Stocked For Easy Summer Salads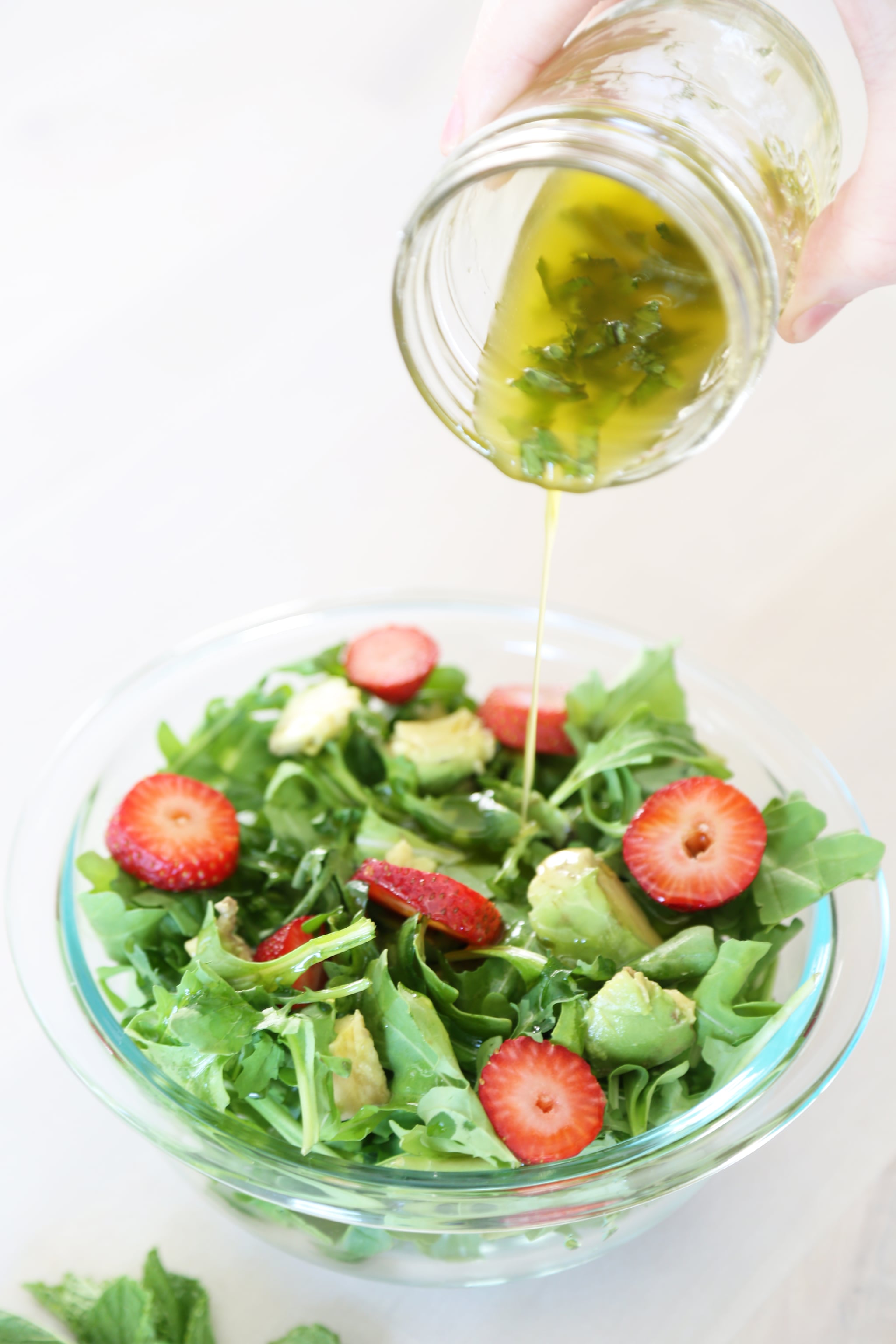 Summer salads are all about the fresh produce, but the pantry ingredients are just as important. To make sure you season, dress, and bulk up your salad to its fullest potential, these are the essentials you'll want to keep stocked in your cabinet. Just add vegetables, toss, and devour.
Good olive oil. Make sure you invest in real extra-virgin olive oil for salad dressings, like the honey-lemon-mint vinaigrette pictured above.
Red wine vinegar. Most summery salads will require an acidic component in the dressing, and you can't go wrong with red wine vinegar. A quick red wine vinaigrette adds tang and brightness to lettuce.
Balsamic vinegar. Use balsamic vinegar to make a homemade balsamic glaze for caprese salad.
Freshly cracked black pepper. Just like roasted vegetables, raw vegetable salads need plenty of seasoning. Make sure you have a pepper grinder to top your salads with a kick of fresh pepper.
Grains. Lettuce-based salads not your thing? Try a filling grain-salad recipe instead. Farro, quinoa, wild rice, and barley are grains that pair well with Summer ingredients like corn, tomatoes, and cherries.
Canned beans. While fresh vegetables are the better choice for salads, it's a great idea to turn to canned beans for protein. Try a black bean, corn, tomato, and avocado salad or a white bean salad with kale pesto.
Herbs de Provence. Herbs de Provence, a classic French blend of spices, is a combination of thyme, basil, savory, fennel, and lavender flowers. Its floral notes add layers of flavor to Summer salad dressings.
Grainy mustard. Mustard acts as an emulsifier that helps oil and vinegar stay together in salad dressings. Keep a good-quality grainy mustard on hand for red wine vinaigrettes and garlic-dijon vinaigrettes.
Flaky sea salt. Everything tastes better when finished with a pinch of flaky sea salt, including salads. Avoid serving a bland-tasting salad by making sure you have a good sea salt on hand, such as Maldon, which has large, pyramid-shaped flakes meant for sprinkling on top of dishes.
Image Source: POPSUGAR Photography / Erin Cullum