Purple Fruits and Vegetables
Taste the Rainbow: Purple Fruits and Veggies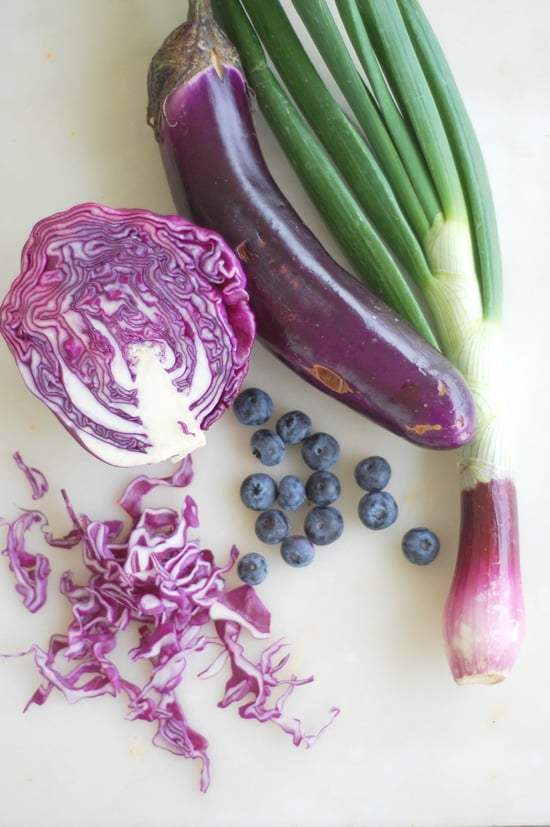 Purple fruits and vegetable are like works of art, yet shockingly abundant in the produce aisle. For our exploration through the colors of the fruit and vegetable rainbow, we were able to track down a bright-purple head of cabbage, a box of blueberries, an elegant, long-necked Japanese eggplant, and a peak-season bunch of Spring onions. Looking for ways to enjoy these purple produce items? Then keep reading.
Purple Cabbage
Purple cabbage can be shredded, tossed with your favorite vinaigrette, and enjoyed as a side salad. Or you can opt for a more traditional preparation and make a batch of classic sauerkraut. Purple cabbage also adds a layer of flavor and crunch to pulled pork sandwiches and fish tacos. Try it braised or even in a crunchy slaw.
Blueberries
While I prefer to carry around a carton of blueberries in my purse for easy snacking, one can't help but get excited about all of the recipes that involve these dark purple-colored berries. Dutch babies are a unique twist on a brunch classic. This blueberry margarita is fun and flirty. A perfect Summer blueberry cobbler sounds delicious all year long. But for a wild way to highlight this sweet berry, blueberry marshmallows are the way to go.
Japanese Eggplant
Japanese eggplant is narrower in size and more delicate in flavor than a regular eggplant, but you can use either for any of these recipes. Eggplant can be a polarizing ingredient, but not when it's roasted and tossed into a salad. A slice of roasted eggplant adds a meaty, satisfying component to this vegetarian sandwich. Have you ever tried eggplant and eggs? If these all seem too fussy, you can't go wrong with baba ghanoush, a Mediterranean dip made from eggplant.
Spring Onions
Spring onions have a milder flavor than regular onions, but they are more complex than green onions. They bring a sweetness to dishes that undeniably evokes a sense of Spring. Cooked en papillote with cod and asparagus, they bring a delicate onion flavor that doesn't outshine any of the other ingredients. They can also be cooked down into a jam and enjoyed with goat cheese on toasts. And don't throw away those green tops! Toss them into your pot of homemade chicken stock for added flavor.
What's your favorite pick of purple produce?
Image Source: POPSUGAR Photography / Camilla Salem