Chris Pérez Reacts to Selena's Lifetime Achievement Grammy
Chris Pérez Celebrates Selena's Lifetime Achievement Grammy: "She'd Be So Honored and Happy"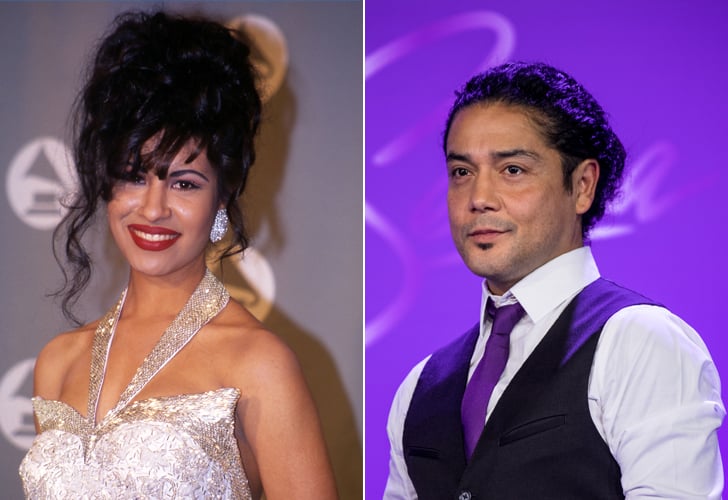 Chris Pérez is continuing to keep Selena Quintanilla's legacy alive. The guitarist shared a sweet message on Instagram before his late wife was posthumously honored with a lifetime achievement award at the 2021 Grammys on Sunday night. "To say that I'm proud of all that Selena represents and so proud of her accomplishments would be a HUGE understatement," he wrote alongside a throwback photo of her at the 1994 Grammys, during which she won the award for best Mexican-American album. The picture was edited so that her golden gramophone trophy had her latest honor etched into the plaque.
Pérez continued: "Special thanks to the Grammy organization and especially all of you (her fans) that continue to listen, watch, and support all the amazing things she left behind for us to treasure. I'll be watching the awards tonight with the biggest smile on my face...just knowing that she'd be so honored... AND HAPPY!" To refresh your memory on their relationship, the two fell in love when Pérez became the guitarist for Quintanilla's band Los Dinos in 1990. They eloped two years later and were married for three years until Quintanilla's untimely death in March 1995.
While Pérez's supportive message is certainly sweet, many fans of the Tejano singer were rather displeased with how her Grammys tribute actually panned out during the March 14 ceremony. The "Bidi Bidi Bom Bom" vocalist was honored with a lifetime achievement award alongside a handful of other artists this year, including Salt-N-Pepa and Talking Heads, but viewers were somewhat surprised when she was only featured on screen for a handful of seconds, despite her lasting impact on the music industry. The Recording Academy didn't technically specify what Quintanilla's tribute would look like ahead of time, but one upset fan said it best when they tweeted, "Y'all had 3 HOURS (almost 4) and you couldn't fit a tribute for Selena Quintanilla in there?!"
Image Sources: Getty / Vinnie Zuffante and Getty / Matt Petit