Best and Worst Foods to Pack For Lunch
Healthy Lunches: Skip This, Pack This
Like us on Facebook
If you want to save money and calories every week, brown-bagging it is the way to go. But are your lunches from home as healthy as they can be? Find out which food swaps you should be making.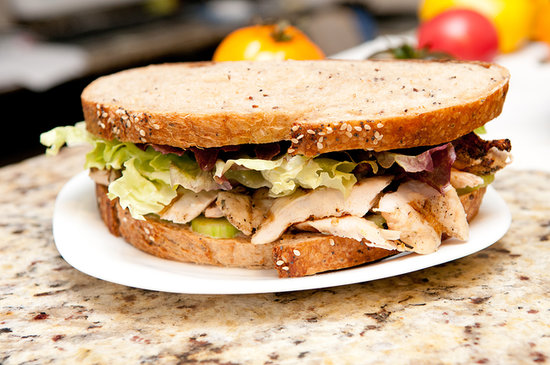 | Skip This | Pack This | Reasons Why |
| --- | --- | --- |
| Deli meat | Sliced tofu, roasted meat, or grilled chicken | They'll offer protein without added sodium and fat. |
| Regular chicken salad | Low-cal chicken salad | Use Greek yogurt instead of mayo for this lighten-up recipe. |
| One whole-wheat wrap | Two slices of whole-wheat bread | A wrap might offer fewer calories, but the whole-wheat bread is a great source of protein and fiber. |
| Mayonnaise | Avocado | To save on saturated fat and increase the fiber, spread avocado on your sandwich instead of mayo. |
| Croutons | Sunflower seeds | The sunflower seeds will add the crunch you're after in your salad as well as protein and healthy fats. |
| Wheat Thins | Triscuits | Triscuits are made with whole-wheat flour instead of enriched flour, so they offer more fiber per serving, plus fewer calories. |
| Cream cheese on a bagel | Natural peanut butter on a bagel | The nut butter might offer more calories, but it's also higher in fiber, lower in saturated fat, and higher in protein. |
| Orange juice | Orange | Opt for the actual fruit to increase your lunch's fiber content and save you liquid calories. |
| Regular pasta | Whole-wheat pasta | Whether it's your kid's mac 'n' cheese or lasagna for yourself, always opt for whole-wheat pasta for added fiber. |
Keep reading to find out what else you should skip when packing lunch.
| Skip This | Pack This | Reasons Why |
| --- | --- | --- |
| Applesauce | Apple | The apple peel offers extra fiber and nutrients, plus chewing food always makes you feel more full than slurping it. |
| Lay's Potato Chips | Food Should Taste Good Multigrain Chips | If you're craving something salty, the corn chips are lower in calories and sodium, but are also higher in fiber and protein. |
| Raisins | Grapes | Pop some cold grapes in your mouth and even toss them on your salad instead of raisins for extra fiber and fewer calories. |
| Yoplait Gogurt | Chobani Champions | Greek yogurt offers four times the amount of protein, which is so important for kids' development. Choose Greek yogurt for the grown-ups too. |
| Goldfish | Annie's Whole-Wheat Cheddar Bunnies | The Cheddar Bunnies are made with whole-wheat flour instead of enriched flour. They're also lower in saturated fat and offer more fiber per serving. |
| Cookies | Dark chocolate | Everyone is entitled to finish off with a sweet treat, so go for the antioxidant-rich dark chocolate rather than a cookie bursting with white flour and butter. |

If you have any other healthy lunch swaps, please share them below.