Calories in Wine
Cheers! A Calorie Breakdown of Wine
Maybe you're like me, and when you hear about all of the health benefits associated with wine — like how one glass a day can increase bone strength and reduce your risk of having a heart attack — concern about calories fades into the distance.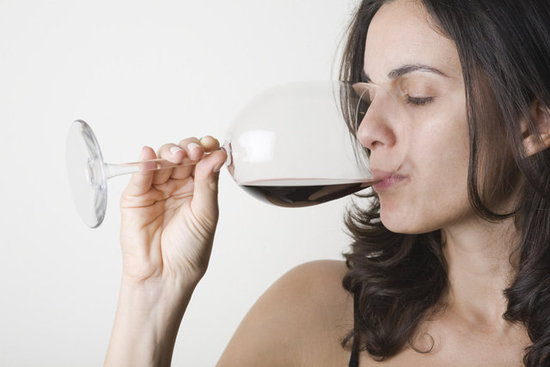 The good news: if you are looking to indulge in an after-work aperitif, wine is one of the most waist-friendly libations you can choose, unlike other happy hour bevvies, which can contain a ridiculous amount of calories. Per ounce, wine is lower in calories and also free of cholesterol, sodium, and fat. But keep in mind the sweeter you go (I'm talking about you, dessert wine), the higher the calorie content.
Keep reading for a calorie breakdown of all your favorite types of wine.
Wine Type
(1 Serving = 5 fl.oz)
Carbs (g)
Calories Total
White, dry (Chablis, Hock, Riesling)
5.5
120
White, all varieties (~10% alc.)
3.7
116
White, sparkling
1.5
96
Champagne
1.5
96
Red (Burgundy, Cabernet)
5.5
127
Red, medium, rose style
2.7
101
Red, sparkling
3.7
110
Light, reduced alcohol (~6.5% alc.)
1.7
73
Dessert, sweet (~15% alc.)
19.4
237