Green Detox Juice Recipe
A Green Detox Juice Recipe to Ring In the New Year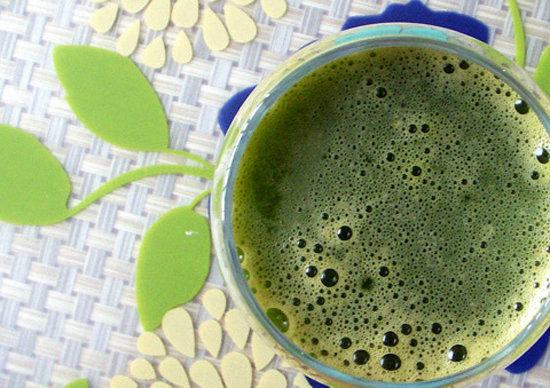 Here's a fresh juice recipe that will help you shake off holiday indulgences and start clean. This recipe is made from an array of ingredients that have natural detoxing properties: watercress helps energize cleansing enzymes in the liver, and, like celery, it's a natural diuretic. Antioxidant-rich spinach boosts chlorophyll levels in the digestive tract, which helps the body get rid of environmental toxins. Lemon is a great source of vitamin C and helps alkalize the body. Spicy ginger aids digestion. And besides giving a boost of vitamins, apples add just enough natural sugar to mask the earthy taste of the greens. This juice is bound to become part of your daily ritual.
Get the green detox juice recipe after the break!
From Michele Foley, FitSugar
Green Detox Pressed Juice
Ingredients
1/2 bunch spinach
1 handful watercress
1/2 lemon, peeled
1 celery stalk
2 apples
1-inch slice of ginger
Directions
Use a juicer for optimal results. If you don't have one, turn the recipe into a smoothie by using a blender instead.
To make juice: In a fruit and vegetable juicer, juice all ingredients into a tall glass. Serve immediately.
To make smoothie: Prior to blending, chop apple and discard the core; peel and chop ginger; chop celery stalk; zest and juice lemon, throwing out remaining rind. Combine all ingredients, and blend on high until smooth. Add water or ice to help thin out the smoothie.
Information
Category

Smoothies, Drinks