How to Re-Create the Winged-Eyeliner Looks From "Euphoria"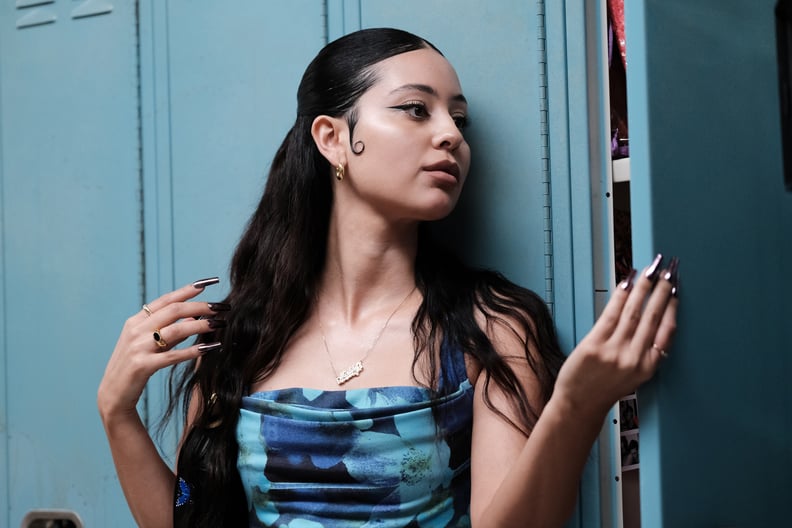 Eddy Chen/HBO
Eddy Chen/HBO
As POPSUGAR editors, we independently select and write about stuff we love and think you'll like too. If you buy a product we have recommended, we may receive affiliate commission, which in turn supports our work.
"Euphoria" makeup last season was dominated by glitter tears and eye gems. This season? It's all about the winged eyeliner. "We're really showcasing across the board different wing styles for all of the characters," makeup department head Doniella Davy tells POPSUGAR. "Each character has their own wing personality."
This is especially apparent now that we're further into the second season. On episode after episode, we've seen plenty of winged eyeliner on just about everyone. And while the look has been around for ages, Davy spent this season giving us dozens of new reasons to love the graphic-eyeliner trend. And because it's hard to pick just one winged look we love, we had Davy walk us through a few of her favorites from the show, plus the products she used to bring each one to life.
Maddy's Signature Eyeliner Wing
Every time we've seen Maddy (played by Alexa Demie) this season, she's been rocking a black winged cat-eye. It's her thing, it's who she is — and no one does it quite like her. To copy the look, Davy suggests a potted liner versus a pencil or a pen.
On set, Davy and her team used Inglot AMC Eyeliner Gel ($21). "It's kind of a dupe for the Chanel [Calligraphie de Chanel] ($35). I love them both equally," Davy says. "We love [using] that and a skinny eyeliner brush."
Maddy's Pink and Purple Crease Eyeliner
By the second episode, we see Maddy pivot away from her signature look to something bright and colorful. Although Davy can't speak to exactly what Demie wanted out of this look, she can confirm that the shift was part of Demie's grand design for her character this season: "She knew exactly what she wanted and had been thinking about it for awhile," she says, adding that the departure matched the scene. Here, we got to see a sweeter, more child-like side to Maddy. Who would have ever thought she would spend her free nights at the bowling alley with her bestie? Nothing about these looks is prescriptive: "It's the inconsistencies sometimes that make them feel realistic," Davy says.
Makeup artist Alexandra French created Maddy's bold look, but according to Davy, that plum shade coating her upper lash line is most likely the Inglot AMC Eyeliner Gel 64 ($21). As for the brighter-pink floating crease, she says that this buffed-out line was done using shadow, layering the color on the eyelid with a thin brush to give it a softer finish.
Jules's Spiky Eyeliner Wings
Even for a pro like Davy, Jules's (Hunter Schafer) spiky white eyeliner wasn't easy. "I started using some asymmetry with her looks because I was sick of matching everything," she says. "I like the precise, dainty lines on her, but it's really hard to get it exactly the same many days in a row."
Her advice: be as precise as possible, but keep some cleanup essentials nearby. "My favorite are these Q-tips from Frends Beauty ($3), which is one of the professional film and TV makeup artist stores where we get all of our supplies from. If I'm doing eyeliner, those [cotton swabs and oil-free eye makeup remover ($32)] are the first things out on my station."
Cassie's Crystal Eyeliner Wing
The first time we see Cassie (Sydney Sweeney) this season, she's drunk, eating gas-station donuts on the curb, and on the brink of making a very questionable decision with Nate (Jacob Elordi). "The goal was anxious and flushed," says Davy. "I knew what she was going to be going through and I really wanted her — deeply needed her — to have some kind of twinkly thing going on to represent this tension with her innocence and the fact that she's about to hook up with her best friend's boyfriend." And thus, the rhinestone wing was born.
You can find similar rhinestones on Amazon, but Davy used individual stone sets from Get Stonned ($5). Juxtaposed against Cassie's wet, rosy cheeks, the look helped the audience feel where Cassie's emotions were coming from and, ultimately, where she would go this season.
If you're looking to copy Cassie's anxious flush, Davy recommends using a red tinted lip balm on the cheeks or the Benefit Benetint Rose Lip & Cheek Tint ($30). And forget using the product to shape and contour — if you really want that Cassie glow, apply the product where you would naturally blush.
Cassie's Wing Try-On Haul
One particularly memorable wing of Cassie's wasn't technically worn IRL; it appeared in Nate's fantasy in episode two. To achieve that double wing punctuated by glitter, Davy relied on the faithful Urban Decay Heavy Metal Glitter Eyeliner ($21).
Some might argue that Cassie's extensive morning routine is her character's most unforgettable moment this season, but let's not forget what happens after that routine is completed. In an attempt to get Nate's attention, Cassie spends the majority of episode three trying on a range of winged eyeliners — many of which were loosely inspired by other characters on the show. While he ignored her nine times out of 10, he finally gave her a second glance after she tried a white rhinestone-encrusted cat-eye.
For this look, Davy re-created an iconic Maddy look from the first season for Cassie. "I inverted [the carnival look], so instead of a dark wing, it was white, and I made it thicker and longer so it would have that visibility [for Nate]," Davy said. "I wanted her to look great, but also jarring and borderline ridiculous." Unfortunately, Davy has yet to cosign a go-to product for this one (she used at least three different formulas to make it work). "Long story short, I haven't found my killer white eyeliner," Davy says. "Something for me to think about for the future with Half Magic."