Over the last decade, Jamie Campbell Bower has been a part of many beloved franchises, including Harry Potter, Twilight, and The Mortal Instruments. Now, he's entered the "Stranger Things" world, too. Bower made his debut as Henry Creel/Vecna in the show's fourth season, which premiered on Netflix on May 27. He was one of the series's newcomers, along with Joseph Quinn as Eddie Munson and Eduardo Franco as Argyle.
While Bower has been in the entertainment industry for years, his role as the latest "Stranger Things" villain has sparked even more interest in him, including information about his other acting roles, his dating history, and his tattoo collection. Turns out, Bower has at least 10 known tattoos so far, which vary in size and scale and can be found on his arms, chest, and even hands.
For example, Bower has a variety of designs that range from a beautiful flower and mysterious pair of eyes to a tiny skull and cross. Some of them are large-scale tattoos, while others are smaller in size. While he hasn't spoken much about the meaning behind them publicly, he certainly isn't shy about showing them off. (He's even shown off a tattoo on his leg by taking his pants off in front of a crowd — more on that later.)
Keep scrolling for a closer look at Bower's complete tattoo collection.
01
Jamie Campbell Bower's Stomach Tattoo
While in New York City for an appearance on "The Tonight Show Starring Jimmy Fallon" in August 2022, Bower stopped by East River Tattoo to add his most recent design to his collection: a pair of hands grabbing two eyes. The actor posted a behind-the-scenes photo of his tattoo appointment on Instagram, which revealed he got inked on his stomach.
"Getting blasted by the sweetest @caue.gottardi @eastrivertattoo in New York x," Bower captioned his post. His tattoo artist, Cauê Gottardi, also shared a close-up of Bower's tattoo on his own page. "The strangest thing just happened yesterday, maaaan!! F*cking love meeting you @bowerjamie," Gottardi wrote.
Neither Bower nor Gottardi explained the significance behind the ink, but according to The Trends Spotter, eye tattoos are typically associated with "mystery, protection, and clarity."
02
Jamie Campbell Bower's Ball-and-Chain Tattoo
Bower has a ball-and-chain tattoo on his left bicep with the numbers "11" and "12" written underneath. It's unclear what the tattoo means to Bower personally; however, these two symbols together can often represent freedom — or a lack thereof — in someone's life.
03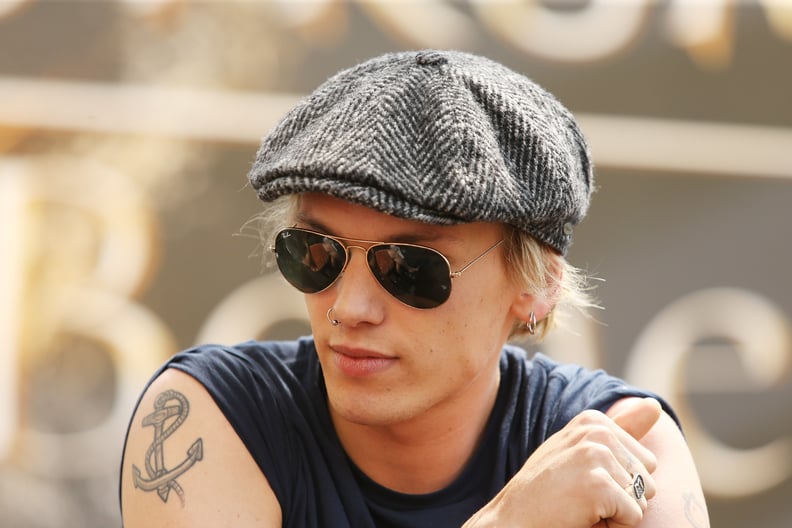 Jamie Campbell Bower's Anchor Tattoo
On Bower's right bicep is a tattoo of an anchor. While the star hasn't spoken about the meaning behind the tattoo, anchors typically symbolize stability and strength.
04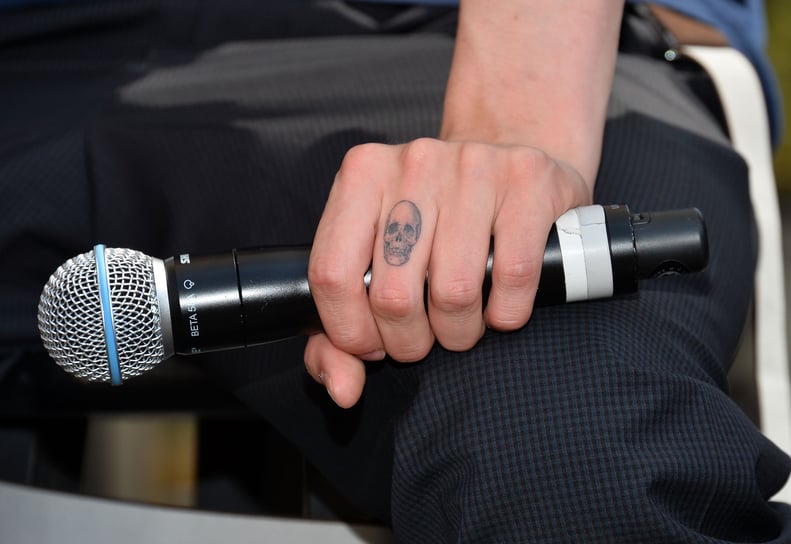 Jamie Campbell Bower's Skull Tattoo
One of Bower's smallest tattoos is the skull located on his left middle finger. We first got a good glimpse of the design in 2013 when a photographer snapped a pic of the actor's tattoo at a meet and greet for his movie "The Mortal Instruments: City of Bones." Bower also shared a close-up of the design himself on Instagram in October 2020. Although he hasn't revealed the meaning behind the tattoo, the skull definitely fits into his rock-star aesthetic.
05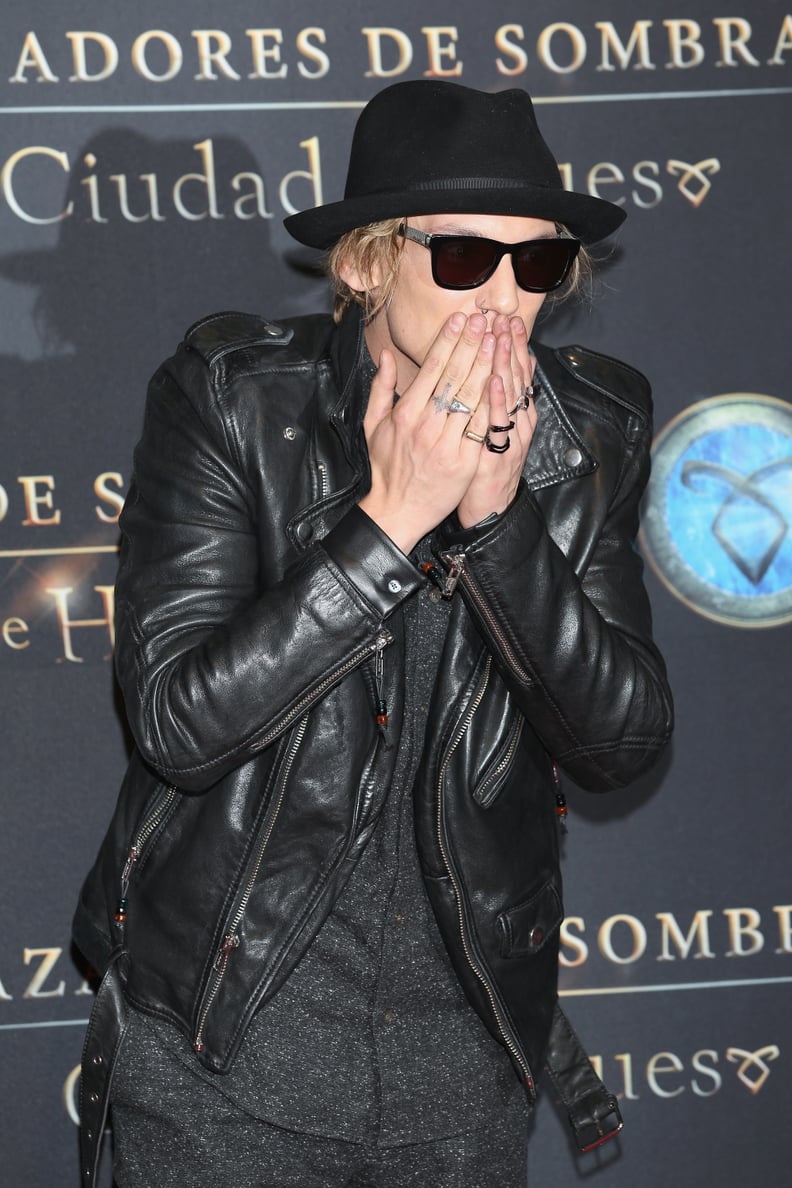 Jamie Campbell Bower's Cross Tattoo
Another one of Bower's small tattoos is the cross on his right middle finger, which is a symbol of faith or religion.
06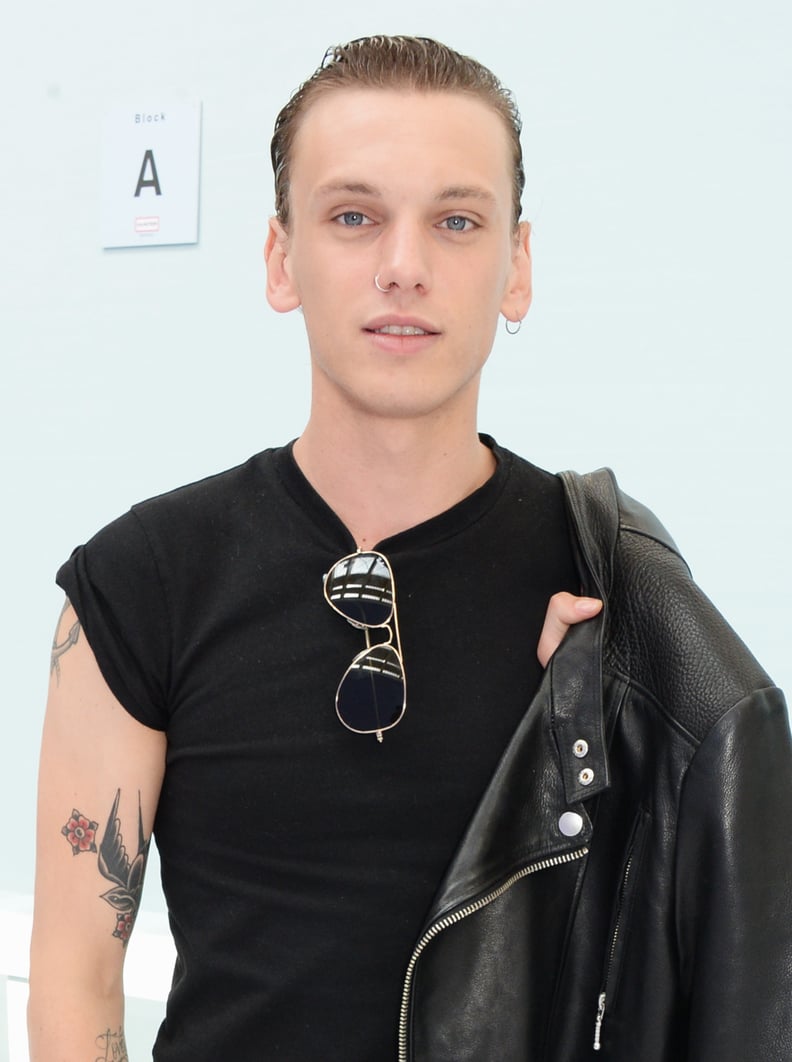 Jamie Campbell Bower's Bird Tattoo
Bower also has a tattoo of a bird on his inner right arm that features red flowers around it.
07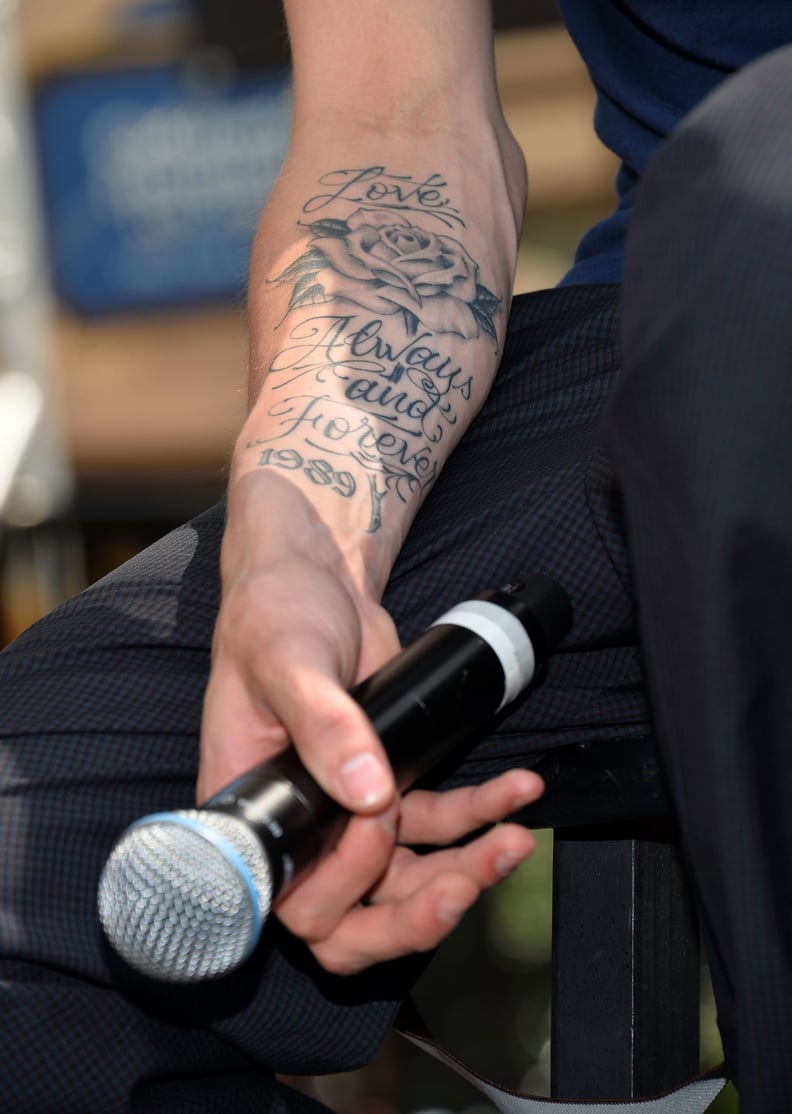 Jamie Campbell Bower's "Love Always and Forever" Tattoo
Underneath his bird tattoo, Bower has the word "Love" inked on him, along with a rose and the words "Always and Forever." Located at the very bottom of Bower's arm is a 1989 tattoo. Before you ask: no, that's not his birth year, but it has been reported that it was meant to symbolize his relationship with ex-girlfriend Lily Collins, who was born in 1989.
08
Jamie Campbell Bower's Knife Tattoo
In December 2015, Bower showed off his knife tattoo for the first time while on stage at the O2 Academy in London. "I promised everyone if we sold out this show, I'd get a f*cking tattoo," Bower told the crowd before asking, "Who wants to see it?"
The audience erupted in applause, and then Bower lowered his pants to reveal he got a knife tattoo on his left leg.
09
Jamie Campbell Bower's Chest Tattoos
In April 2016, Bower shared a shirtless selfie on Instagram that exposed his chest tattoos of a skull, heart, and butterfly. He hasn't shared the meaning behind these tattoos.