As POPSUGAR editors, we independently select and write about stuff we love and think you'll like too. If you buy a product we have recommended, we may receive affiliate commission, which in turn supports our work.
Like many people, my beauty routine has changed quite a bit in the last six months. Gone are the days of reapplying lip gloss several times a day (in public!) and long gone are the days when I aimlessly roamed the aisles of Sephora trying anything that caught my eye with barely a second thought. Not only that, now I find myself even more obsessed with finding the perfect palette right from home . . . because testing eyeshadows is my new idea of a fun Friday night.
Since eyes are the feature most people see these days, the fact that I haven't had eyelash extensions all year make my short, brittle lashes stand out even more (or quite the opposite) when I look in the mirror. Of course, I've got a regular rotation of bold, jet-black mascaras, but those waterproof formulas are a bit more trouble than they're worth for a Zoom meeting or a grocery-store run. After all, taking them off usually requires an extra makeup remover, and it results in a few sad hairs left on the cotton swab each time I'm done. (It also probably leads to my aforementioned dry lashes.)
Still, since picking up a tube of the new Kosas mascara, I've worn it every single day for the last two weeks. What I love most about this product is not as much a look as it is a feeling (and that feeling is good), and I'm going to explain exactly why ahead.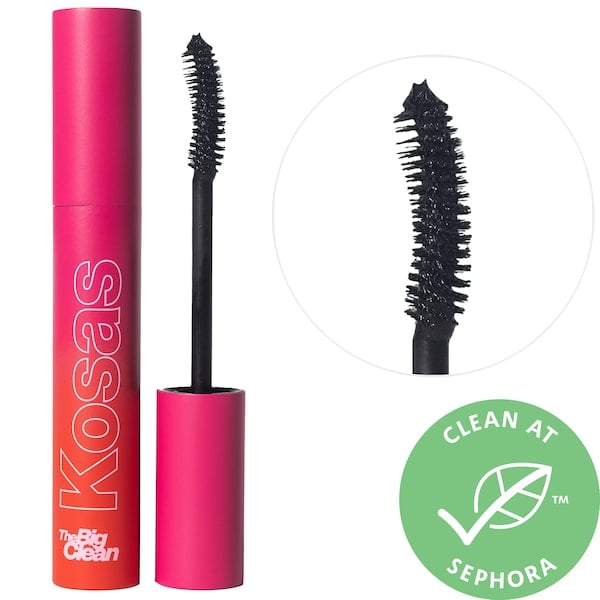 Kosas The Big Clean Volumizing + Lash Care Mascara Details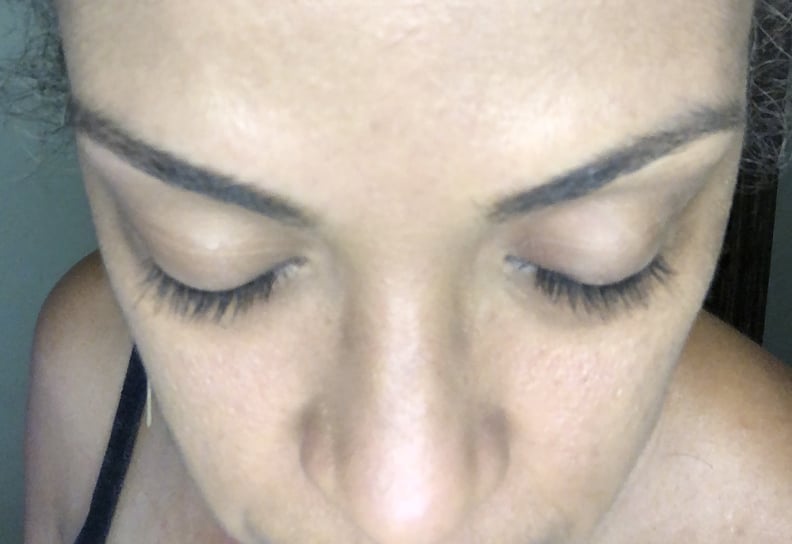 Kosas The Big Clean Volumizing + Lash Care Mascara Results
This Kosas mascara is the happy medium between the dramatic look of extensions and my less-than-dramatic naked lashes. After I applied one coat and let it dry for a minute, the second coat went on even smoother, as if I'd used a lash primer. (I used the side of the brush with the tinier bristles to comb it through with zero clumps.)
Then, the fact that it's clean leaves little concern about contact-lens or eye irritation either. It easily comes off with just my regular face wash and I haven't noticed any lash fallout either. Sure, I haven't seen any growth thus far, but when I touch my bare lashes they're noticeably softer and smoother. So, most of all, it's not about how it looks but how it feels — and I really wish I could photograph this feeling for you.