For Your Consideration: Dylan O'Brien's Blond Buzz Cut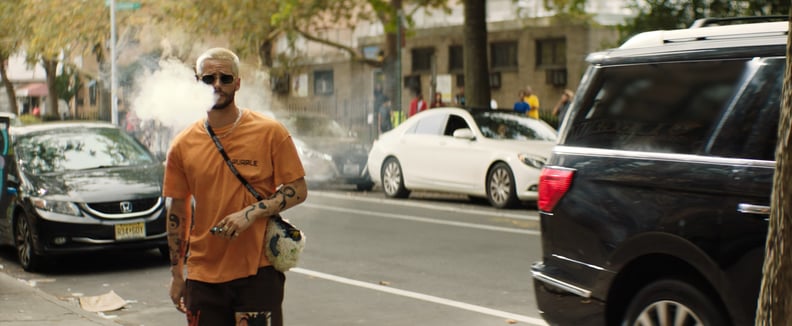 Searchlight Pictures /Courtesy Everett Collection
Searchlight Pictures /Courtesy Everett Collection
As POPSUGAR editors, we independently select and write about stuff we love and think you'll like too. If you buy a product we have recommended, we may receive affiliate commission, which in turn supports our work.
About one year ago, a video surfaced on TikTok. In it, Dylan O'Brien, former Teen Wolf star, was platinum blond — a stark difference from the natural brunette his long-time fans were used to. Quickly, the video garnered millions of views, hundreds of thousands of likes, and still, to this day, continues to be a focal point in fan edits for the actor.
The irony isn't lost on us: O'Brien's new look is for the new film "Not Okay," a satirization of internet culture and the dark side of the fame that comes with it. But O'Brien is just a supporting character to Zoey Deutch's Danni, a photo editor-turned-social media monster who, like many IRL content creators, commodifies tragedy in exchange for short-lived relevance.
Both Deutch and O'Brien play influencers and, obviously, had to look the parts. Thus, the platinum blond transformation. Deutch's makeover feels just as trendy — remember "money piece" highlights, anyone? — and although we're not meant to love these characters, the internet (irony still oozing) can't get enough.
The movie is officially out on Hulu, but we've had 300-plus days of behind-the-scenes breadcrumbs hinting at these major transformations. One Twitter user recently wrote, "Whoever decided to give dylan o'brien a blonde buzz cut i hope your pillow is cold on both side and your phone is always charged." The person in question: hair department head, Cynthia Vanis. Here, she's spilling the tea on everything you need to know about the hair looks you see on screen — from where she sourced her viral inspiration to the products used on set.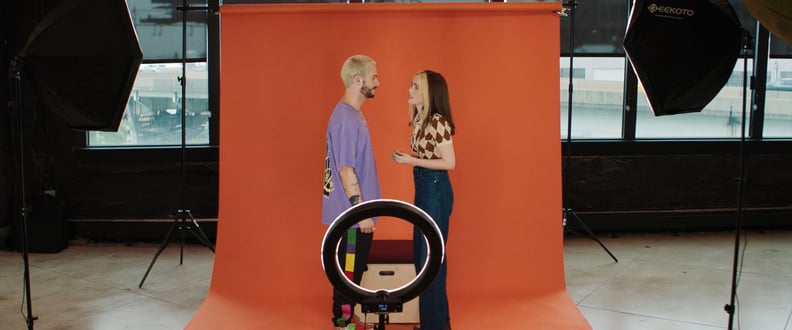 How TikTok Informed the Hair Looks in "Not Okay"
It's not just you (and us, and everyone else . . .) who's feeling inspired by all the retro hair trends popping up on TikTok — that was also part of where Vanis and "Not Okay" director Quinn Shephard sourced a lot of their inspiration for Deutch and O'Brien's characters throughout the film.
"I got a text message from Quinn with a picture she had pulled from TikTok, and then it just evolved," she says. "The '90s have been back lately, so we were like, 'OK, let's play into that,' and we just found lots of inspiration from actual influencers and also Zoey. We just went to Instagram and searched."
Because the film is so closely tied to internet culture, which is constantly evolving every day, keeping up with the hair trends to bring into the movie was also top of mind. "It's funny because we made a lot of TikTok videos with trending sounds, and we were like, 'But these aren't going to be trending when we can release them.' That's something we were aware of, but it wasn't like we could do anything about it. [Instead] we did lots of different looks [for Deutch's character] because she doesn't actually know herself. We didn't want to hone in on one specific look and have that be her, even though a lot of influencers do do that — where they're very regimented in what they look like — because she's more all over the place, trying new things and trying to be relevant."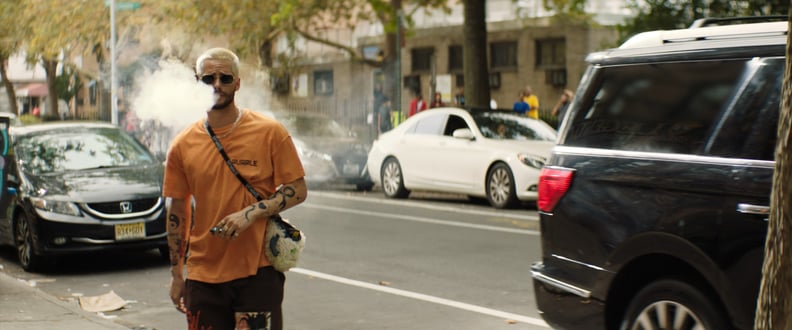 Behind Dylan O'Brien's Blond Transformation
Before we get to O'Brien's big transformation in the film, Vanis wants to clear one thing up: "First of all, I didn't know who Dylan was before I did this project and now I will never forget him. He's changed my life."
For one thing, it was his idea to dye his hair bright blond and buzz it all off. He'd never colored his hair before, and yet — despite many actors who prefer to the salon for a cut or color before filming — was completely game for his new look. "So he came into the trailer and we shaved his head and then bleached his hair," she says. The process, Vanis adds, took in the ballpark of five hours. "We had to bleach it twice to get the color as light as we needed it."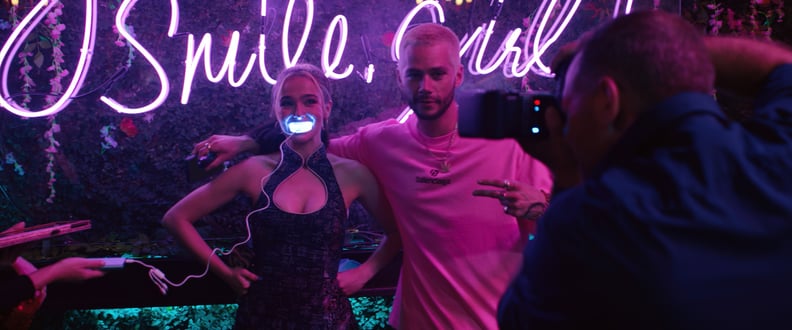 Then, as anyone who's bleached their hair before knows, touch-ups can require lots of time . . . which of course they did not have. "He only shot for five days, and his hair grows very fast, so that was kind of tricky. We definitely had a moment of, 'Oh shit. What are we going to do about his roots?'" The solution, she says? "When we were shooting and his roots started to come in, I used a color pen to paint his hairline and diffuse [the grow-out] rather than fighting it."
Still, the hard work was worth the effort: "All of a sudden, he was like a new person. Right away, the paparazzi took photos of him and they leaked and everyone was like, 'Wait, what? He's blond?' It was really fun to be able to transform someone in such a way that people hadn't seen him in before."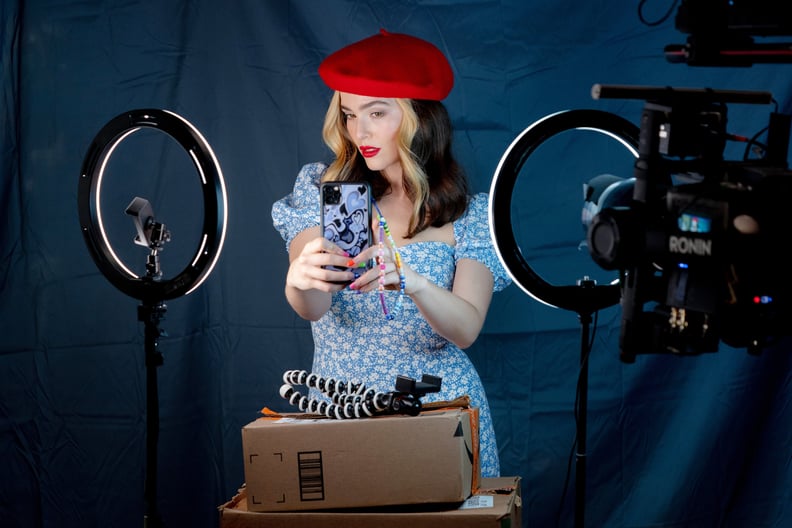 The Hair Products She Went Through the Most on Set
Because Vanis was working with color-treated hair on set, the biggest goal was to keep it looking healthy throughout filming — "especially because Zoey had the blond in the front and we sometimes had five [hairstyle] changes in a day," she says. "I was obsessed with the Ouai Heat Protecting Spray ($28). Any time we had to flat iron her hair, I used that."
Then, she relied on the May11 Hair Oil ($83), and the team "went through bottles" of the In Common Hair Elixir ($32), which is meant to strengthen the hair and add shine. "We used a lot of products to coat her hair to make sure it stayed really healthy," Vanis says.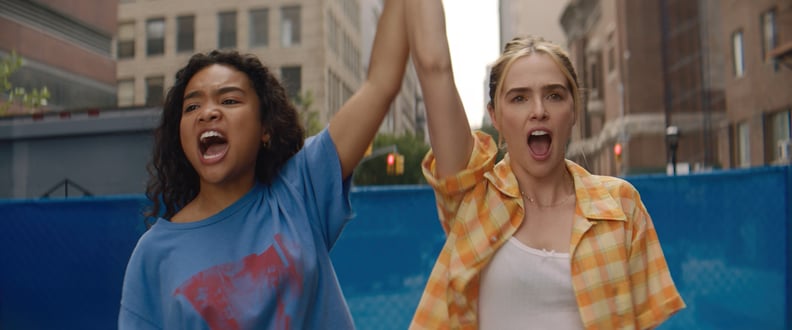 How the Team Used Beauty to Fake Vulnerability
What you see from influencers on Instagram is so often curated to look "perfect," which is why Vanis says her favorite part of Duetch's transformation was when they mussed up her hair and makeup. "Some days we shot her at her high glam, and then we'd be like, "OK, you're taking all your makeup off now and messing up your hair. The makeup artist made her eyes look red, and it was that deconstruction of her character. Those are the parts of an influencer's life we don't see very often, so it felt like a moment."
There's the irony in it all: "It feels organic, even though it's not necessarily. It's a manufactured version of reality."